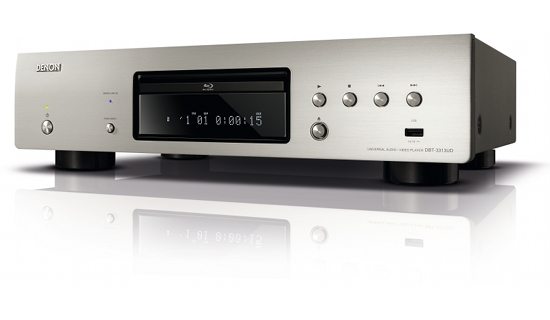 Denon Electronics, is shoring up its Blu-ray player ranks with the new addition of its DBT?3313UDCI Universal Disc Player.  The DBT-3313UDCI features a sleek new cosmetic design with an aluminum front-panel and plays virtually all 5-inch silver discs, including high-resolution sonic playback through DVD-Audio and SACD. The player also enhances the home entertainment experience with features such as Kodak Picture CD compatibility, as well as DivX HD+, FLAC, MP3 and WMA playback.
The DBT-3313UDCI is designed to give people more options for enjoying all their favorite movies and music. Users can easily stream videos from online services such as Netflix, VUDU, Hulu, and YouTube (where available). Thanks to its dual HDMI outputs and AV PURE DIRECT functionality, users can connect the DBT-3313UDCI to a 3D TV and non?3D capable AVR separately, and the "AV PURE DIRECT" further enhances audio quality. For total flexibility and easy content access, the DBT-3313UDCI comes with a USB port on the front along with two HDMI outputs, an Ethernet port, a left/right analog audio output for multi-zone distribution, and remote control in/out ports. In addition to its Netflix and YouTube streaming, the unit is DLNA 1.5-certified for audio/video/photo streaming from networked computers and compatible NAS drives. The new 'DENON LINK HD' feature works in combination with select new Denon AV receivers, offering jitter-free playback of all content.
The DBT-3313UDCI's exceptional build quality features a leading-edge fan?less construction and new "Suppress Vibration Hybrid" loading mechanism, with a rock-solid dual layer top and bottom for stable, noise?less playback. The fully shielded drive mechanism provides steady and precise playback. Included with the player is an intuitive new remote control featuring glowing cursor and operation keys and direct access buttons for online video services. You can also use the remote to operate a Denon AV receiver. Additionally, Denon offers the Denon Remote App, download to control the DBT-3313UDCI using your iPhone, iPad, or iPod touch (when using the player in conjunction with a Denon AV receiver launching in 2012 that supports the app).
The new DBT-3313UDCI is available currently, as of September 2012 at a MSRP of $1079.95, in Canada.  For more information on Denon, visit www.ca.denon.com.