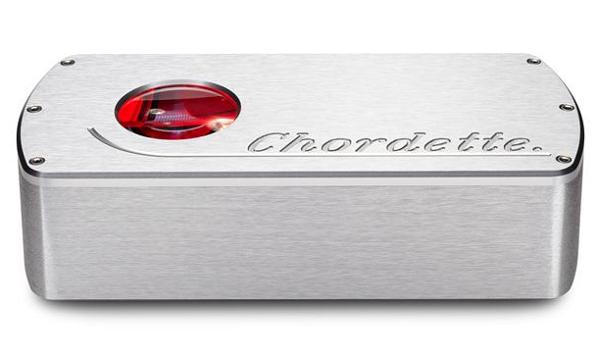 Just released by Chord Electronics, is their new Chordette QuteHD DAC, which offers Chord performance at more affordable prices. Hand-built in Chord Electronics' head office by the riverside in Kent. Engineered by the same team behind Chord's six-figure priced electronics, the new QuteHD promises transparency and detail when connected to digital devices e.g. PC, Mac, iPod, Blu-ray players etc. And, this all comes in a beautifully engineered and built, palm-sized device.
The QuteHD is the latest edition to Chord Electronics' affordable Chordette range, which comprises a number of advanced boutique hi-fi products including Bluetooth/USB DACs and amplifiers, network music players, vinyl replay systems and more. Each individual high-performance module is hand-built in England.
This QuteHD takes technologies from Chord Electronics' internationally acclaimed QBD76HD DAC, with custom DAC technology and cutting-edge DSD-over-USB functionality. The technology allows advanced, high-resolution DSD data files (the native format of Sony's SACD) to be converted, making the QuteHD the world's first affordable DSD-compatible USB DAC. Whether using Mac OS or Windows OS, Chord Electronics' own proprietary driver software is provided, removing the restrictions of current operating system audio playback.
The QuteHD can handle sample rates from 44.1kHz to 192kHz (and up to 384kHz on SPDIF), allowing users to experience music in true high definition, along with the best possible reproduction of CD-quality music.
Technical specifications:
Harmonic distortion: 103 dBV
Signal-to-noise ratio: 115dBV
Dynamic range: 118dBV
Digital inputs: 1 x USB HD with DSD decoding, 44.1 kHz to 192kHz, 16-32-bit (future 384kHz-ready)
1x Optical
1x Coaxial 44.1 kHz/ 384kHz-ready, 16-32-bit
Outputs: 2x RCA phono
Power supply: 12v 1A 2.1mm connector with supplied wall adapter
Weight: 0.4kg
Dimensions: 160x70x40mm (WxHxD)
The QuteHD is currently availability in the U.K. at a MSRP of £990. Details on North American availability and pricing are yet to be announced. More details can be found at: www.chordelectronics.co.uk.