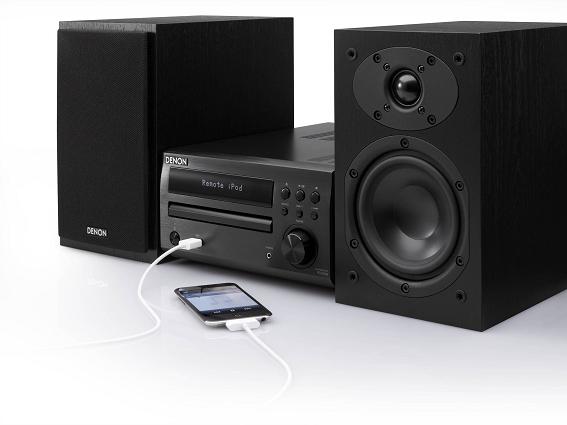 Denon Electronics, has just released a premium compact Desktop Music System, the D-M39S. This new all-in-one D-M39S music system is claimed to provides a rich and immersive listening experience with a host of connectivity options.
The D-M39S has an integrated high-performance CD player that allows playback of popular music file types including MP3 and WMA as well as an extensive array of connectivity options that includes a stereo line input, as well as an optical digital input for an audio source such as HDTV, Blu-ray, cable or satellite tuner. The front panel also features a USB port for direct connection to portable digital devices and thumb drives, and is compatible for connection to an iPhone or iPad. When an iPod, iPod touch, iPhone or iPad is connected during use, the system charges the device. Notably, even during standby mode, the unit continues to charge the device until it's fully charged, then returns to normal energy-saving standby mode of lowest power consumption (less than 1/3 watt).
The D-M39S system was designed for total user flexibility and ease-of-use. Its built-in FM stereo tuner features 40 station presets, with an automatic timer play function that can be set to activate daily or one time, along with a sleep timer function. The dimmable front panel display features a high resolution two-line alpha-numeric readout of music track titles as well as radio station information, and the remote control provides easy control of all major functions, with direct source selection buttons along with an intuitive keypad design.
Despite its compact and unassuming size, the elegant D-M39S Desktop Music System boasts a powerful audio amplifier section that delivers 30W + 30W of power. The digital audio section features the latest 192 kHz/32 bit D/A conversion technology for crystal clear reproduction of high resolution audio formats. The matching speakers feature high power woofers paired with high resolution wide dispersion soft dome tweeters. The woofers feature die cast alloy frames with massive magnetic motor structures that help deliver deep powerful bass response, and the wide range tweeters feature response extending to 40 kHz for optimum reproduction of high resolution music file formats.
The main system unit includes adjustable bass and treble controls, and features Denon's exclusive Super Dynamic Bass technology for improved deep bass definition, allowing a full range sound quality even at reduced volume levels. For listeners who want to add an extra layer of low-frequency punch, there's a subwoofer output as well, and all speaker connections feature heavy duty multi-way binding posts.
The D-M39S Desktop Music System is currently available at a MSRP of $449.95, in Canada. For more information, visit: www.ca.denon.com.