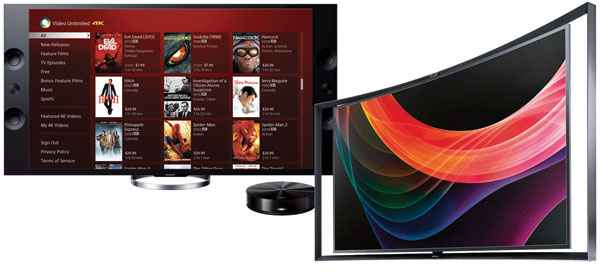 On March 25th, 1925, when Scottish inventor John Logie Baird gave the first public demonstration of televised silhouette images in motion at Selfridge's Department Store in London, England, little did he know that his rudimentary contraption would be the forerunner of the television set, the device that would hold center stage of the consumer electronics industry for the next hundred years or so. On January 26th the next year, Baird went on show off another device that is widely regarded as the world's first demonstration of a working television system, to members of the Royal Institution and a newspaper reporter. It had only 30 lines of resolution that was barely enough to reproduce a recognizable human face.
That is a far cry from the 1080p high definition television sets of today which reproduce moving pictures that come amazingly close to film quality. However if you thought that 1080p would remain the pinnacle of television technology, think again. We are now seeing the advent of new television technologies that represent a quantum leap in picture quality and over the next decade, we are likely to see these technologies duke it out for the position of top dog in this mammoth industry.
In terms of technology, over the past few decades we saw standard definition television sets give way to 480p enhanced definition models which then moved to 720p high definition and then eventually to 1080p which became known as Full HD.
So what's the deal with the new technology television sets now being touted by the major brands? Generally speaking, they can be categorized into two camps; the 4K Ultra HD camp and the OLED camp. Some brands offer both 4K and OLED television sets and a few have revealed prototypes that incorporate both technologies.
Does this mean that your 1080p set is soon going to become obsolete? Not really. A well designed, well built 1080p television set, fed with a full HD signal, delivers very good picture quality but if you plan to upgrade to a television set that is 55 inches or bigger, you would be well advised to seriously consider a 4K television set. But I am jumping the gun here. Let me lay out what the new technologies offer so that you can make up your own mind.
4K Ultra HD Tech
Let's begin by taking a peek at what 4K offers. A 1080p television set displays 1,920 pixels horizontally and 1,080 pixels vertically. The latter figure combined with the progressive scan mode classifies the set as a 1080p television set. In comparison, a 4K television set doubles the number of pixels both horizontally and vertically to 3,840 X 2160 which results in the number of pixels on the screen going from 2 million pixels of a 1080p set to 8 million in a 4K sibling. The name 4K comes from the fact that the horizontal pixel count is almost 4,000.
Going from 2 million to 8 million pixels is obviously going to make the picture a lot sharper with much greater detail that approaches the holy grail of 35 mm film. The further away you are from the screen, and the smaller the screen, the lower the number of pixels you need for the human eye to perceive a clear and sharp image. What this means is that the superiority of 4K television sets is going to be a lot more evident in screen sizes of 55 inches and larger.
At the moment, there is a limited amount of native 4K content that is available. However, when 1080p technology made its debut, native 1080p content was also quite limited. As that format became more popular, the market forces of supply and demand kicked in and flooded the market with native 1080p content. Hopefully, it will be the same with 4K content. Professional video cameras that record in 4K resolution are already widely available which will help the situation.
It is encouraging to see that some of the recent movies like The Amazing Spiderman, Prometheus and District 7, have been shot in 4K resolution. In fact, The Hobbit was shot in even higher 5K resolution. In this regard the player in this segment that has a significant advantage is Sony. That is because it also produces movies. They are now in the process of scanning the negatives of films in their library to make digital files of over a hundred movies in native 4K. At the time of writing this, ten Sony produced movies have been made available in 4K mastered Blu-ray discs and many more are expected to be made available going forward. To optimize the performance of Blu-ray discs mastered in 4K, you need a Blu-ray player that supports the wider colour range and the extra picture information.
Of course, there is always the option of streaming 4K content via on-line providers like Netflix. They are rumoured to have plans to get into 2K streaming, which can then be upscaled to 4K by suitably equipped 4K television sets. The huge bandwidth required by 4K means that a consumer quality 4K movie hogs an incredible 80 to 100 gigabytes. In fact the 4K content distributed to movie theatres uses an exponentially higher data rate. For example the CineAlta F65 system has an astounding data rate of around 16 gigabytes for every minute of content material. What this means is that even with consumer quality 4K movies, unless you have an unlimited bandwidth plan with your ISP, if you intend to stream 4K movies via the Internet, you are likely going to hit the bandwidth ceiling of your ISP plan faster than you can say "Clear as a BELL" or "ROGER that".
Sony has attempted to transcend this hurdle of limited native 4K content by offering a 4K video distribution service with their 4K television sets. They also offer a media player, which comes preloaded with ten movies and short clips in native 4K. Consumers who invest in this media player will also be able to use it to download more 4K content through a paid service that Sony plans to launch soon. Regrettably, both the video distribution service and the media player are currently only available in the United States. Hopefully, their availability will be extended to Canada in the not too distant future.
One option that could help alleviate the massive bandwidth of a 4K signal is to come up with a lossless compression system in the same way as FLAC, AIFF and others have compressed high resolution WAV audio signals while maintaining the bit-perfect integrity of the original signal. Sony has designed many production codecs (compression/decompression systems) to work with 4K material. One of them, the XAVC is the codec that they have chosen for use with their first 4K prosumer Handycams.
The other bottleneck for 4K is the bandwidth of the 1.4 version of the HDMI cable, which is limited to 10 Gbps and 30 frames per second. Thankfully, the HDMI Forum has acted in a timely manner and has developed an upgraded version called HDMI 2.0, which is capable of 18 Gbps and 60 frames per second. Unfortunately, not all HDMI cables labeled with the 1.4 and 2.0 monikers pass muster in accommodating the full 10 Gbps/30 frame or 18 GBPS/60 frame signals respectively, so it would behove you to get these cables from a reputed manufacturer.
It is expected to be quite some time before mainstream television broadcasters start offering native 4K on a regular basis. In Europe and South Korea they have begun broadcasting in 4K but only on a couple of channels. The United Kingdom's BBC has plans to air a few documentaries in 4K while in the United States, a six-month trial has been scheduled but it is rumoured to be restricted to just the Baltimore area. The 2014 World Cup Soccer Championship Final in Brazil will be broadcasted in 4K, but at the moment it looks like only satellite viewers in Japan will be able to access it, although there is a chance that a few American broadcasters may decide to jump in and carry this 4K feed to their viewers.
The exponentially greater bandwidth of 4K will also present a challenge for satellite-based telecasters. It will require them to upgrade their infrastructure to support 4K signals. This would include the need to either launch new satellites or to reduce the number of HD channels being offered. They will therefore need to do some thorough due diligence to figure out if the added revenues from telecasting 4K would justify the added investment required and generate better overall return on investment (ROI).
Content owners are also exploring ways to offer 4K on an upgraded Blu-ray format. At the time of writing this, discussions were underway to figure out if 4K Blu-ray discs would need to be backwards compatible with the current Blu-ray players so it is unlikely that the upgraded format would make its debut before 2014. Sony has taken the initiative to offer Blu-ray discs that are mastered in 4K. These 1080p Blu-ray movies have been sourced from 4K masters and modified to work with existing Blu-ray players. You can view these discs via a conventional Blu-ray player on a 4K television set but the picture image you will get is an upscaled version of 1080p rather than a native 4K signal. Having said that, this methodology is highly desirable because Sony have used technology that delivers picture quality that is surprisingly close to what you get with a native 4K signal.
Despite the current lack of native 4K content, it still makes a lot of sense to consider investing in a 4K television set because of the fact that most 4K sets offer an engine that upscales normal 1080p and lower resolution video content to a higher resolution in the same way as some of the better Blu-ray players upscale DVD resolution to Blu-ray's higher resolution. Upscaling is a great option because it allows 4K television owners to enjoy higher resolution from various sources including DVD and Blu-ray discs, broadcast television and non-4K streaming services. The problem is that it is a huge challenge and takes really advanced technology to upscale in a manner that brings lower resolution signals close to native 4K quality and this is what separates the men from the boys in the world of 4K television set production. In fact, inferior upscalers can actually degrade the picture quality quite significantly.
Sony XBR-65X900A Review: A Closer Look
Of all the 4K television sets I have viewed, two brands seem to stand out in upscaling technology, LG and Sony. LG uses a four-step data analysis process that enhances the details of all broadcasts, movies, sports and games. Sony's latest television range, which it has named Triluminos Display, uses what it calls the 4K X-Reality PRO chip which incorporates proprietary technology to upscale signals with 1080p and lower resolutions, even YouTube clips. Having closely analyzed the upscaling capabilities of the leading television brands, to my eyes, Sony's technology seems to have an edge, which prompted me to get in a Sony XBR-65X900A, 65" 4K television set, for a review.
Sony sent me a native 4K content generator with a lot of varying content from footage of soccer action to movie clips to scenery to shots of inanimate objects. When I viewed this footage 4 to 5 feet from the screen, it all looked quite stunning on their 65" 4K television set. The picture image has outstanding depth and solidity and the colours are distinctly more richly saturated with a colour palette that is the most nuanced that I have seen to date. With some of the footage it was almost akin to looking through a window at a real live scene. Colours, especially reds and greens are more true to life, skin tones are amazingly natural and colours truly pop. In one scene of a soccer field, I could actually discern individual blades of grass, which is quite extraordinary. This model has a 'vivid' setting that may appeal to some but to me it took the colours from natural to artificially enhanced. Sony claims that its dynamic edge LED backlighting with local dimming delivers darker blacks and brighter whites by boosting the contrast only in the areas required.
This model also incorporates speakers on the sides of the screen which deliver 65 watts of sound with fidelity that is a step up from what we have come to expect from the built-in speakers of flat screen television sets. Each side has a tweeter and two mid-bass magnetic fluid speaker technology driver units in a D'Appolito configuration. Sony claims that its S-Force Front Surround 3D simulates 5.1 sound and also widens the sweet spot so more viewers in the room are able to enjoy simulated surround sound. To my ears, the audio is not exactly high fidelity but definitely one of the best I have heard from speakers built into a flat panel television set. The mid range is delivered with a good degree of presence and depth but this set will definitely benefit greatly from a connection to a 5.1 or 7.1 true high-fidelity home theatre system.
LCD based television sets are known for judder when reproducing fast moving action but this set incorporates what Sony calls Motionflow XR 960 technology. This helps transcend refresh rates to some extent, to smooth out the picture for less blurry movement. It is definitely a step up from what I have seen in the better LCD based television sets but it does not totally eliminate the annoying smear and judder. Motion flow options include clear, clear plus, standard, smooth and impulse. With fast moving action I preferred the smooth setting.
This television set comes with two menus, a comprehensive one and a simplified version that controls only the most used functions. The navigation protocol is not as intuitive as I would like but after a while I did get a hang of it. The on-screen tutorial is a very useful feature and is well planned and easy to understand.
Sony's 65" 4K model can also connect wirelessly to your home's Wi-Fi after which you can stream entertainment from the Internet or your home network. This gives you full access to even 1080p entertainment, 3D content and apps like Netflix, Pandora, YouTube, Facebook and others.
Behind the set I found a plethora of connections including two analog audio inputs an optical audio output, a component and a composite video input, an Ethernet connection, 4 HDMI connections including an HDMI PC input, a headphone output and three 2.0 USB ports. These should provide all the connectivity that you need for most applications. I connected the optical audio output to my Calyx Femto DAC and enjoyed truly spectacular sound quality through my reference two-channel audio system. This television's HDMI input is designed to handle 1.4 cables but with a software update, it can also handle HDMI 2.0.
With a 65" screen there is no mistaking this for anything but a LARGE screen television set and it should be big enough for most homes. It comes in a mammoth package that measures approximately 67" x 38" x 9". The television set itself is around 66" x 35" x 4" (16" with the stand). The delivered package weighs 53 kg and the television itself is 45 kg (46.4 kg with the stand).
As I mentioned before, since there is limited true native 4K content currently available, a 4K's upscaling capability is of paramount importance. Having realized this, Sony used a series of computers to take a database of thousands of images of various kinds, compress and then decompress them and compare the results. Through trial and error they then adjusted parameters and developed special algorithms for decompressing different kinds of content. Based on this they created a number of databases in 2K. They then used a proprietary chip that recreates the original image based on what they learned from their pattern database. The 2K databases were then integrated into the original X-Reality Pro Processor to achieve superior real-time performance. For 4K, Sony used a new set of databases to upscale. This attention to detail accounts for the fact that their 4K upscaling performance is significantly superior to generic processors.
I ran this set through its paces to see how well it upscales video signals of varying resolutions. With 1080p signals via my Blu-ray discs the results were surprisingly close to native 4K. 720p and 1080i television broadcast signals were not too far behind. Picture quality took an easily discernable step down when I switched to 480p broadcast signals. With 480i content, the quality went below the threshold of what I would consider satisfactory picture quality.
What this means is that if most of your viewing is done via Blu-ray discs, broadcast and cable signals with 1080i and 720p resolution, you are going to be thrilled with the upscaling performance of this television set. On the other hand if most of your video viewing pleasure comes from watching DVDs and television broadcasts and cable signals of 480p and 480i resolution, this set may not be your cup of tea.
Aesthetically, Sony's 65" 4K set is as handsome and elegant as anything else in the market and a lot easier on the eyes than most of its competition. Its circular stand is the epitome of understated elegance and it is fully equipped for wall mounting if you invest in the appropriate brackets.
At $5,999, the price of this set is not exactly chump change for most of us, so is it the right time to invest in one? If you are an early adopter who needs to have the very best technology as soon as it breaks out of the starting gate, this 65" 4K television set is a no brainer. However, if you are the wait and see kind of consumer who prefers to see how things play out, then it might behove you to wait a while and closely watch developments in the OLED sphere. To get you started on that quest, let me give you the inside track of current OLED technology.
OLED TV Tech
OLED is an acronym for Organic Light Emitting Diode. This technology has already made very successful inroads into gear with smaller screens like smart phones, video cameras and tablets.   In some cases they have been marketed as AMOLED where the AM stands for Active Matrix due to a variation in the way the screen is configured, in that, the display controller chip tells the matrix of pixels when to light up and when to shut off. One brand has tried to raise the marketing stakes by calling their system Super AMOLED. This refers to their system where its display has a touch digitizer integrated into the display instead of being placed on top of it.
Unlike LCD television sets where a light is shone through a series of filters and a liquid crystal blocks some of the light when required, in an OLED set, special polymers are used which emit their own light when an electrical charge is applied to them. Structurally, this makes for a much simpler configuration because all you need is three kinds of polymers, emitting red, green and blue light respectively when a thin grid of electrodes applies a charge to them. The higher the charge applied, the brighter the polymers shine.
This configuration eliminates the need for a backlight, which allows the OLED screen to be jaw droppingly thin. The blacks are also truly jet black because unlike an LCD where light has to be blocked to achieve black, in an OLED television set, no light is emitted at all resulting in the blackest of blacks. The whites are also whiter, the colours are deeper and more accurately reproduced and the contrast ratio is far superior to rival configurations.
The other advantage of OLED is that the polymers react with lightning speed in changing colour. This significantly reduces judder, blurring and smearing when objects move across the screen at high speed. Finally, the OLED configuration also widens the effective viewing angle to an extent that no LCD TV has hitherto been able to achieve. The malleability of OLED screens allows them to be curved, which at the moment is a novelty factor but could give it an advantage in future applications.
Despite all of OLED's advantages, there are still quite a few technological kinks that need to be ironed out. Generally, OLED screens are a lot more expensive to manufacture than their LCD counterparts. Smaller OLED screens can be produced at a cost that the market can bear but there is a significant jump in cost when manufacturing larger OLED screens.
There is also a problem with longevity, especially with the polymers that emit blue light, which typically start losing their effectiveness after just a few thousand hours of operation. When this happens it results in colour shifting. On gear like cell phones which consumers replace every few years, that is not a big deal, but for home based television sets which are typically used for 7 to 10 years, it is a significant problem. Technological advances over the recent past have minimized this kink and hopefully continued progress in this sphere will resolve it totally.
In Conclusion…
Given all the advantages and disadvantages of both 4K and OLED, it is anyone's guess as to which configuration will ultimately prevail. In my opinion, OLED has a bit of an advantage in that it does not have any content issues that 4K is grappling with and so can happily live in a 1080p dominated market where it can produce picture quality superiority beyond just higher resolution.
Eventually, the two technologies are expected to merge with the development of 4K OLED television sets that should offer the best of both worlds. However that is some way off and the first generation of such sets are likely to be beyond the reach of all but the top 1% income group. Prototypes of such sets have already been shown at major consumer electronics shows and, like concept cars at motor shows, they look quite breathtaking.
The good news for consumers is that the advent of the new OLED and Ultra HD/4K television sets is quite likely to put further pressure on prices of the good old 1080p television sets, thus presenting non-hardcore movie buffs a great opportunity to grab some good bargains in the not too distant future.
Be sure to come check out the latest 4K and OLED TV sets with your own eyes this November (1st to 3rd) at the Toronto Audio Video Entertainment Show 2013.  Also, to read a more in-depth review of the Sony XBR-65X900A/XBR-65X850A 65-Inch 4K Ultra HDTV (by Mike Osadciw), please visit the REVIEWS section on novo.press/.