by Angus MacPherson, Founder, RIIFT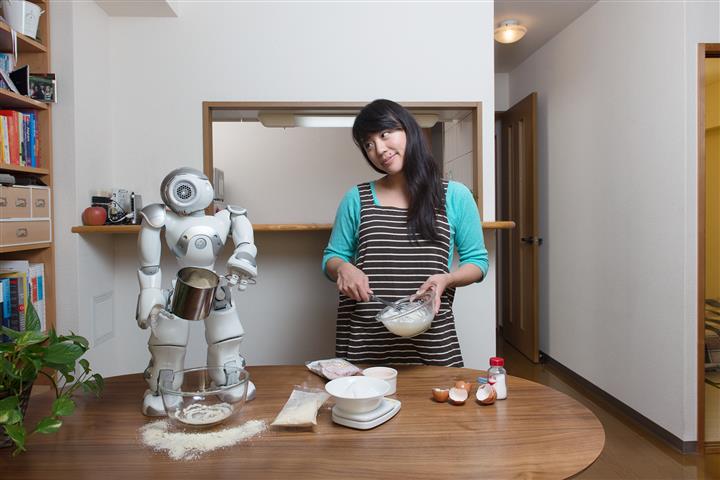 Angelica cooking with NAO – credit: Irwin Wong
Our sci-fi dreams are becoming a reality. There are "Eyeborgs" in the street. People whisper secrets to Siri and Cortana, the baby-AIs living in their pocket computers. Humanoid robots chat with shoppers in downtown Tokyo departments stores. Cars are starting to drive themselves. These are not visions of the future. This is now. And there is more coming.
FutureWorld: Canada's public festival of our AI-powered future [June 10, 2017, Toronto]
We are in the midst of the robot revolution. AI and robotics are transforming our gadgets into smart machines that are changing how we work, how we relate to one another, how we build our cities. Despite the huge potential, there are lots of basic questions. What are robots, AI, and smart machines anyway? What can they do? What should they do?
These are questions of design –- of application, interaction and how the systems will work. Large communities of hackers, researchers, engineers and artists are exploring these questions and in June they're coming to Toronto for FutureWorld to talk about their progress.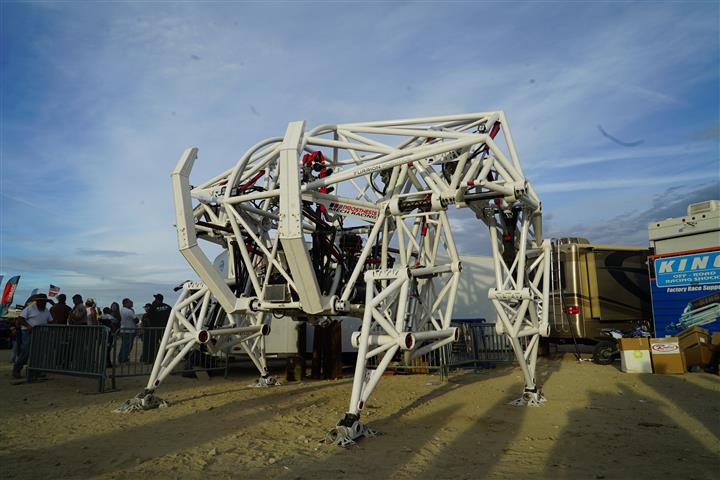 Prosthesis at King of the Hammer, 2017 – credit: Jonathan Tippett
Jonathan Tippett's spectacular 16' running robot, Prosthesis
Among them: Jonathan Tippett, an artist/engineer who spent a decade on a quixotic quest to build a giant racing mech. The result is Prosthesis, a massive 16' tall running robot. For most of that decade, it was an unfinished art project – a crazy/wonderful exploration of how we can pursue human excellence in a futuristic machine.
But over the last year the world has finally caught up with him. Now he has partners and real funding. His first order of business is to complete the first two mechs for testing before expanding the Prosthesis project into a full scale mech racing league. His vision for the racing league is firmly in the "people-first" camp. He's got a lot to say about "the ultimate union of pilot and machine, pushing the limits of technology and human performance".
Angelica Lim and the rise of social robots [image at the top of this article]
At the other end of the robot interaction spectrum are the social robots. They are the humanoid machines that come closest to the classic vision of a robot as a metal friend. Using faces, quirky movements, and other humanlike features, designers infuse them with what appear to be personalities – and elicit surprisingly emotional reactions.
Engineer Angelica Lim builds the software behind those emotional interaction systems for SoftBank's Pepper and NAO robots. Stunningly nuanced work, it requires deep technical expertise and subtle understanding of the boundaries between machine intelligence and human psychology. These efforts are establishing new techniques and approaches for interacting with social robots. And soon it will transform how we relate to machines. She'll make us think.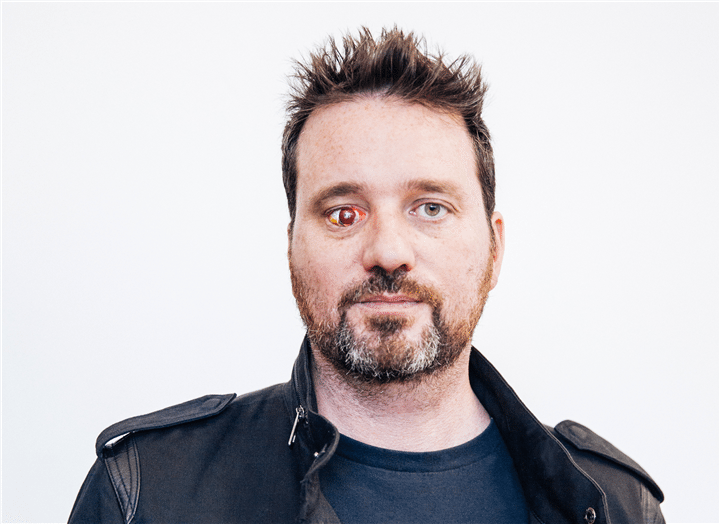 Portrait of Rob Spence, Eyeborg – credit: Kathy Ann Lim
Rob Spence: provocative questions about human-machine relationships
Perhaps the most surprising story of the human-machine relationship comes from documentary filmmaker Rob Spence. After losing his right eye at age nine, he built a prosthetic eye camera to fit into the socket. Now, he calls himself an Eyeborg, a human with a camera eye.
Rob discovered his camera eye transformed the relationship to his documentary subjects in subtle ways. By embedding the camera in his body, he removed a barrier between himself and the interviewee, making a potentially stilted and uncomfortable experience more natural and effortless. Counterintuitively, by making himself a tiny bit more machine-like, his relationships became more human. Be prepared: he'll take you into provocative terrain.
The event will also be welcoming Helen Grenier, co-founder of iRobot and CTO at CyPhy Works; Ignacio Galiana, an engineer building soft exosuits at the Wyss Institute, and a surprise guest from Kindred, a startup building machines with human-like intelligence.
FutureWorld will dig deep into these conversations about design thinking for robots, AI and the smart machines they animate.
Exciting stuff. Robots, AI, and smart machines are coming. Let's figure them out together.
FutureWorld runs June 10th, 2017, 12pm-7pm at OCAD University, 100 McCaul St., Toronto, ON M5T 1W1. Tickets start at $59
NOVO readers can save 10% off tickets by using discount code NOVO.
For more info, jump to www.fitc.ca/event/futureworld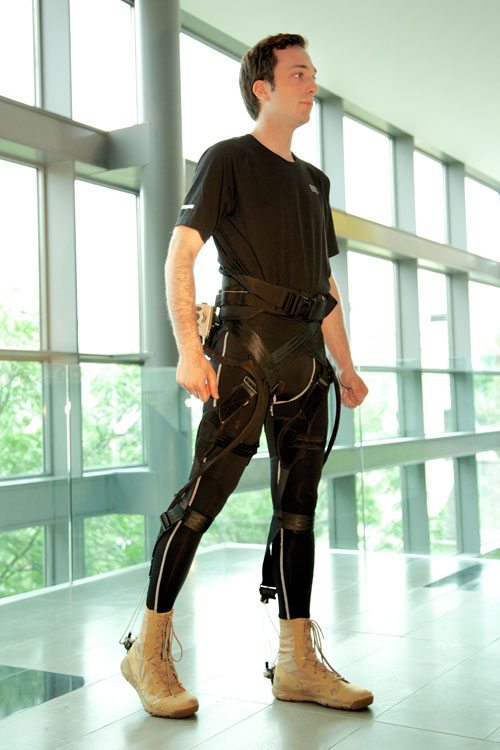 Ignacio Galiana wearing a soft exosuit- credit: Wyss Institute at Harvard University