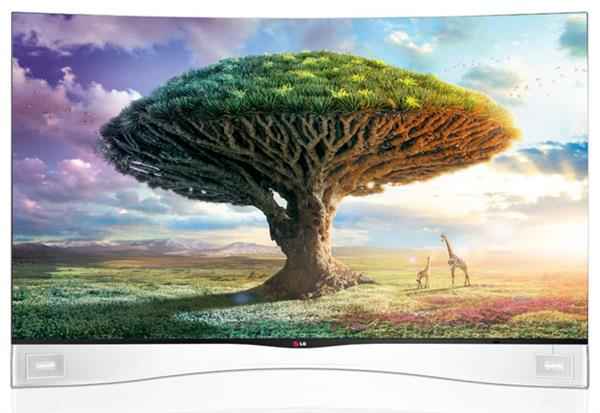 OLED technology is the holy grail of TV display technology, and sooner or later you are bound to have one of these TVs hanging on the wall in your living room.  At this year's CES, TV manufacturers finally showed production OLED TVs and announced North American availability.  As with any new tech, the stumbling block right now is the pricing.
When LG first announced its LG 55EA9800 55-inch OLED TV last year, with a price of $14,999, you may have nearly fallen off your chair.  The great news however is that this TV is now on sale and LG has lowered the suggested retail price to a far more reasonable $7,999.  Even sweeter is the fact that www.amazon.com is now selling this set for $6,999, with free shipping.
$6,999 is still a lot of dough for a 55-inch TV but if you're an early adopter that just has to have the very latest, you might be able to cough up the asking price.  The competing Samsung KN55S9C Curved OLED TV is currently listed on www.amazon.com for $8,999.
For average consumers waiting to get their hands on an OLED TV, these prices are of course too high, but the good news is that as more manufacturers join the OLED TV race (Panasonic, Sony and others), the prices are expected to fall quickly during 2014-2015.
So why all the hype about OLED TVs?
The LG EA9800 features a curved screen design, providing an immersive, cinematic viewing experience in the home. The entire screen surface is equidistant from the viewer's eyes, eliminating the problem of screen-edge visual distortion and loss of detail.
Only 4.3 millimeters (0.17 inches) thin and weighing just 17 kilograms (37.48 pounds), LG's CURVED OLED TV produces astoundingly vivid and realistic images thanks to its proprietary WRGB technology. The unique Four-Color Pixel system features a white sub-pixel, which works in conjunction with the conventional red, blue, green setup to create the perfect color output. What's more, LG's exclusive Color Refiner delivers even greater tonal enhancement, resulting in images that are more vibrant and natural than anything seen before. As in the original flat screen OLED TV, the CURVED OLED TV also offers an infinite contrast ratio for optimal contrast levels regardless of ambient brightness or viewing angle. TÜV Rheinland, Intertek and VDE, three international testing and certification bodies, recently recognized LG's CURVED OLED TV for its superb picture quality.
Finally, LG's CURVED OLED TV features thin transparent film speakers in the crystal clear stand, providing high-quality sound without compromising the TV's beautiful design. LG's CURVED OLED TV took the top "red dot: best of the best" honor at the prestigious design competition earlier this year.
Click here to jump to www.amazon.com