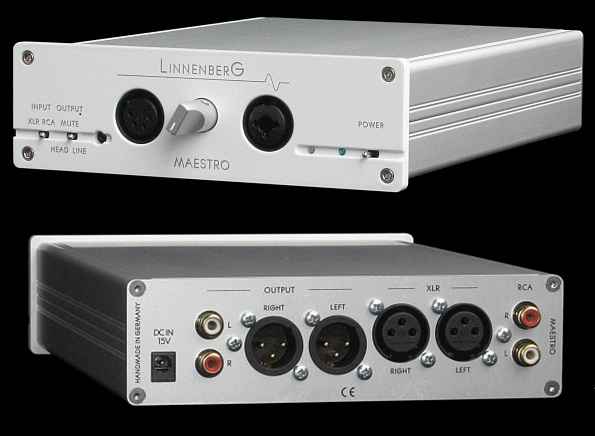 Linnenberg Audio has just recently announced their Maestro.  The Maestro is a headphone amplifier – a direct descendant of Linnenberg's own former spa1 headphone amplifier.  The Maestro has been created to satisfy the wants and desires of discerning headphone aficionados. 
Linnenberg has designed the new Maestro to work with any type of dynamic or planar-magnetic headphone.  It can produce a significant amount of output power e.g. 5Wrms into 32 ohms.  Beyond straight forward headphone amplification operation, the Maestro also doubles as a state-of-the-art line-level preamplifier.  Allowing owners to combine a headphone listening system with an active loudspeaker setup or even adding in a power amplifier with passive loudspeakers.
The volume control in the Linnenberg Audio Maestro is a 16-bit R2R ladder network with 0.7dB steps over an 80dB range with <0.05dB channel offset, tight-tolerance metal film resistors and 128 fast-switching low on-resistance analog switches.
On the front-panel are XLR/RCA inputs, XLR/RCA main or XLR and TRS head-fi outputs.  All signal path capacitors have been eliminated through the use of a DC-coupled fully balanced wireless circuit.
The Linnenberg Audio Maestro is now available at a price of €1'370 excl. VAT.  Look for more details on the Maestro at: http://www.linnenberg-audio.de/.
Comments are closed.