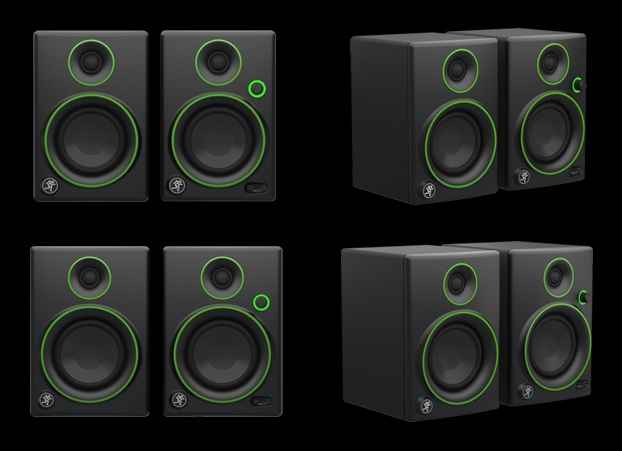 Mackie has just launched the Creative Reference Multimedia Monitor Series that is aimed at providing studio-quality at a more affordable level.  The new series of monitiors includes two models — the CR3 and CR4.  The CR3 uses a 3-inch woofer, while the CR4 uses a 4-inch woofer.  Both models provide high-frequencies via a 3/4-inch silk-dome tweeter. 
The new Mackie CR monitors use all-wood cabinets with custom-tuned rear ports.  A left/right speaker placement switch allows users to locate the volume control on the left or right depending on personal preference.  ON the front, a on/off/volume knob with a lighted power indication ring provides the necessary user control.  There is also a headphone jack provided, which allows straight comparsions of the monitor sound to the headphone sound.  
A full-set of connection cables are provided with the Mackie Creative Reference monitors and there is even a pair of acoustic isolation pads included.  Used in professional applications, acoustic isolation pads minimize unwanted bass buildup that can muddy a mix.  Plus, the pads' angled design allow the user to tilt the monitors slightly up or down for more focused listening depending on their setup.
The new Mackie CR3 and CR4 Creative Reference Multimedia Monitors will be available this August at the following MRSP: CR3 at $129.99 U.S./pair; CR4 at $199.99/pair.  Look for more information at: http://www.mackie.com/.
Comments are closed.