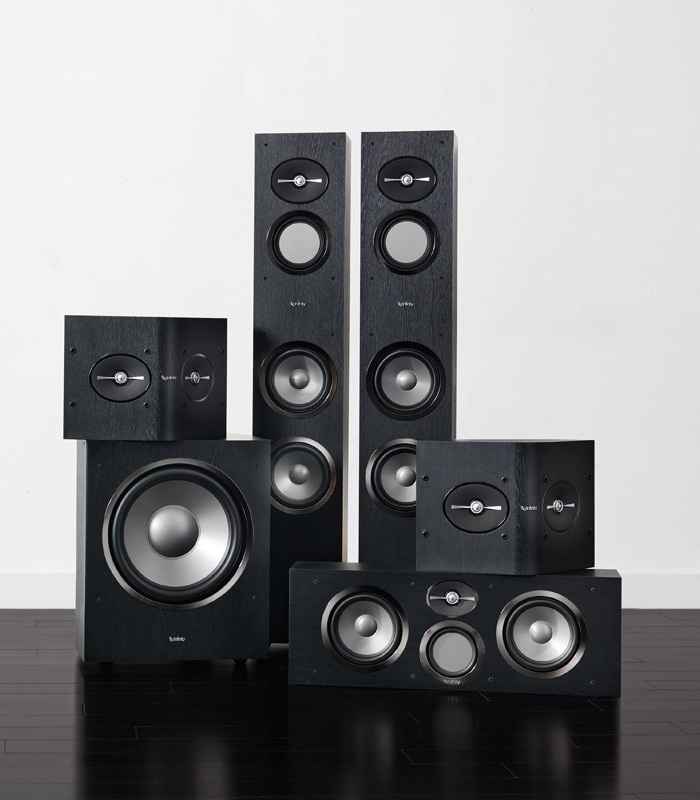 HARMAN International Industries has just announced their new Infinity Reference Series of loudspeakers.  The complete Reference Series uses the CMMD (Ceramic Metal Matrix Diaphragm) transducer technology.  CMMD is a proprietary process that combines a ceramic surface to aluminum cones to provide an ideal stiffnes- to-weight ratio while helping to move resonances up in frequency and out of the pass-band of the drivers.  The three-way loudspeaker models R263, R253 and RC263 utilize a unique flat-piston CMMD midrange driver that helps reduce diffraction in the critical high and mid-frequency bands.  The 1-inch CMMD tweeter found in all full-range models is mated to an advanced waveguide.  
The RC263 center channel is unusual for its price range in that it is a three-way model. The flat-piston dedicated midrange driver is incorporated to provide clarity and precision in vocal reproduction.  The RC263 and the smaller RC252 center channel loudspeakers are sonically matched to the companion floorstanding, bookshelf, and surround speakers.
The RS152 Surround Channel loudspeaker is ideally suited for multi-channel music and home theater. It uses a patented Hemispherical Soundfield Technology (HST), which is designed to provide remarkably balanced coverage across a 180-degree hemispherical listening area with greater consistency then traditional, on-the-wall loudspeakers.  With integrated keyhole wall-mounting and slender design, the RS152 will easily integrate into any decor.  
The SUB R10 and SUB R12 powered subwoofers in the Infinity Reference Series start with a fiber-composite driver mated to a high-power digital amplifier.  The solid 0.75″ (19 mm) construction of the tuned-port subwoofer cabinet with its internal edge-to-edge windowpane bracing provides a firm foundation to reinforce the tight, punchy bass required for high-resolution digital surround and modern popular music.  A full complement of controls including variable crossover, level and selectable LF trim allows fine-tuning to suit any listening environment and personal taste.
Infinity Reference Series Loudspeakers Features:
Flat-piston midrange drivers in R263 and R253 floor-standing and RC263 center-channel speakers
CMMD™ tweeters with advanced waveguides
CMMD™ high-output woofers with tuned-port enclosures
Fiber-composite high-output subwoofers with tuned-port enclosures
Patented Hemispherical Soundfield Technology (HST) maintains consistent surround performance even when listening from far off to one side
Subwoofers feature level, crossover, phase, LF trim and auto power controls
Computer-optimized driver positioning and crossover network integration
Sleek, contemporary enclosure design
Waveguides and woofers feature black chrome trim rings
Rich black wood grain finish cabinetry with hidden fasteners
Proven acoustic superiority through rigorous testing and real-world evaluation
Designed and engineered in Northridge, California
MSRP (U.S.):
R152 2-way 5.25″ (130 mm) Bookshelf Loudspeaker MSRP: $399.95/pr
R162 2-way 6.25″ (165 mm) Bookshelf Loudspeaker MSRP: $499.95/pr
R253 3-way Dual 5.25″ (130 mm) Floorstanding Loudspeaker MSRP: $899.95/pr
R263 3-way Dual 6.5″ (165 mm) Floorstanding Loudspeaker MSRP: $1,099.95/pr
RC252 2.5-way Dual 5.25″ (130 mm) Center Channel Loudspeaker MSRP: $349.95
RC263 3-way Dual 6.5″ (165 mm) Center Channel Loudspeaker MSRP: $499.95
RS152 2-way 5.25″ (130 mm) On-wall Surround Loudspeaker MSRP: $499.95/pr
SUB R10 200-watt 10″ (250 mm) Powered Subwoofer MSRP: $499.95
SUB R12 300-watt 12″ (300 mm) Powered Subwoofer MSRP: $599.95
The new HARMAN Infinity Reference Series Loudspeakers are currently available.  Look for details at: http://www.infinityspeakers.com/.
Comments are closed.