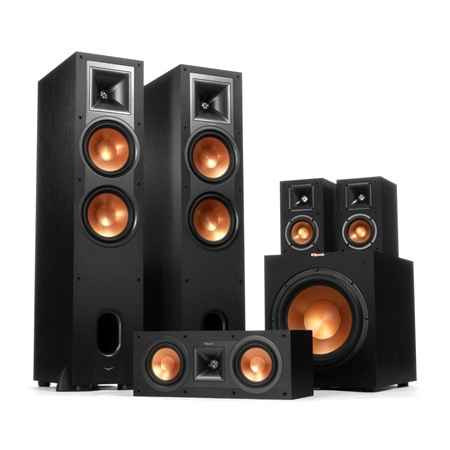 Klipsch has announced thier new Reference Series, which includes six passive home theater speakers and two powered subwoofers.  The Klipsch Reference line will join the Klipsch Reference II Series.  The new Reference Series represent the initial and entry-level series in what will be a tiered approach to Reference home theater speakers to be completed in 2015.
Klipsch Reference consists of two floorstanding towers (R-28F and R-26F), two monitors (R-15M and R-14M), one center channel (R-25C), and one surround (R-14S). The line's subwoofers include the R-10SW and R-12SW.
All of the Klipsch Reference loudspeakers come in brushed black polymer veneer finish and use Tractrix Horn technology and Linear Travel Suspension (LTS) aluminum tweeters for a clean and natural sound. Their LTS tweeters have been a hallmark in the previous Reference generations as well as the flagship Palladium Series and ensures minimized distortion for enhanced, detailed performance. The low-frequency response is produced by way of Injection Molded Graphite woofers.
The Klipsch Reference subwoofers also come in a black polymer veneer finish.  These subwoofers have font-firing drivers with Injection Molded Graphite woofers that are exceptionally light while being extremely rigid to provide remarkable low-frequency response with minimal cone breakup and distortion.  The built-in all-digital amplifier also delivers ample power with high efficiency and true-to-source accuracy in reproduction.
Klipsch Reference have a MSRP range of $698 U.S. to $898 U.S. for a pair of floorstanding speakers; $199 U.S. to $249 U.S. for a pair of monitors; $249 U.S. for a center channel; $279 U.S. for a pair of surrounds; and $349 U.S. to $449 U.S. for a subwoofer.
The Reference Unity strategy is a global initiative that will align the majority of its product offerings under the legendary Klipsch Reference Series.  The Klipsch Reference Series speakers and subwoofers are now available for purchase.  Look for more information at Klipsch.com.
Comments are closed.