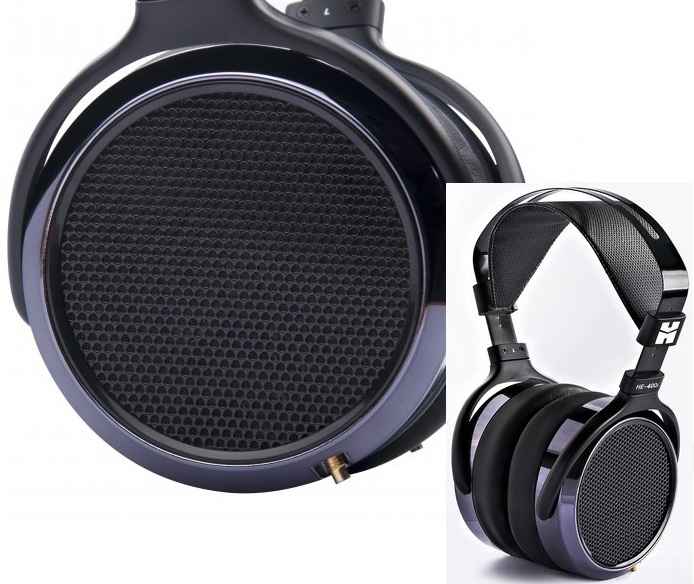 HiFiMAN has announced their newest full-size planar magnetic headphone, the HE-400i.  The new HE-400i replaces the company's HE-400.  The new HE-400i is lighter, more comfortable and has a higher efficiency that makes it easier to drive with mobile devices.
The new HiFiMAN HE-400i is now lighter than every and incorporates a newly-designed headband that along with being lighter has an improved pressure pattern that substantially increases comfort.  The FocusPad, which is a new beveled hybrid ear pad made of pleather and velour, provides increased comfort and improved sound quality.  Gloss ear cups are finished in a smoky gray Mylar finish, providing a stylish and contemporary look.
The HE-400i has newly-designed single-ended drivers in open-back design for a lifelike soundstage and spatial imaging.  Efficiency has been increased to 93dB, allowing the new HE-400i to be driven with a portable audio devices at a high performance level.  A newly-designed premium cable, comprised of Crystalline metal featuring Oxygen-free copper and Oxygen-free silver is included as standard.   
The former HE-400 is reported as beign the company's best-selling, full-size headphone; however, owners did express a want for a lighter version with the same level of performance.  Leveraging the designe of HiFiMAN's own HE-560 model, improvements to the HE-400 were developed.  Key to the increased comfort of the new HE-400i is the lighter improved headband combined with the FocusPad beveled ear pad.  Along with the combined performance improvement that have been acheived with a redesigned driver and premium cable – the new HE-400i should only prove to be more succesfull then its predecessor.
Key Features of the HiFiMAN HE-400i:
Newly-engineered, single-sided, planar magnetic driver provides tighter bass with superior soundstage and spatial imaging
30% lighter than other full-size planar magnetic designs for increased comfort
Increased efficiency so it is even easier to drive. Can be used with portable audio device such as an iPod or smartphone
FocusPad Beveled hybrid ear pads with pleather and velour for increased comfort and improved sound
Newly-designed cable comprised of crystalline metal and crystalline silver
The new HiFiMAN HE-400i will have a MSRP of $499 U.S. and is available begining in August.  Look for more details at: http://hifiman.com/
Comments are closed.