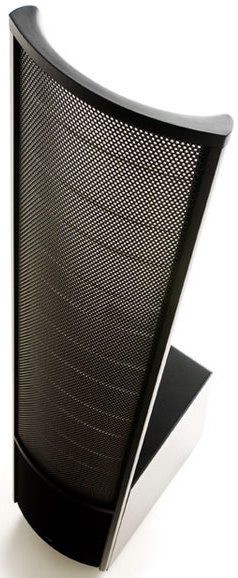 MartinLogan has just began shipping of the all new ElectroMotion-ESL (EM-ESL) speaker models as well as the Dynamo 300 subwoofer in the US. The subwoofer is available now in Canada and the speakers will ship this April.  Not a traditional tweeter and woofer-based design, the EM-ESL features the most affordable full-size (34-inces tall) XStat electrostatic transducer ever designed priced at $2195 CAD.
Loyalists may remember the Aerius, the first sub-$2K electrostatic speaker launched in 1992 that provided MartinLogan with record sales and more space in the showroom alongside elite speakers manufacturers. Taking the reigns as the newest budget audiophile option, compared to the Aerius, the EM-ESL boasts 40 percent more radiating surface (129 sq. inches) in its re-vamped electrostatic panel and a sensitivity of 91dB into 6 Ohms.
A unique XStat transducer (speaker panel) was developed for the ElectroMotion ESL to reduce the gauge thickness of the electrostatic panel's steel stators. The reduced gauge does not alter the performance characteristics of the panel, however, as a natural byproduct of tighter build tolerances, it does increase the visual transparency of the panel while still allowing the EM-ESL to be effortlessly powered by both receivers and high-end amplifiers alike.
EM-ESL's XStat MicroPerf electrostatic panel is housed within a radical aluminum and composite AirFrame similar to those found on MartinLogan's flagship products. AirFrame technology rigidifies the electrostatic panel without obstructing playable surface area or interfering with ambience enriching dipole sound radiation. Proprietary Vojtko filtering technology seamlessly blends audio output from the high- and mid-frequency electrostatic panel to the low-frequency woofer.
The EM-ESL also features an 8-inch high-excursion, audiophile-grade, doped fiber cone woofer custom designed by MartinLogan's in-house design and engineering team. This woofer optimizes cone suspension and magnetic flux field to produce high levels of bass output with vanishingly low distortion. Rigid and light-weight, the custom woofer's diaphragm eliminates cone flexure and maximizes response time to achieve levels of performance approaching that of MartinLogan's award-winning electrostatic panel design.
The Dynamo 300 Subwoofer is a compact and affordable subwoofer, meticulously designed and manufactured to the company's highest standards in order to deliver staggering low frequency performance.  Dynamo 300 is now available in a Black Ash finish for $329 CAD.
For more info, please visit www.martinlogan.com.