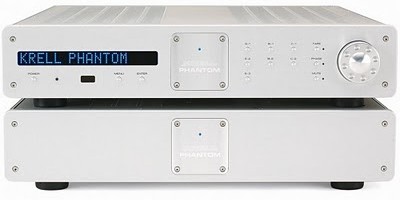 The new Phantom Preamplifier builds on the performance-levels of the Evolution Two model, while providing an active crossover option (a first for Krell). 
 The crossover allows for independently assignable crossover frequencies as well as high and low pass filters.  Choices include 40Hz, 55Hz, 75Hz, and 100Hz crossover points with 12dB, 24dB, and 48dB Butterworth or 24dB Linkwitz-Riley style filters. A major advantage to using the crossover section is the high pass portion uses the full Phantom preamplifier circuitry for its output stage.
 The Phantom preamplifier incorporates a dual monaural circuit design.  Negative feedback is not used anywhere in the preamp.  The Phantom audio circuits receive power from a Krell Current Mode analog power supply housed in its own dedicated chassis.  The circuitry is completely discrete giving it the ability to respond quickly to current demands and also be unaffected by all but the most severe AC voltage power fluctuations.  Oversized for a preamplifier, the power supply features a 250 VA transformer and 39,600µF of capacitance.
 The Phantom Preamplifier is shipping in the second quarter of 2011 with a MSRP of $17,500 U.S. The Phantom Crossover Option will be $2,500 U.S.