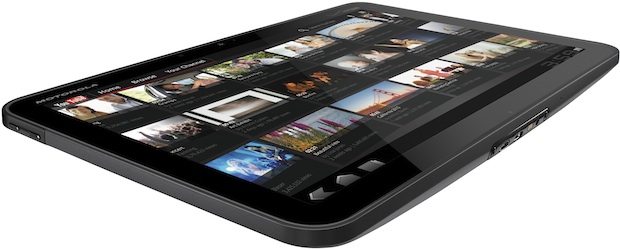 We just can't seem to get enough of tablets.  Motorola has just announced that its XOOM Wi-Fi edition tablet will be available across the United States starting March 27 for $599 CAD/US.  A Canadian release date has not yet been announced but Bell has confirmed that they will offer the XOOM.
MOTOROLA XOOM showcases the innovations of the Honeycomb user experience – including widgets, true multi-tasking, browsing, notifications and customization – on a 10.1-inch widescreen HD display, enabling video content that's richer and clearer than ever before. With a 1GHz dual-core processor and 1 GB of RAM, MOTOROLA XOOM delivers exceptionally fast web-browsing performance. The latest Google Mobile services include Google Maps 5.0 with 3D interaction and access to more than 3 million Google eBooks and apps from Android Market. MOTOROLA XOOM also supports a Beta of Adobe Flash Player 10.2 downloadable from Android Market, enabling the delivery of rich Flash based web content including videos, casual games and rich Internet applications.
As the first device running Android 3.0, MOTOROLA XOOM benefits from our aggressive work with developers across the ecosystem through MOTODEV, Motorola's developer support program to enable world-class tablet and smartphone experiences. These devices will be able to access more than 150,000 applications within the Android Market as well as the rapidly increasing number of applications optimized directly for the Android 3.0 OS. In addition, thousands of Flash-based web applications and sites will become available for the MOTOROLA XOOM.
For more info, please visit motorola.com/mobility