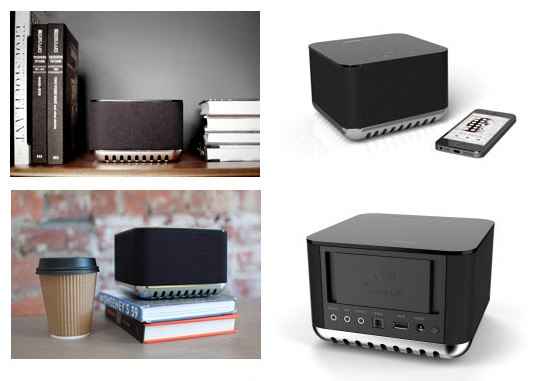 Mass Fidelity Inc., creator of 'The Relay' Bluetooth DAC, has now introduced 'The Core' compact wireless speaker.  The Core leverages a number of acoustic technologies to mimic stereo Hi-Fi sound from a compact device that can fit in the palm of a hand.  
The Core uses innovative Wave Field Synthesis (WFS) technology, which is an entirely novel way of rendering audio in a holographic manner that can be perceived from anywhere within a room.  Mass Fidelity claims that Wave Field Synthesis produces a purer sound than traditional stereo, because avoids a dependency on listener position.  WFS causes sound to emanate from virtual starting points (in this case, 'The Core') and continue to move along pathways, creating a lifelike sound image as each of the waveforms collide at a point in space. Unlike conventional stereo that is designed to trick the brain with clever psychoacoustic processes, WFS reconstructs the sound field physically, making it the purest and cleanest audio representation. It is a technology that has been touted as the obvious next step in acoustic rendering since the late 80's; however, could not be practically implemented due to demanding computing requirements, until now.     
Users can access and play music however and wherever they want by steaming from a smart device or connecting a music source through an analog or digital connection.  Up to nine units can be connected to create a multi-room music experience with the touch of a single button – all wirelessly, without the need for additional wireless equipment.  
Custom-Designed Acoustics – utilizes four custom-designed mid/high frequency speakers and a downward-firing subwoofer, driven by 120 watts of precision digital power
Digital Horse Power – Six Digital Signal Processors (DSP), and an ARM processing core work in unison to execute a series of advanced acoustic rendering algorithms, which combine to create a true acoustic tour de force. 
Additionally, the Core's 120-watt digital amplifier stage delivers high-quality music at an almost unbelievable scale for such a small box.
No More Stereo Sweet Spot – With WFS, the Core creates a multidimensional sound image that can be heard from any location in the room, eliminating the sweet spot that comes from traditional stereo speakers.  
Multi-room – Using the built-in adaptive wireless network, users are able to connect between two and nine units to create a multi-room system in a home with the press of a single button — no wires or Wi-Fi required.  No matter the source, music can be streamed at CD quality in any size home.  
In order to make it easy to use, there is no app, complicated setup or extra "bridge" components required; users simply place the units where they want to hear the music and press the 'multi-room' button.
When multiple Cores are connected, they create a dedicated adaptive music network in the 5GHz radio spectrum, streaming at "Red book" CD quality (16-bit / 44,100 Hz), no matter the source (Bluetooth, legacy analog sources via analog input, AppleTV etc.). The network continually scans for interference to ensure the highest audio quality possible and in the event of any interference from other electronics, the Core will automatically move to another channel to find the cleanest channel possible for delivering the music.
Bluetooth Clarity – Employing similar techniques used in The Relay, Mass Fidelity's award winning Bluetooth DAC, the Core utilizes signal processing architecture to guarantee the best possible sound quality from the easiest and readily available output from a smart phone or tablet. The Core's ultra-sensitive Class 1 Bluetooth receiver technology minimizes dropouts, and Advanced Audio Coding (AAC) and aptX audio decoding brings out the best possible sound from any digital source.
Portability – The Core's compact 6" x 6" x 4" size and 12-hour battery life makes it very portable.
A combination of its compact size and extended battery life makes it effortless to take it out on the patio and beyond.  
Additionally, the Core recharges in less than two hours and features a USB port that can conveniently charge smartphones or tablets if they are low on power. It even comes with International power adaptor tips for effortless travel.
The Core does not require Wi-Fi or a router to perform any of its multitalented tasks. This means users are never at the whim of their home internet connection, nor do they have to be within range of a Wi-Fi network to listen to music wirelessly. The Core requires no apps or complicated set-up procedures; just pair a smart phone, tablet or PC via Bluetooth and users can enjoy music in less than 60 seconds.
Absolute Bass – The Core uses Absolutely Bass Technology (ABT), a combination of electronics, software, and mechanical engineering working in unison to produce low frequency performance unmatched for its size. The Core will output frequencies down to 44 Hz at 'normal' listening volumes.
Dynamic Re-tuning Technology – Because there are some who want more bass, the Core automatically retunes itself when connected to any wired powered subwoofer. When connected, the Core focuses on midrange and high frequency information in the music and delivers the low frequency information to the external subwoofer, allowing the Core to play louder than normal.
 Inputs – With multiple inputs, the Core allows for both digital and analog sources to be connected, whether an AppleTV, Amazon FireTV or Roku via the optical input. This optical digital input can also be connected to the digital output of a TV so the Core can be used as a 'soundbar'.  Using the 3.5 mm analog input, users can connect any wired device, even a turntable (with phono pre-amp).
Design – The elegant look of the Core is the result of Mass Fidelity's focus on intelligent yet minimal design.  The Core is beautifully accented with an acrylic glass top and chromed steel base.  Its bold yet simple beauty, compact size, slight embellishments and lack of unsightly wires make the Core enviable in any space.
Additional Features
Speakerphone
Gesture Control to advance tracks
NFC 'touch to pair'
The Core will have an initial offering on Indiegogo beginning September 4th for $349 U.S. for one unit, $698 U.S. for two or $999 U.S. for three.  The Core is expected to be available for $599 U.S. retail, beginning December, 2014.  Look for more information at: http://massfidelity.com/
Comments are closed.