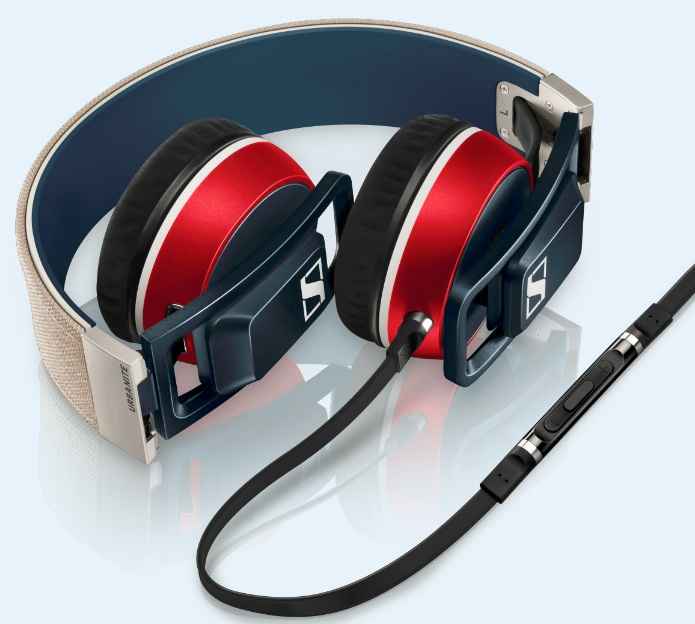 Sennheiser has just announced their new URBANITE headphones – designed to produce bass for an intense club experience on the move.  Within the URBANITE collection are two models: the on-ear URBANITE and over-ear URBANITE XL.  
The URBANITE range includes integrated in line remote control and microphone for taking calls and controlling music on smartphones and tablets.  There are dedicated versions for either Apple iOS devices, or for Windows or Android-driven/Samsung devices.
The URBANITE range comes in a wide selection of colour combinations that includes: black and denim across all models (both Apple and Samsung), with the iOS URBANITE additionally available in sand, nation and plum and iOS URBANITE XL also available in sand, nation and olive.  The stainless-steel hinges add a striking touch of rugged urban style to cool design touches like the colour-coordinated fabric-wrapped headband. However, the use of metal – on the premium hinge mechanism and the tough aluminium sliders – ensures these headphones are also styled to last.
The durable sliders and hinges also work with the super soft ear pads to ensure that the listener is insulated from external noise, ensuring great comfort for even long periods of listening enjoyment. And with its larger ear-pads, the Sennheiser URBANITE XL offers even greater levels of comfort.
For extra peace of mind all URBANITE headphones are supplied with a soft pouch for safe storage, and also come with a 2-year international warranty.  The Sennheiser Urbanite is currently available at a MSRP of: $199 U.S. while the Urbanite XL will be available in Q4-2014 at a MSRP of: $249 U.S.  Look for more details at: www.sennheiser.com.
Comments are closed.