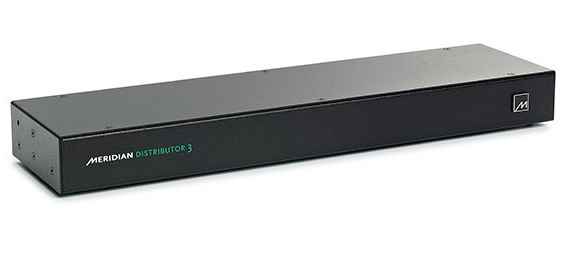 Meridian Audio has just released a new product that makes it easy to integrate their active in-room and in-wall DSP speakers together, as well as with other audio brands, within a multi-room application.  This new product is the Meridian Distributor 3.  The Distributor 3 is designed to seamlessly integrate distributed audio sources and control system with any pair of DSP Loudspeakers.  Up to three rooms can be added, and multiple Distributor 3 units can be used for additional rooms. 
The Distributor 3 has rack mounting hardware and is designed for discrete installation within a home electronics rack.  The rear panel is divided into three discrete "zones," each zone provides analogue and digital inputs as well as SpeakerLink for a Meridian source, such as a streaming system.  Typically used with a "matrix switch," each room, or "zone", can accommodate analogue, digital, and SpeakerLink sources. DSP Loudspeakers can be controlled via the home's existing control system or handheld IR remote.
Multiple source inputs for each zone are available with the Distributor 3 – including: Meridian-proprietary digital SpeakerLink input for Meridian SpeakerLink-equipped sources; an analog stereo input that has its signal converted to 24-bit/96kHz digital; one coax S/PDIF digital input and; one USB Type B input.  Outputs for each zone include a SpeakerLink-equipped output to drive Meridian's SpeakerLink-equipped digital active speakers via RJ-45 cable. SpeakerLink also conveys two-way control signals. Another output per zone is a coax S/PDIF.  Discrete control of each zone via an RS232 interface
The Distributor 3 incorporates the following Meridian exclusive features:
– Meridian High Resolution (MHR) – the first approved encryption method for transferring high definition digital audio between components. MHR allows secure movement of high resolution digital audio within a Meridian system, without compromise, improving quality by reducing cyclic repetition.
– SpeakerLink – an "Ethernet style" cable that delivers pristine digital sound and control down a single cable between Meridian components – simple, unobtrusive, and cost-effective cables that are easy to install.
INPUTS (for each of the 3 sections):
1 x RS232 control signal (DB9)
1 x SpeakerLink (RJ45)
1 x Analogue stereo pair (phono) ?converted internally to 24-bit 96kHz digital
1 x Digital S/PDIF coax (phono)
1 x USB B type for configuration if required
OUTPUTS (for each of the 3 sections):
2 x SpeakerLink (RJ45, Master & Slave)
Digital Aux S/PDIF coax (phono) for linking between zones
DIMENSIONS/WEIGHT:
430 (16.9) x 112 (4.4) x 43.50 (1.71) (W D H mm (in)) (1U, 19in rack-mounting)
1 kg (2.2 lb) approx.
The new Director 3 is currently available at a MSRP of $1,500 U.S.  Look for more details at: www.meridian-audio.com.