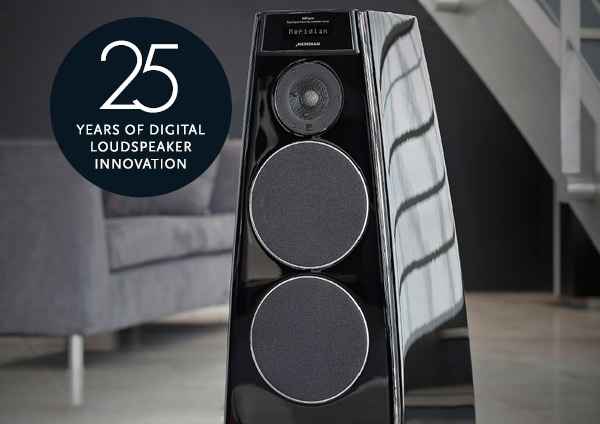 Meridian has just announced a Special Edition upgrade option for current owners of Meridian DSP8000, DSP7200 and  most versions of the DSP5200.  The upgrade will bring any of these models up to Meridian's new Special Edition specification, which Meridian states is their most lifelike achievement to-date.
The Special Edition was developed and launched in honour of the 25th anniversary of the world's first digital loudspeaker – the Meridian's D600.  Upgrading a DSP5200, DSP7200 or DSP8000 to the new Special Edition specification will provide the following performance enhancements:
New Firmware with Enhanced Bass Alignment
Bass frequencies produced by loudspeakers are delayed.  In the Special Edition, Meridian delays the mid- and high-frequency drivers with digital delays and uses special filters to impose different delays at different frequencies for the bass drivers. This is done to ensure frequencies across the entire audio band arrive at the same time – in phase, at the listener's ears, producing improved clarity at the bass end, a clearer and better-defined soundstage, and better definition all round.
New Beryllium-dome Tweeter
Beryllium being significantly stiffer than aluminium, provides a more perfect piston to reduce colouration, distortion and preserve transients, with extended high frequency response to most effectively deliver high-resolution recordings.
New Wideband Electronics with added DSP
Meridian's Special Edition wideband electronics and extra DSP power ensure that high-resolution file clarity and enhanced dynamics, are fully communicated, producing a more life-like sound that has ever been achieved previously. 
New Complete Warranty
With the Special Edition upgrade, Meridian will provide a brand new 2-year warranty on the entire speaker – not just the upgrades (3 years on DSP8000 model upgrades).  And by registering the upgrade on Meridian's web site, the warranty will be extended significantly – an addition 3 years. 
For full details, please visit Meridian's website at: http://www.meridian-audio.com/.
Comments are closed.