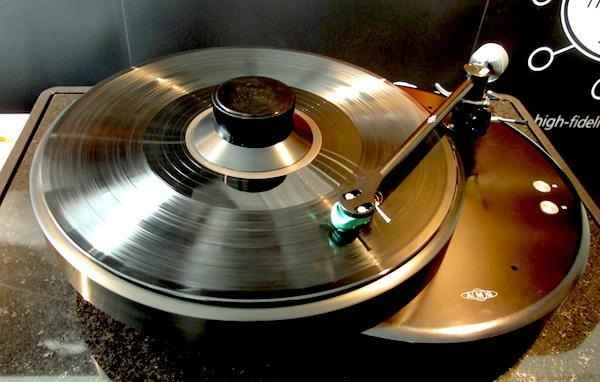 AMG has just launched two new products, their Giro turntable and their Teatro MC phono cartridge.  The new AMG Giro is built in the AMG factory in Germany and features an AMG 9W2 9" tonearm.  The belt-driven platter is a combination of synthetic and aluminum materials and uses the decoupled spindle design AMG's existing Viella turntable.  The platter bearing is a scaled version of the Viella platter bearing.  The Giro's "double circle" plinth is machined from aircraft grade aluminum.  An electronic speed control provides adjustment between 33 and 45 RPM.
AMG has also introduced a new Teatro MC phono cartridge that uses a special titanium body.  The body houses a generator using separate coils wound with Ohno cast (OCC) mono-crystal high-purity oxygen-free copper wire.  Neodymium magnets are combined with a special soft magnetic alloy yoke to produce an output of .4mV at 5cm/sec.  Coil impedance is 12 ohms.  A solid boron cantilever with a diameter of .26mm is fitted with a line contact stylus (40 x 7µm) and the dynamic compliance is 18 x 10-6 cm/dyne. The Tiodize Type III titanium body is tapped for 2.5mm mounting hardware and features an aluminum stylus guard.
Both the new AMG Giro turntable and Teatro MC phono cartridge are expected to become available late 3rd quarter 2014 at $9,900 U.S. and $2,000 in U.S. respectively.  Look for more information on these products to become available at: www.amg-turntables.com.
Comments are closed.