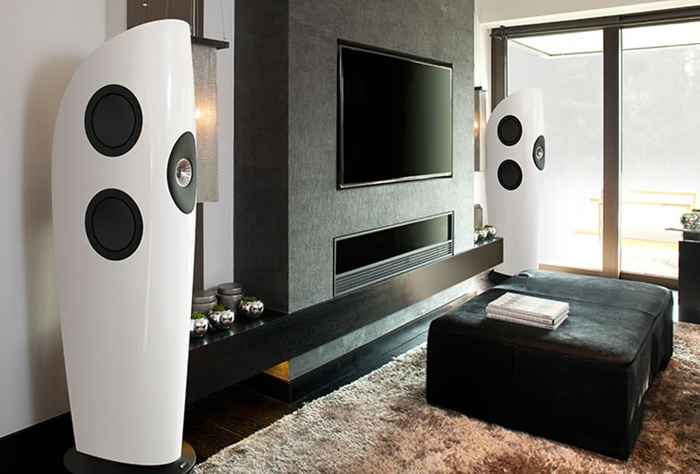 KEF has just introduced a follow-up to their flagship Blade loudspeaker model – the Blade Two loudspeaker.  The Blade Two brings all the innovations of KEF's original Blade loudspeaker, within a smaller cabinet and at a lower price point. 
At the heart of the new Blade Two is KEF's signature Uni-Q 'point source' driver array.  The Uni-Q uses a 25mm vented aluminium dome tweeter placed at the exact acoustic center of a sophisticated 125mm midrange driver.  This specialized positioning ensures wider dispersion and a much more even response over a broader listening area with the intent of creating a much more stable and natural soundfield.  The new Blade Two incorporates four powerful 6.5" bass drivers.  The cabinet design with parabolic curvature is maintained in the Blade Two, and contructed of high-density polyurethane to ensure cabinet rigidity.  
Then new Blade Two is smaller in height and depth than the original Blade, which maintains the look and function of the original design as well as the acoutic performance, while providing a form factor that will better complement smaller environments.  
Key Features Include:
Single Apparent Source Driver Configuration
Latest iteration of the Uni-Q Driver Array and Tangerine Waveguide
New Bass Technologies/4 Bass Units with Force Cancelling
Distinctive Design with ultra-high density polyurethane Cabinet
The new Blade Two is offered in a wealth of standard finishes, including: Piano Black, Snow White, Racing Red, Warm Metallic Grey, Light Metallic Silver Kent Engineering and Foundry Editions: Frosted Blue and Frosted Copper Black.  There is also an option of custom colours for those who are willing to wait a little longer and pay an additional premium.  The new KEF Blade Two will have a standard MSRP of: $24,000 U.S. / pair and will be available, come this August 2014.  Look for more information on the KEF Blade Two loudspeaker at: http://www.kef.com/.
Comments are closed.