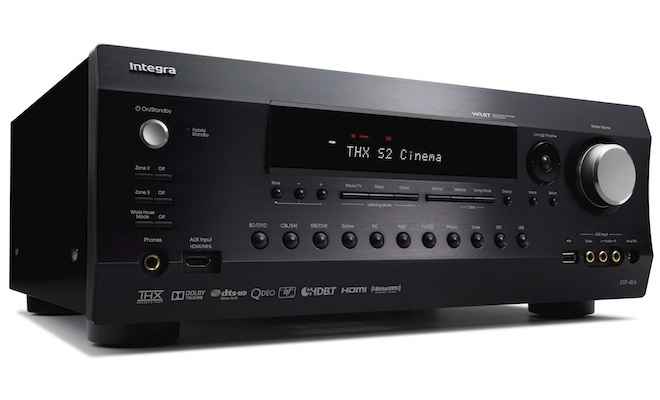 Integra has just introduced two new home theater receivers – the DTR-30.6 and DTR-40.6.  Both new receivers bring 4K/60 Hz and HDCP 2.2 copy protection via the latest HDMI standards.  The DTR-40.6 also has a THX Select2 Plus certification and HDBaseT connectivity.
Both the DTR-30.6 and DTR-40.6 models provide seven-channels of power, 95 and 110 watts-per-channel respectively and provide seven HDMI inputs and two outputs while the DTR-40.6 includes HDBaseT connectivity.  HDBaseT is a long-run wired connection technology, which enables cable lengths of up to 328 feet (100 meters) for uncompressed full HD multimedia content, through a single CAT5e/6 cable, including 3D and 2K/4K Ultra HD.  This flexibility is what many need to make their dreams of true home-theatre and whole house audio come to life.  The HDBaseT and HDMI output ports on the DTR-40.6 can be assigned for either main or second zone configuration.
Networking features include audio streaming content such as: Spotify, Pandora, SiriusXM Internet Radio, Tune In and many others.  The DTR-30.6 and DTR-40.6 also have a phono input for hooking up turntables directly.  File playback compatibility is broad, including: WMA Lossless, FLAC, DSD, Double DSD, ALAC, Dolby True HD 24/96 and 24/192 formats from HD music download services, USB or via local area network (LAN).  The DTR-30.6 includes both built-in Wi-Fi and Bluetooth to support wireless audio streaming from home network and mobile devices.
On the video side, both receivers provide full support for 4K Ultra HD video displays, using either the 4K pass-through feature or upscaling for conventional HD video sources via a Marvel QDEO processor. Both models also include ISF calibration capability.  The Integra DTR-30.6 and DTR-40.6 include an array of very useful video features, including InstaPrevue, which allows users to monitor multiple program sources with this HDMI variant of picture-in-picture. There is also Mobile High-definition Link (MHL), which uses the front-panel HDMI port to deliver HD video and up to 7.1 channels of audio from compatible Android smart devices and other products.
 The internal amplifier sections of both receivers are custom designed by Integra and incorporate hand-selected parts, high current, low impedance power supply section, and employs three-stage inverted Darlington circuitry and Wide Range Amplifier Technology (WRAT) — a low negative-feedback topology for low distortion and high dynamic range. The DTR-40.6 includes three-stage inverted Darlington Circuitry across all channels as well as the ability to drive difficult and demanding 4 ohm loads. Phase Matching Bass circuitry, introduced in the 2013 models, optimizes low frequencies while preserving mid-range clarity. It counters phase shifting — which can affect sound quality — by synchronizing the timing of different frequencies. The result is deep, well-defined bass that wont overwhelm vocals or strings.
In addition to the 7.1 channel Dolby True HD and DTS-HD Master Audio both models incorporate Dolby Pro Logic IIz to provide alternate surround option for front height channels. Proprietary AccuEQ room calibration bypasses any filtering of the front L/R channels so the loudspeakers unique audio characteristics are preserved. The remaining channels are very quickly and easily optimized for balanced surround-sound performance.
Powered Zone 2 and Zone 2 preouts are provided in both models as wel as a Zone 3 preout in the DTR-40.6, two IR inputs and one output for remote control integration, and three 12-volt triggers.  A bi-directional RS-232 port and Ethernet jack are available for seamless control from home automation systems.
The Integra DTR-30.6 and DTR-40.6 will be available in May at a MSRP of: $1,000 U.S. and $1,300 U.S. respectively.  Look for additional details at:  http://www.integrahometheater.com/
Comments are closed.