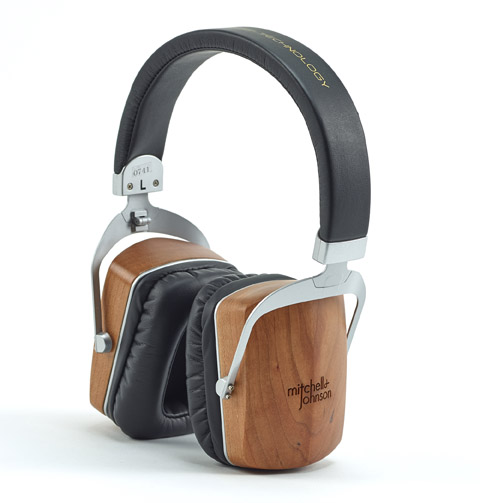 For reference, I listened to many different records with equal time on both pairs to provide a good cross-section of dynamic range capabilities, imaging, soundstage and stereo separation. These included: Steely Dan "Aja", The Clash "London Calling", Roger Waters "Amused to Death", Frank Zappa "One Size Fits All" and Pat Metheny "Pat Metheny Group".
During my tests I found that the MJ2 portrayed a fuller sound, as you'd expect from its slightly greater dynamic range. The GL2 on the other hand offered a slightly brighter character.
The initial attack and subsequent decay was quick and tight for both, but with tighter bass response on the MJ2. This was perhaps due to a tighter seal on the ears and greater low-end capabilities.
Certain styles of music are not really conducive to using electrostatic, or in this case, hybrid Electrostatz technology. Genres such as electronic dance music or aggressive metal, often require more of a punchy and aggressive presentation. A day before penning this review, I had downloaded the latest offering from The War On Drugs. Their previous record "Lost In The Dream" from 2014 was one of my favourite records, so after a three-year wait, I was really excited to hear the new album, entitled "A Deeper Understanding", especially on both pairs of headphones.
There's a lot going on in this recording, with many layers of instruments. Both pairs presented the recording with remarkable rhythm and pace. They focused in on the many textures of sounds while supporting the clarity of each of the individual instruments, without adding any coloring. Throughout the frequency response curve, the sound was smooth and very neutral. This natural and neutral sonic signature reproduced the midrange frequencies perfectly.
The seventh track, Thinking Of A Place, begins with a wash of old-school synths and after a few bars, the rest of the band kicks in. It was a treat to sit back and listen to the dynamic range and detail in action.
With that said, headphones and "Dark Side Of The Moon" by Pink Floyd are the audio equivalent to milk and cookies, if not bordering on the cliché. The track Money evoked the sensation of sitting in the studio listening to the band's final mix. The unique 7/4 time signature bass line sounded tight and articulate and made me pay close attention, as if I was hearing it for the first time. The highs were sparkly and the soundstage felt close, with the instruments and vocals well positioned. Contextually speaking, the track Money brought to mind that at this price-point, many other competitive brands, would simply not keep up. The lows and mids, were presented in an articulate, coherent and warm fashion. However, I would have preferred a little more punch at times. Crucially, there were significant differences in sound between the three music sources I used, which is precisely what you would expect headphones of this sonic caliber to reveal. When it came to the higher registers, I actually enjoyed the GL2 model a touch more. Despite a slightly narrower frequency response, 12 – 45,000Hz for the GL2, and 6 – 50,000Hz for the ML2s, the GL2s sounded a little brighter and more enjoyable to me.
Next up was Radiohead's "Kid A" and the details on this record were just amazing. The many electronically produced sounds simply came to life through the headphones. I like using this record as a reference album because it's very dynamic, in terms of speed and volume – it has some very aggressive, then very quiet passages. This record can easily highlight any gear's shortcomings. The only thing the headphones were missing at times was a powerful bottom-end. The detail was spot on and the stereo separation was great.
If you ask any musician, producer or audio gear manufacturer, the greatest and most profound desired response is to get the listener to succumb to the music, pure and simple. That emotional response through music, or as a result of music, has long intrigued me and kept me firmly planted as a lover of music. Many consumer electronics companies talk about creating a positive and enjoyable end-user experience. After all the math and science is crunched, specs and materials worked out, the user either develops a connection to the gear, or they don't. Typically, that feeling can be summed up, in audio terms, as musicality. Essentially when all your gear magically disappears and you become one with the music, that's musicality. Clearly, that occurred with me with both of these Mitchell & Johnson headphones.
I really enjoyed my time with both pairs but generally gravitated toward the MJ2s. However, taking everything into account, especially cost, the GL2 offers a greater value. Well-done Mitchell & Johnson!
Mitchell & Johnson
www.mitchellandjohnson.com
Distributed in Canada by Tri-cell Enterprises
www.tricellenterprises.com
1-800-263-8151
MJ2 Headphones
Price: $299 US
GL2 Headphones
Price: $499 US