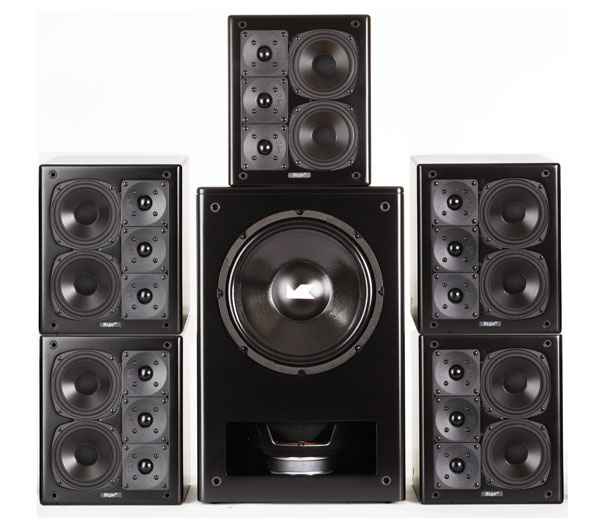 Have you ever wondered about what kind of audio systems professional studios use for engineering movie soundtracks?  MK Sound has long been a popular choice for professional studios and over the years has made its way into thousands of home theatres around the world. MK Sound speakers have been used for sound mixing and editing of countless blockbuster movie soundtracks such as Star Wars Episodes I through III, the Lord of the Rings trilogy, Pearl Harbour, Black Hawk Down and Iron Man – just to mention a few. It is also the speaker brand of choice by companies like Dolby Labs and DTS.  Heck, even the famous Skywalker Ranch is equipped with an MK Sound system.  The company attributes much of the success thanks to its MK 150THX System which we're looking at in this very review.  There really is a lot of history to get excited about here.  For those of you who haven't heard of MK Sound before, here's a brief background.  The company's origin dates back to the early 1970s in California, where the company was founded under its original name – M&K Sound – by an owner of an audio store and an audio designer.  Among its many accolades, in 1997 M&K Sound introduced the industry's first internally powered subwoofer.   In 2007, after countless accomplishments and nearly forty years in business, the company closed its doors but was quickly resurrected by a Danish company with a refined name of MK Sound.  Luckily, instead of redesigning the product line completely, the new owners decided to stick with the original speaker designs, with only slight updates.
The 5.1-channel MK 150THX system that I examine in this review consists of five S-150MKII speakers ($1,500 each) and the MX-250 subwoofer ($1,950).  As the system's name implies this is a THX Ultra2 certified system, guaranteeing that it meets the rigorous THX standards for accurate sound delivery.  The total price for this systems amounts to $9,450.  Two other speaker models are available in the MK 150 series – the S-150T Tripole speaker and the MP-150 on-wall speaker – as well as a larger subwoofer called the MX-350MKII.
Unlike most speaker manufacturers, MK Sound does not offer a choice of finish or colour.  What you see in the picture above is what you get – a black satin finish.  Instead the company focuses strictly on the performance of its products.  The five S-150MKII speakers are almost identical to each other, with the exception of driver configuration.  There are two configurations of this speaker – a Left channel model and a Right/Centre channel model.  Each speaker is nearly a perfect cube – measuring 12.5" x 10.5" x 12.5" – and weighs 21 lbs.  Removing the cloth grille reveals that these speakers don't follow a conventional design.  The front baffle houses two 5.25" polypropylene woofers and an unusual number of tweeters – three 1" fabric-dome tweeters to be exact.  The tweeters are arranged in a vertical stack, each housed within its own dampened chamber, and separated on the outside by foam ridges.  This tweeter array presents a wider than usual horizontal dispersion and promises outstanding accuracy and detail.  It also results in a narrower vertical dispersion which comes with a benefit of minimizing reflected sound.  The S-150MKII has a built-in proprietary Phase-Focused crossover which combines three key design elements: Time Domain Analysis, Frequency Domain Analysis and Point-in-Space Analysis.  Unlike other crossover designs which consider frequency response on one axis, this design takes into account various angles along the vertical and horizontal planes.  As a result this speaker claims to present a very smooth frequency response over a wide listening window and a better focused and coherent on-axis performance.  The S-150MKII has an impedance of 4 ohms, therefore a powerful enough amp needs to be mated with it.  It has a frequency response rated from 77 Hz to 20 kHz (+/- 3dB) and a recommended power handling of 25 to 400 watts.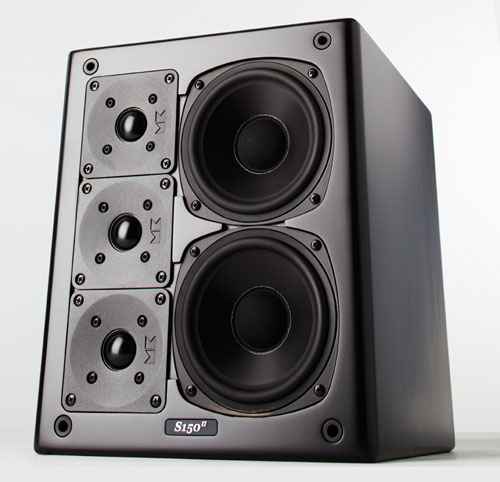 The MX-250 subwoofer included with my review set is the smaller of the two models in this series.  It utilizes a pair of long-throw 12 inch, coated pulp cone, magnetically shielded drivers that function in a push-pull configuration, housed in a sealed enclosure.  As the model name suggests, this subwoofer is powered by a discrete 250 watt on-board amplifier which uses MK Sound's Balanced Push-Pull Dual Drive Amplifier technology, with proprietary Headroom Maximizer IV circuitry to prevent amplifier clipping.  Its in-room frequency response is rated down to 20Hz (+-3dB).  The back panel offers both speaker level and line level connections for maximum compatibility with all home theatre components and a three position power switch (on/auto/off).  Dials for Phase, Low Pass Filter and Bass Level round out the rear panel.  The MX-250 can be daisy-chained with another subwoofer for those who wish to incorporate two subwoofers in their setup.
But enough of the technical stuff.  The real test is of course how they perform in a home theatre environment.  In most cases, including mine, setup of a speaker system like this will require five speaker stands.  The front and rear L/R channels can be placed on any speaker stands with a large enough base.  The centre channel is far too large for my TV stand, or any conventional TV stand for that matter, so I had to place it in front of the stand on a temporary stack of books.
It needs to be noted that the S-150MKII speakers are rated at 4 ohms and present a more challenging load for an amplifier.  Therefore these speakers need to be matched with a suitably powerful amplifier or AV receiver.  I used two AV receivers during my tests – a Pioneer Elite SC-07 and an Arcam FMJ AVR600.  The Pioneer worked perfectly well with the MK Sound speakers but the Arcam definitely pushed the sound performance to a much higher level.
I normally start my tests with music but this time I decided to begin with a few films.  And what better place to start than Tron: Legacy on Blu-ray, one of my recent sci-fi favorites.  A well engineered soundtrack, along with Daft Punk's powerful score, is sure to give any audio system a proper workout.  As main character Sam gets picked up by a spacecraft inside "the grid", my room literally shook as the engines of the craft rumbled.  The MX-250 subwoofer delivered a powerful but well articulated bass.  When the spacecraft flew from behind me on to the screen, the MK Sound system created a frightening, hyper realistic sensation as if something actually flew from behind me and above my head.  Meanwhile the dialogue between the characters was consistently clear.  Not once did I struggle to hear what the characters were saying during the loudest of film passages.  As the games began and the players started tossing the discs at each other, the sound effects travelled in a most precise manner between all of the speakers.  The sonic transitions from channel to channel were completely seamless.  The cheering of the crowd during the games made me feel as if was sitting right there with the audience in the stadium.  Watching scenes from Tron was just sheer pleasure.  It appeared that my reference Monitor Audio Gold GX 5.1 speaker system had met a worthy contender.  Not on the visual side because the Monitor Audio speakers are knock out gorgeous next to the MK Sound speakers, but certainly on the performance side.
Keeping with the sci-fi genre, I thought it'd be fun to watch one of the Star Wars movies that was mastered on MK Sound speakers.  And so inside the Blu-ray player went Episode III: Revenge of the Sith.  Right from the opening credits, accompanied by John William's score, I knew I was in for a treat.  To say that I was pleased with the sound would be a huge understatement.  I felt that what I was getting here was a truly cinematic audio experience that's closer to a full blown movie theatre than a home speaker system.  This MK Sound system had an exquisite ability to create a presence of characters and environments, and showed a great accuracy in soundstage control.  I tried all four seats in my home theatre and the uniformity of sound delivery was one of the best I've heard in my room to date.  The layers upon layers of sound in this film can make even a good speaker system struggle but that was far from what I was experiencing here.  All of the individual layers blended perfectly together, yet each one had a precise definition.  As the film advanced, I once again marveled at how remarkable this system was at creating truly convincing sonic environments.  Believe me, I've watched this movie on many speaker systems but few had engaged me quite as much as this MK Sound system.  Thanks to their generous size, the S-150MKII speakers offered a rich, low-reaching frequency response from the surround channels, much like my Monitor Audio speakers.  This offered a far greater engagement and envelopment in the movies I watched compared to speaker systems that use smaller or more directional surround speakers.
During the time that the MK Sound system spent at my house, I had the opportunity to watch more than a dozen movies.  There was something about the sound of these speakers that kept drawing me back to my basement home theatre.  I also watched several episodes of HBO's fantastic The Pacific series, which left a lasting impression.  The dynamics of this series make it a really great test for any home theatre system.  I originally watched some of these episodes on the Paradigm MilleniaOne speakers in my living room, but this time around it was an entirely different experience.  The MK Sound system threw me right into the middle of the action.  Planes were flying over my head.  Heavy artillery shells and bullets zoomed across the battlefield.  Conversations between the soldiers varied from shouting to whispering but the dialogue was always clear.  Everything about this presentation was realistic and terrifying.  A war movie buff like myself couldn't be more satisfied with the experience.  At this point I clearly understood why so many professional studios choose MK Sound speakers.
I then decided to switch paces and listen to some music.  Just a minute into Pink Floyd's Wish You Were Here SACD I was completely mesmerized by the awesome surround interpretation of this classic album.  The clarity and detail delivery were terrific.  The speakers delivered a crispy clean midrange with good realism of vocals and instruments.  I really enjoyed the tonal uniformity and balance of the 360 degree soundfield – a benefit of being surrounded by five identical speakers.  In this regard, the MK Sound system surpassed my Monitor Audio system.  The acoustic guitar strings sounded genuine and the drums had the right amount of pizzazz.  While listening to several other multi-channel SACDs, such as the Beatles' "Love" and Dire Straits' "Brothers In Arms" albums, this MK Sound system continued to shine in its ability to envelop me in a seamless three dimensional soundstage.
If you use your home theatre system to listen to 2-channel music, you'll be pleased to know that this speaker system also does well here.  I listened to discs of various genres, ranging from classical to rock to vocal.  The S-150MKII pair delivered a clean midrange with great details and stereo imaging.  Both voices and instruments were delivered with a good amount of authenticity.  Compared to my reference Monitor Audio Gold GX 200 floorstanders, I did however find the MK Sound speakers to be a little less musical in their presentation.  Their presentation wasn't quite as three dimensional when playing as a stereo pair and I never managed to get lost in the music.  Their bass extension also wasn't as deep, nor was there as much air between vocals and instruments.  To be fair though, the GX 200's are significantly more expensive than a pair of the S-150MKII speakers ($5,000 versus $3,000).  Nevertheless, music in stereo was perfectly enjoyable.
This MK Sound speaker system may not be the most décor-friendly or easiest to place in a room.  Each of the S-150MKII speakers is about the size of a little subwoofer and its solid black finish doesn't help when trying to integrate them in the room.  The centre channel will be a challenge to place for those who have a TV sitting on a typical TV stand.  If your room doesn't have enough space to house a pair of the S-150MKIIs at the back of the room, you might want to consider the less obtrusive S-150T Tripole speaker ($1,900/pair) or the MP-150 on-wall speaker ($1,300 each).  MK Sound understands that some consumers want the benefit of their speakers but don't necessarily need to see them at all –and the company has you covered here as well.  Those building a new home theatre room, or willing to fish wires inside existing walls, should take a look at the IW-150 in-wall speakers ($1,300 each) – these are the in-wall equivalent of the S-150MKII.  Another solution to hide the speakers in your room would be to place them behind an acoustically transparent screen or inside custom built enclosures, which will make the speakers disappear altogether.  One thing is for sure – if you're looking for a clean, detailed and immersive sound in your home theatre there is no question that this is definitely one sound system you should consider.  When the lights go out you'll be rewarded with a true theatrical sound experience.
MK Sound
www.mksoundsystem.com
Distributed in Canada by
Pacific Cabling Solutions
www.pacificcabling.com
1-800-946-0669
MK Sound MK150THX 5.1 Speaker System
Price (CAD):
S-150MKII speakers ($1,500 each)
MX-250 subwoofer ($1,950)
5.1 system as tested: $9,450