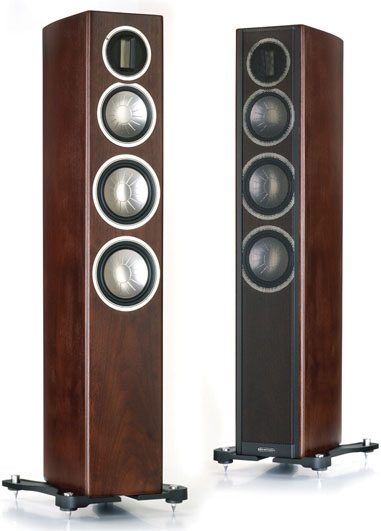 My first encounter with the Monitor Audio Gold GX series speakers was at the Salon Son & Image, which took place earlier this year in Montreal.  It was their good looks that first attracted me, but it was the engaging sound presentation that inspired me to bring these speakers in for review.  The model demonstrated at the Montreal show was the flagship GX 300 floor-stander ($5,995/pair).  However, for the purpose of this review, we asked Canadian distributor Kevro International to send us its smaller and slightly more affordable brother, the GX200 ($4995/pair).
The Gold GX series sits just below the company's top of the line Platinum series and consists of eight models: two bookshelf speakers, two floor-standers, two centre channel speakers, a surround speaker and a subwoofer.  This wide selection of models is designed to appeal to those who are looking to build a two-channel music system or a multi-channel home theatre system.  All of the new GX series models are engineered in England and manufactured in China.
What makes this Gold GX series particularly attractive is that it contains a great deal of technology that has trickled down from the previous Platinum generation.  Hence Monitor Audio claims that this series offers sonic characteristics very similar to those of the Platinum series.  Doesn't that sound good?
The GX200 is a very handsome floor standing speaker with a small enough footprint to fit into most listening environments.  It has a three-way design with a frequency response rated from 35 Hz all the way up to 60 kHz, a sensitivity of 89 dB and an impedance of 8 ohms.  Its array of drivers consists of two new 5.5 inch RST bass drivers, developed from Monitor Audio's C-CAM material, as well as a new 4 inch RST mid-range driver.  The 5.5 inch RST bass drivers feature a heavy construction with massive magnets and promise an extended low frequency performance while providing a smooth roll-off, without any overhang.  Monitor Audio says that this makes the speakers placement friendly, allowing them to be positioned relatively close to a wall.  The 4 inch RST driver is housed in its own damped enclosure to provide the cleanest, most natural character.  This driver is said to offer extremely low distortion, high efficiency and amazing power handling.  The GX200's crowning glory is the C-CAM Ribbon High Frequency transducer (tweeter) designed to reach well above 60 kHz.  While this is about two octaves beyond the threshold of human hearing, it should mean that you'll be able to hear all the musical nuances and harmonics found in high resolution audio content.
The GX200's cabinet is constructed out of 20 mm MDF, with radial and cross braces, to improve rigidity and minimize cabinet colouration.  The speaker is rear ported, using Monitor Audio's HiVe ports, said to result in better transient response and tighter bass.  The rear panel of the speaker offers high quality bi-wire terminals and includes factory installed jumpers.  The front baffle of the speaker has invisible magnetic grille fixings and hence looks very clean – this will be appreciated by those who won't be using the grille.  Like many other Monitor Audio floor standing speakers, the GX200 comes with a heavy metal stand which gives the speaker a solid foundation.  My review pair of the GX200's had a beautiful Bubinga finish (a dark wood grain) but the speaker is also available in Dark Walnut as well as Piano Black and Piano White glossy finishes.  I inspected the speaker thoroughly when unpacking, and I'm glad to say that the fit and finish appeared to be perfect, unlike some of the other Chinese made products I've come across during the last few years.
Measuring 37-7/16" high by 6-11/16" wide by 11-13/16" deep and weighing 48.9 pounds each (a little more with the stand), the GX200 is neither large nor particularly heavy, which makes it easy to move around and fit into just about any living environment.  Flanking my audio component rack, the speakers looked very nice, albeit a little smaller than what I'm used to visually.
I connected the GX200's to my trusty Classé Audio system consisting of the CP-500 preamplifier, CA-2100 amplifier and CDP-102 CD player.  After giving the speakers about 200 hours of burn-in time, recommended by the Canadian distributor, I began my in-depth listening tests.  The first disc I span up was Sarah Blasko's "As Day Follows Night" album.  Beginning with the first track, "We Won't Run", I was instantly pleased with the GX200's ability to resolve the texture of Blasko's graceful voice, which offers a touch of a sexy Australian accent.  In one part of the song, the effect of a subtle echo of her voice was clearly audible.  The midrange was rich and neutral, as the bass line played cheerfully with good depth and articulation.  With the next track, "Is My Baby Yours?" two guitars hit the soundstage, one slightly muted and another unrestrained.  The GX200's offered excellent stereo imaging and effortless motion as the song demanded the ringing of the strings to flow between the channels.  Blasko's near pitch-perfect vocals are more dynamic on this track, yet contained all the subtleties which make her voice so irresistible.  The GX200's had my attention.
When listening to the AIR French Band "Moon Safari" album, I was given the chance to explore many of the GX200's sonic characteristics much deeper.  With "La Femme D'argent," I quickly realized just how much high frequency information these speakers were able to extract from the music.  I literally heard high frequency components that I haven't heard before.  The C-CAM ribbon tweeter played with amazing speed and delivered awesome resolution.  The sound of rain, normally placed further in the background by my reference Focal Electra 1008 Be II speakers, had significantly more presence and played with more details than I've become accustomed to.  The analog crackle effect which accompanies this track gave it an authentic vintage sound feel.  The ribbon tweeter certainly allowed the GX200 to peer deep into the music and pull out tons of subtle high frequencies details. So, obviously, I was enjoying the benefits of the ribbon tweeter, and to make matters even better, I found that I was able to hear more sonic details at lower volume levels with the GX200 than with other speakers.  With this being said, the GX200 should be partnered with a high quality amp, like the Classé Audio CA-2100 that I was using, because they might sound a little on the brighter side if paired with a lower quality one.  A ribbon tweeter like this would likely also reveal all the shortcomings of a lesser quality amp.  Something else I noticed about the GX200 while listening to "Moon Safari" was its ability to create a truly gigantic and three-dimensional soundstage.  It's been a while since I remember closing my eyes and being so engaged by the sonic landscape produced by a speaker.   And when it came to bass, the GX200's were no slouch either.  The bass lines of the tracks on this album not only danced around fluidly but were dynamic and reached ample depth.
Switching to Ben Harper & The Innocent Criminals' "Live From Mars", I once again changed the pace in my listening room.  This album offers a great combination of tracks ranging from Harper playing an acoustic guitar and singing, to full band, multi-voiced songs.  The GX200 reproduced the sound of the various guitars used throughout the album with extraordinary realism – I felt like I was playing guitar myself.  Acoustic guitars sounded just like the real deal, while effects applied to other guitars gave each one a very distinct sonic signature.  If you enjoy hearing all the nuances of a performer's voice, the GX200 have you covered here as well.  All the subtleties of Harper's voice were preserved with the outmost clarity, from raspy lower notes to smooth high notes.  I truly enjoyed the open, airy sound of this album which echoed far and wide in the soundstage.  The GX200 offered a full, natural sounding midrange.  With the volume turned right up, I do have to admit that the GX200 did sound a little on the brighter side, although this did appear to be a function of this album combined with the speakers.
During the review, I switched over to my Fatman iTube 452 integrated tube amplifier numerous times.  Not surprisingly, with this amp in place, the overall sound molded into something noticeably warmer and resulted in a sweeter sounding top end.  Since I like to turn up the volume relatively high from time to time, to me this tube amp was a better companion for the GX200.
The Monitor Audio GX200 delivered an undeniably enjoyable, musically passionate performance during its stay in my home.  I took it through the paces with all kinds of music, ranging from classical to hard rock and it always pleased me with its sound.  Those who enjoy listening to jazz and classical should find this speaker particularly attractive since it'll extract the finest details from high frequencies and provide a great three dimensional soundstage.  The GX200 is indeed a great sounding speaker and offers excellent value at its price point.
Monitor Audio
www.monitoraudio.ca
Distributed in Canada by
Kevro International Inc.
www.kevro.com
1-800-667-6065
Monitor Audio Gold GX200 Speakers
Price: $4995 CAD/pair