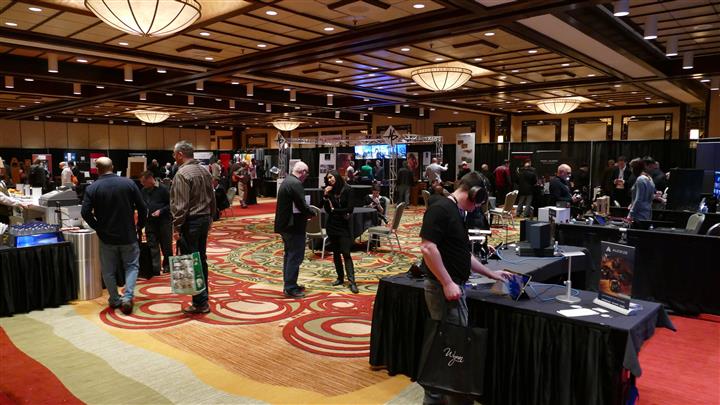 Oh, Montreal, a city full of fun and ever more so with the return of the 2015 Montreal Audio Show | Salon Son & Image (SSI) show.   SSI was held, once again, at the Bonaventure Hotel over three days – March 27 to 29th to be exact. This year, Suave Kajko, Editor-and-Chief of CANADA HiFi Magazine and I were able to attend the show for all three days, which gave me enough time to take in all the sights and sounds at a more leisurely pace. Though the bones of the show remained as it has for the past few years, there were a couple net new attractions, including a live music recording studio setup which I'll tell you about soon.
SSI continues to be a show focused on music playback, predominantly of the two-channel (stereo) variety – whether from digital or vinyl source or for that matter, orated by loudspeaker or headphone. This year, 2015, marks the 28th year of the SSI – an astounding accomplishment in these days of constant change. However, somewhat of shock to me was the markedly lower number of exhibitors, less than I've seen in several years. Despite the reduction in rooms to visit, it seemed as though visitor traffic was still healthy, a reassuring sign.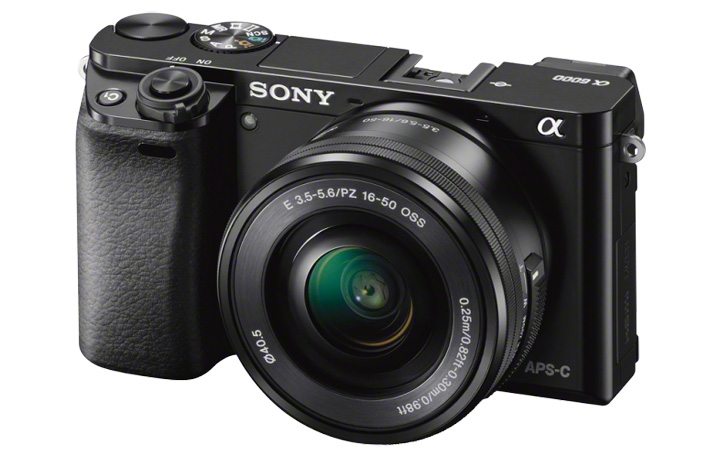 Photos With a Sony a6000 Camera:
Before I go any farther I would like to let you know that all my photos were taken using an off-the-shelf Sony a6000 digital camera with the standard 16-50mm lens ($799). The Sony a6000 is a mirrorless camera with an incredibly fast auto-focus – just 0.06 seconds and a 24.3 MP image sensor. I found the a6000 to be very light and compact, yet very capable, which made it a joy to use throughout the show. I'd recommend that anyone looking for SLR-like performance in a much smaller package, give it a try. For more about the Sony a6000 mirrorless digital camera, visit: http://store.sony.ca/digital-cameras/cat-31-catid-Digital-Cameras
And now – to my coverage of the 2015 Salon Son & Image – Montreal Show:
Audeze: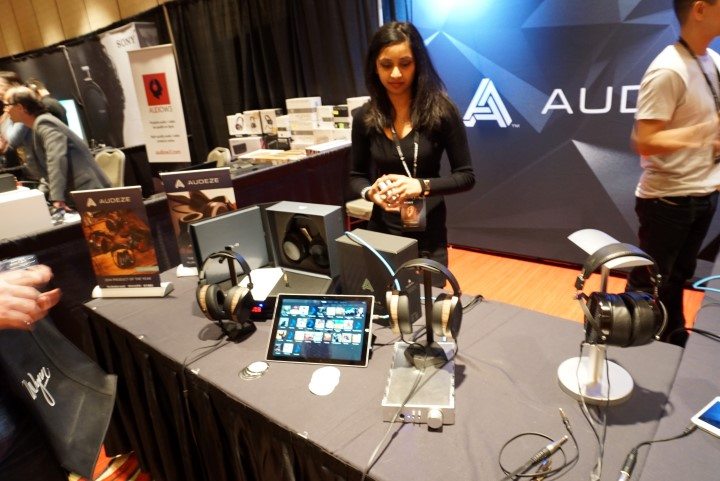 At the Audeze table, I was greeted by Tasvee Uka, International Sales Associate for Audeze, who I had first met last October at TAVES 2014. Tasvee introduced me to the Audeze EL-8 headphone, a new model available in both closed and open-back format, each priced at $699 U.S. The EL-8 was designed to be easy to drive, even by a mobile device.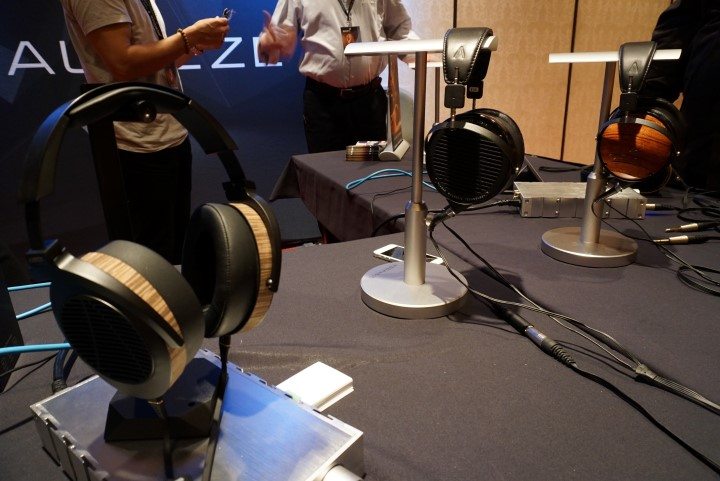 I gave a listen to a couple tracks and was quite amazed by the openness and soundstaging of the closed back model. Turning to the LCD-2 headphones $995, I gave listen to Audeze's all-new prototype headphone amplifier, the Deckard Class-A Amp/DAC. I was impressed with the detail, quickness and incisiveness of its sound – and found the design very attractive. I was told Audeze is still working on some finishing details but that it is expected to be released soon. Other headphone models on display were the LCD-X $1,699; LCD-XC $1,799 and LCD-3 $1,945, all in U.S. dollars.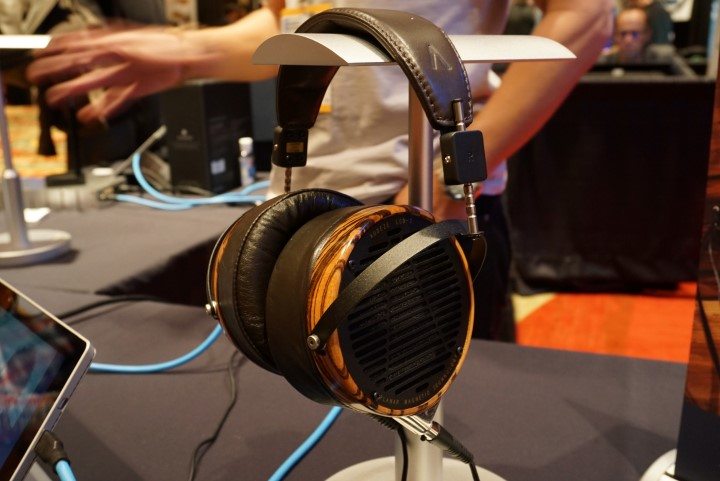 I spent some time listening to the LCD-3 and was just bowled over by how three-dimensional the sound was with images seemingly reaching out towards me from the space around – note-to-self; add this to the bucket list.
Audio Note UK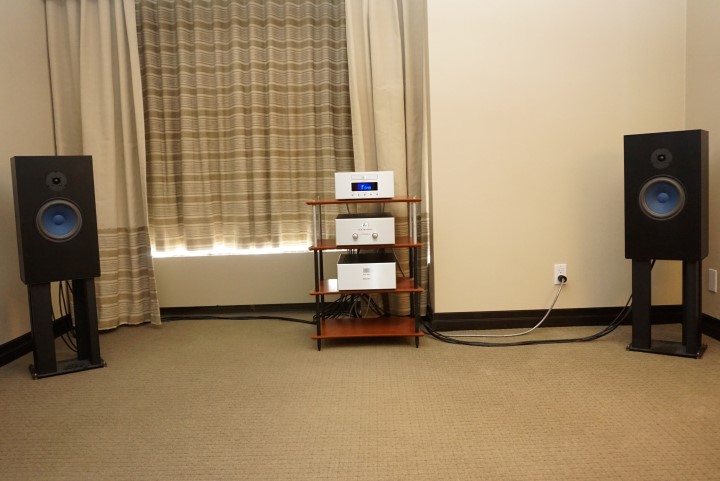 My visit to the Audio Note turned out to be a bit of a surprise. Over the years of hearing the Audio Note products, I've gone from totally dismissing them given there 70's appearance, to being intrigued by their music portrayal, to now, especially on this latest visit, being astounded by the lifelike rendition they are capable of portraying. In this room, was the Audio Note CDT One/II $4,100 CD transport hitched to a DAC2.1x Signature DAC $5,500, which in turn was connected to a P2SE Signature 18 watt/ch integrated tube amplifier $6,000, powering a pair of J/D loudspeakers $4,000 with a hemp woofer (all pricing in U.S.). Listening to the Oscar Peterson Trio album, We Get Requests and the song "You Look Good To Me" I was blown away at the eerily realistic portrayal. PRAT, flow, liquidity as well as texture and tonal accuracy were all there and I found myself totally absorbed in the listening.  
Gershman Acoustics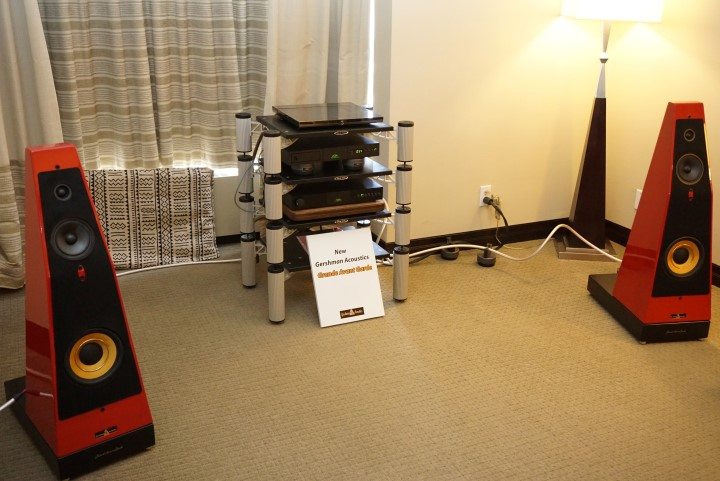 In the Gershman Acoustics room, the star attraction was the Grande Avant Garde loudspeaker $12,900/pair which was being demonstrated with Naim and Devialet integrated amplifiers. While I was in the room, the Naim equipment was in place and the sound was very lovely. The speakers though quite modest in overall size are able to dig deep and provide quite amazing articulation. All Gershman Acoustics are proudly handcrafted in Canada – just North of the Greater Toronto Area. With a frequency response of 22Hz to 20kHz they are full-range speakers that are adept with a broad range of music.
Audionation / April Music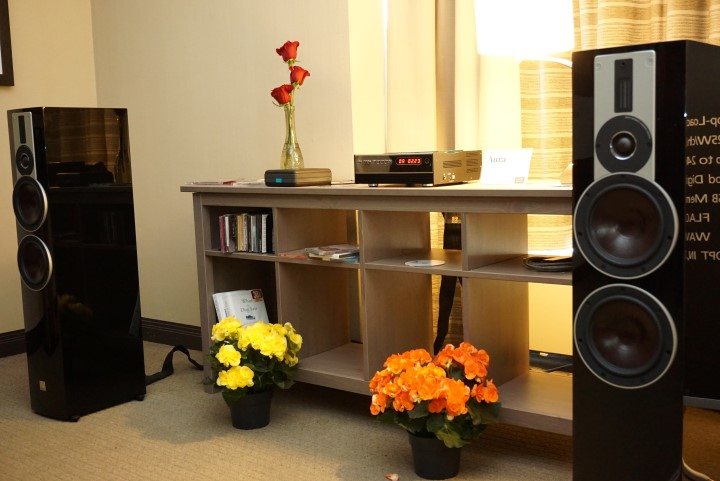 As I was walking down the hallways, the sound emanating from one of the rooms was particularly beautiful and lively, drawing me in. This was a room hosted by Audionation, the Canadian distributor and online sales channel for April Music, Vifa, DALI and Exposure.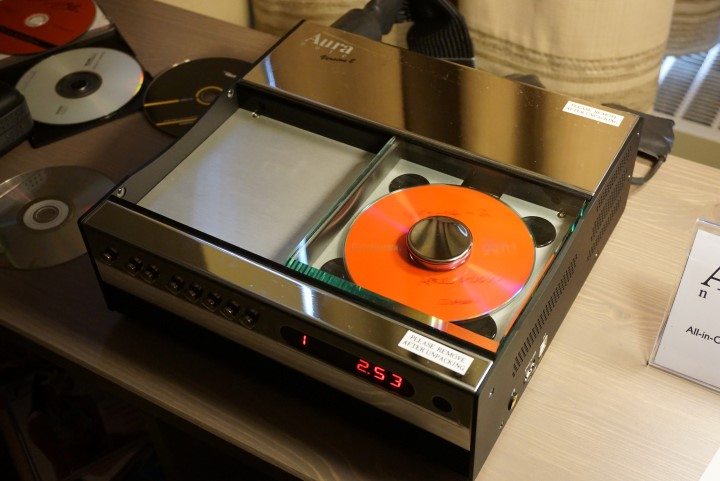 Featured inside this room was the all-new, April Music Aura Note V2 $2,999, its first Canadian showing. The Aura Note V2 is an all-in-one integrated amplifier /FM receiver/CDP. This system was demonstrated with the DALI Rubicon 6 floorstander $6,999. On hand was also the DALI Rubicon 2 bookshelf $3,499. The sound was truly engaging and musical with lovely presence and tone – one of my picks for value and performance.     
ClaeCast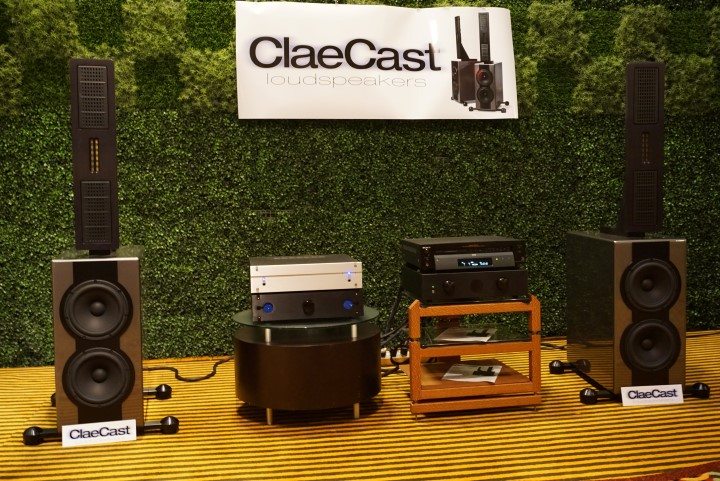 ClaeCast, a new Canadian manufacturer based out of Gormley, Ontario was showing off their first product for the first time – referred to simply as the ClaeCast Loudspeaker est. $25,000/pair. The speakers were unusual in form, using twin woofers, an open port enclosure with an upright bar housing twin planar-magnetic midranges, and what I perceived as a magnetostat ribbon tweeter. Zdenko Zivkovic, a veteran electronics designer who has worked for companies such as Sonic Frontiers and Magnum Dynalab was proudly providing the details on the speakers, as well as the DAC, integrated amplifier and preamp that were of his personal design. What was different then probably anything at the show was the "live-performance sound" these speakers were capable of producing – dynamic, quick and open. Sitting below and just behind the main escalators, their sound made its way up and could be heard right from the main entrance area of the hotel. In fact, before I actually saw them, I was fooled into thinking that a live musical performance was underway. I'm hoping to see more of this company in 2015, perhaps even at TAVES 2015.
Brosseau / Simaudio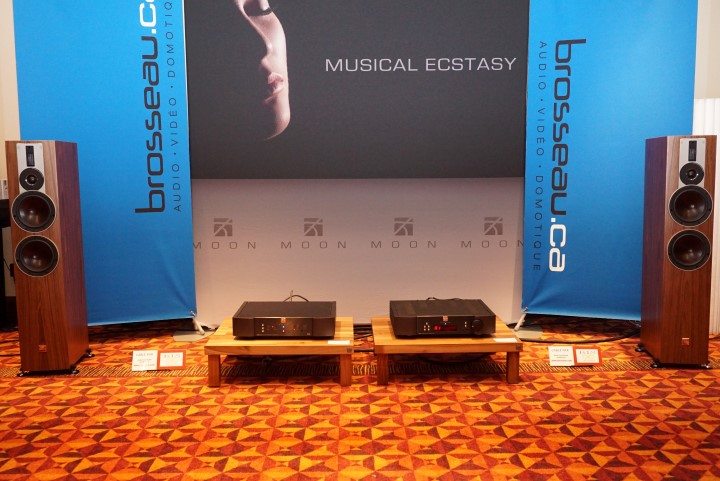 Simaudio was being hosted by a local Quebec dealer – Brosseau. The active setup was made up of the relatively new Simaudio MOON 280D DAC $2,200 running into a MOON 340i integrated $4,700. Speakers were DALI Rubicon 6 $6,999/pair. I really liked the overall tone of this system and was amazed at its sound given its relatively affordable overall price. My interest was spiked enough I asked Lionel Goodfield, VP Marketing, Simaudio for a review sample of the MOON 280D DAC – watch for this in the coming months.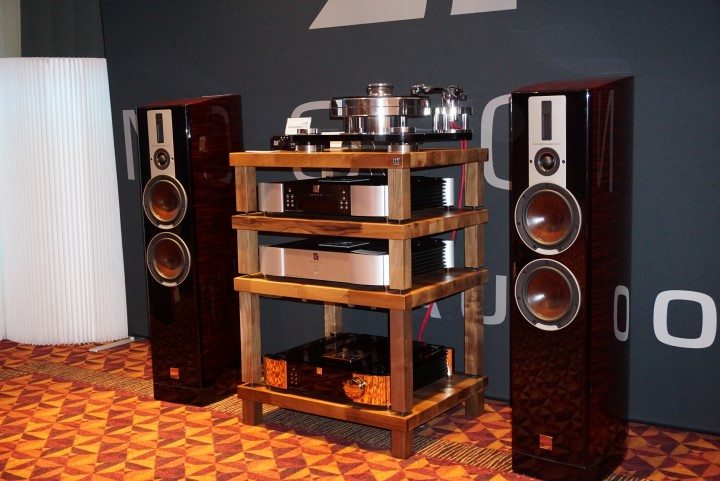 On static display was a custom special edition MOON 600i integrated amplifier with 24-karat gold plating and custom black paint $13,000; along with DALI Epicon 6 loudspeakers $17,000. An interesting fact I found out was that Simaudio offers custom paint and metal finishes on all of its components, though price will vary depending on the request.
AudioQuest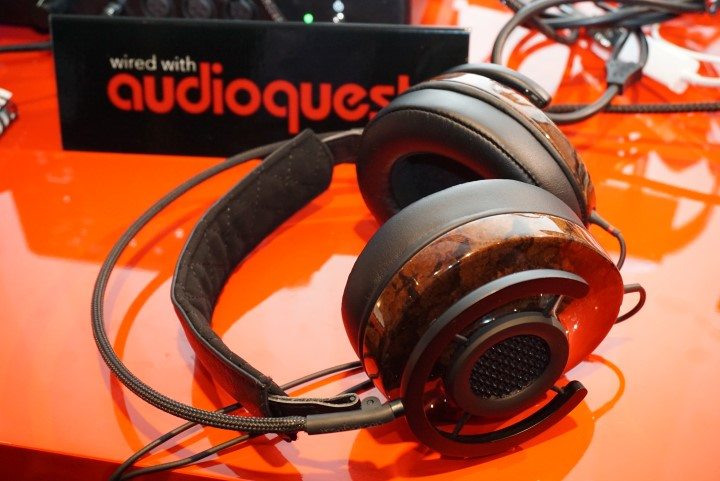 AudioQuest was set up in a room with a local dealer, Audioville, running a number of closed-door demonstrations focused on digital audio music playback. At the heart of these demos was the AudioQuest DragonFly DAC 1.2 $149 U.S. along with a new prototype device – the JitterBug est. $49 (first Canadian showing). The JitterBug is a dual-line conditioner that reduces jitter, ringing and digital noise through USB. The "bugs" they were showing didn't even have enclosures and a formal release date has not yet been announced – though when pressed, the AudioQuest folks did say it should be in 2015, if everything goes as planned. More significant was the all-new AudioQuest NightHawk, a semi-open-back headphone $699. The NightHawk uses unique biocellulose diaphragms, paired to 1.2 Tesla magnets and all PSC+ copper conductors. The earcups are constructed of Liquid Wood, a man-made material comprised of reconstituted wood pulp. The finish made the earcups look like they were of an exotic wood. Liquid wood is used to provide performance benefits, lower cost and aesthetic appeal. I had some time to listen to the NightHawk powered by both the DragonFly, as well as a Woo Audio Firefly – in both cases with the JitterBug hooked up in line. The source was a MacBook running Audirvana Plus software. I found the sound to lean to the warm with full rich bass and a good helping of detail, though for me lacking a bit of treble extension and bass articulation.
Also in the room, AudioQuest was featuring their CAT 7 10-Gigabit digital cables, including the Pearl CAT 7 $29/1.5m and Diamond CAT 7 $1200/1.5m. An active system included a Bryston BDA-2 DAC and B&W 802 D2 loudspeakers driven by a Conrad Johnson ET5 preamp and ART power amp. The system was wired with AudioQuest Redwood bi-wire speaker cables $9,000/8-ft pair; and their new Fire RCA interconnects $3,000/each that replace the AudioQuest Sky cable.
Woo Audio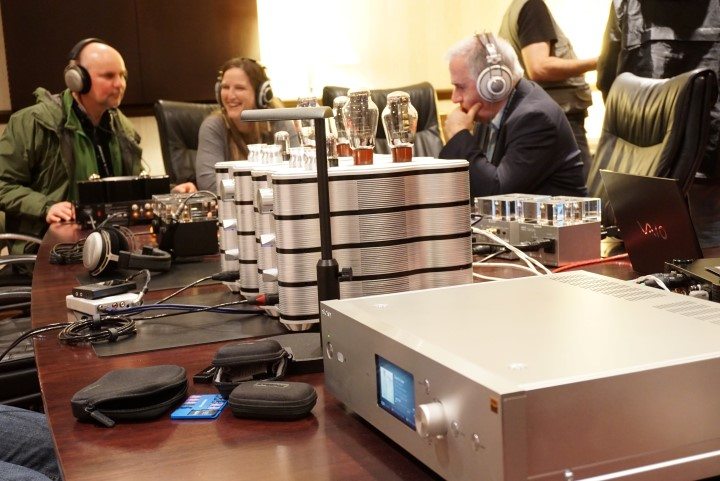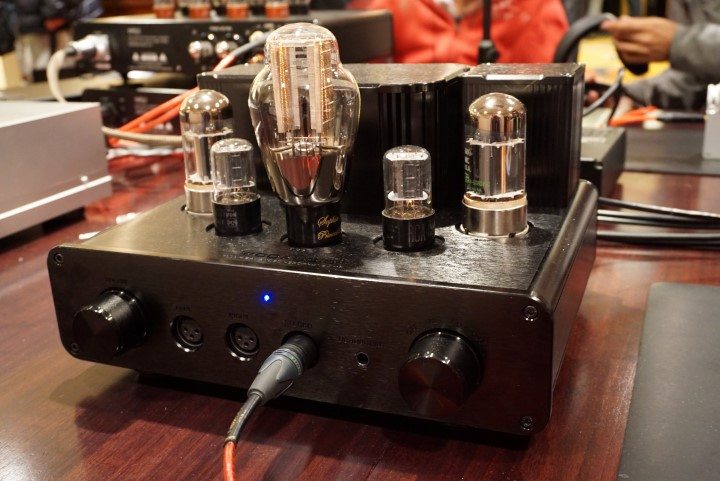 Personal audio was the focus of the Woo Audio room. Woo Audio setup a large conference table with multiple sit-down stations featuring different head-amp / DAC models. Most stations had a couple of hi-end headphones to play with. I spent some time with a few and really enjoyed the experience.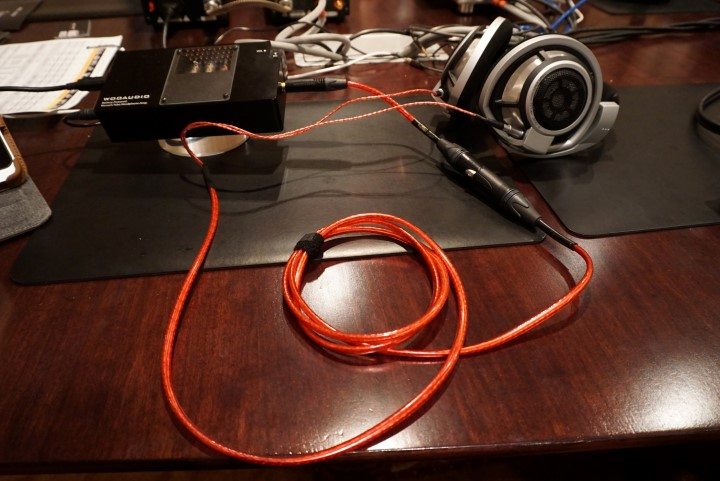 Woo Audio was featuring an all-new prototype WA8 portable tube headphone amplifier with 24/192 USB DAC, est. $1,500 U.S. – check out the Nordost cable, as well.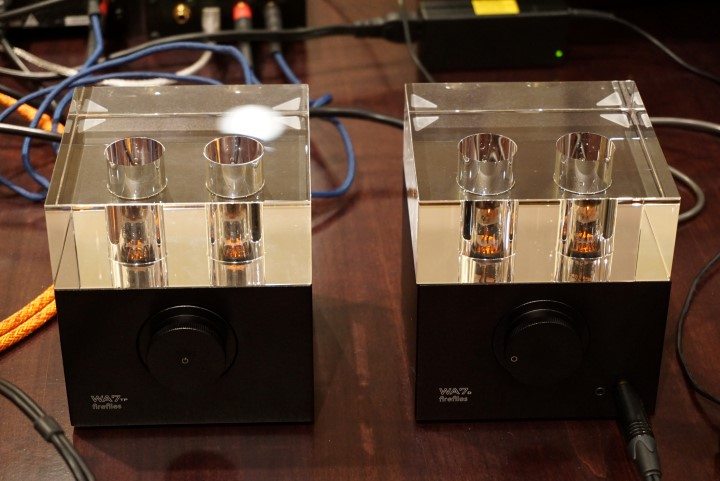 Other products, available for audition included (in $U.S.): a WA6-SE head-amp with separate power supply $1,999 connected to a WDS-1 DAC $1,199; WA22 head-amp $1,995; an immense and eye-catching pair of WA234 mono-blocks $15,900 capable of driving any headphone and some speakers with up to 8 Watts/ch on tap; WA2 head-amp $1,190; WA6 head-amp $699; WA7 Firefly $999 with optional WA7 tube power supply – total $1,398 and the; WES 2-box fully-balance electrostatic head-amp $5,000. I picked up one of their light headphone stands $34 U.S. which are just the right style for my listening room.
Soltanus Acoustics / Brooklyn Audio Inc.: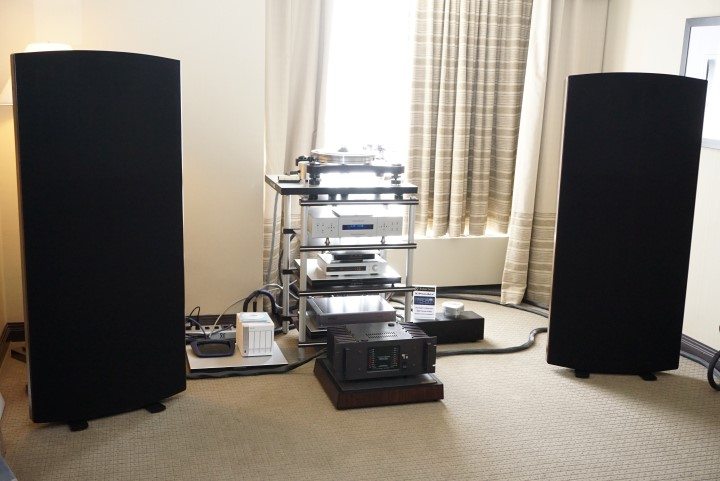 Brooklyn Audio Inc. was hosting a room for Soltanus Acoutics, one of the brands they represent. This was the world premier showing of the Soltanus Acoutstics ESL Virtuoso $10,995/pair, which Soltanus claims is the world's first crossover-less multi-panel full range (40-20,0000 Hz) electrostatic loudspeaker. It was driven by a recently refurbished 1978 Threshold amplifier, pure Class A (Nelson Pass design). The speaker does have a cross-over for use with lesser amplifiers.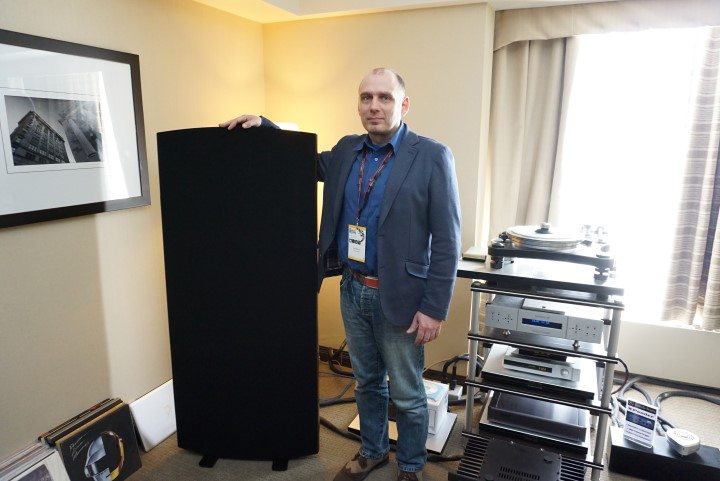 The speaker's designer, Zoltan Mikovity, was present in the room and graciously accepted my request to photograph him with his creation. I didn't get enough time in the crowded room to listen but what I did hear was room filling and large – no doubt in part to their 1.5 metre by ½ metre stature.
VMAX Services: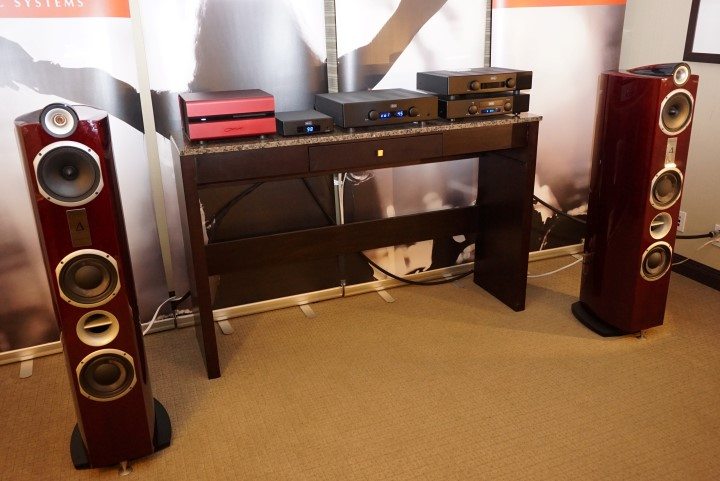 VMAX Services has hosted some great sounding rooms in the past and this year did not disappoint. The main system running was fronted by Triangle Signature Delta (made in France) loudspeakers $9,900/pair and driven by a Hegel H160 integrated $3,800 coupled to a Hegel HD12 DSD DAC $1,400 with a QAT Audio Technology MS5 Music Server $5,995. There was also a Hegel CDP 2A MK2 CD player on hand $2,900.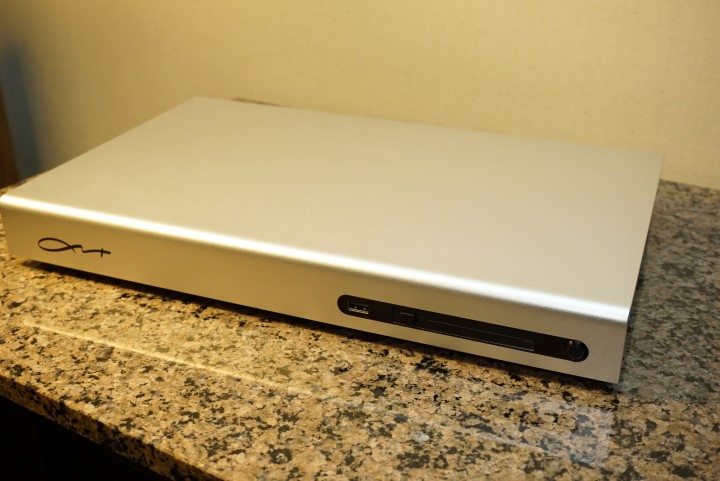 VMAX Services was also featuring a new QAT music server – the RS3 $1,995 with internal DAC that works with both Android & Apple OS. The sound in this rooms was detailed, smooth, natural and effortless and I would have like to spend some more time listening to some familiar tracks but had to move on.
Triode Lab: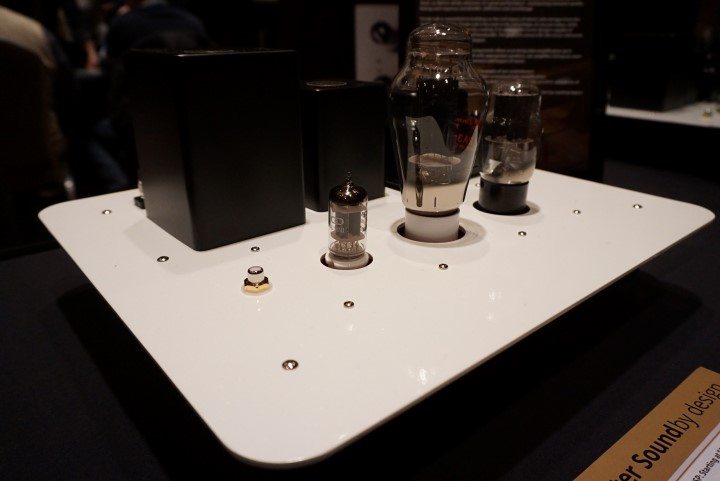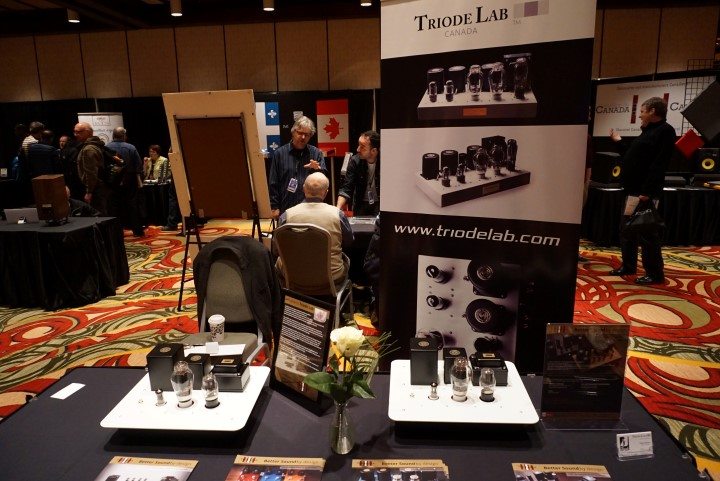 In the Personal Audio Zone, a Canadian manufacturer by the name of Triode Lab was showing off their tube amplifier products on static display. I don't typically cover static displays; however, given my recent interest in tube products and the sheer beauty of the specimens on display, I couldn't resist taking some pictures and getting to know a little about them. It turns out that this was the debut of the Triode Lab 2A3 Mono SET amplifier. The power amp is manufactured in Canada and outputs 3.5W in Class A with an 80db signal-to-noise ratio. Parts used include Mundorf Supreme caps, a Furutech Gold AC inlet and CMC USA Gold RCA Inputs. The MSRP for the 2A3 Mono starts at $3,999/pair, including tubes.
Look out for Part 2 of my coverage to be posted on novo.press in the next few days.