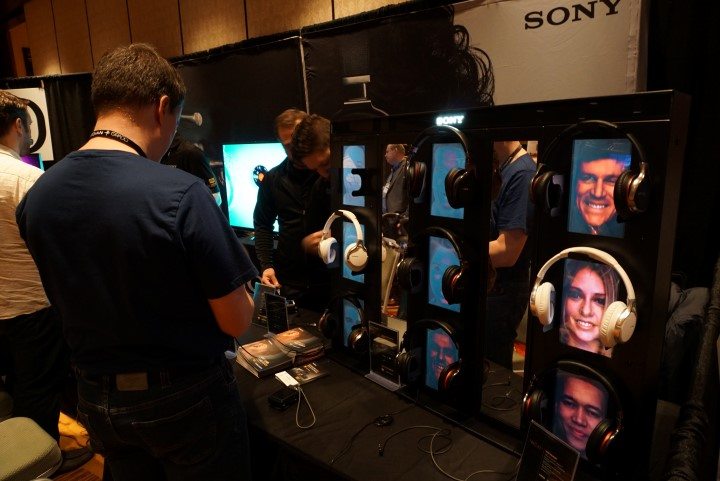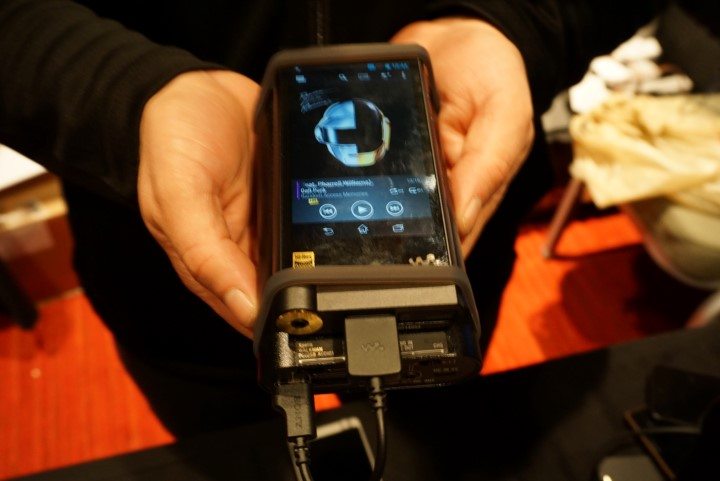 Sony was showcasing a plethora of products at SSI this year. In the Personal Audio Zone, they had a table where they were demoing and displaying their mobile and lifestyle audio products including their all new flagship Hi-Res Walkman NWZ-X2 $1,200, along with their much lower cost NWZ-A17 Hi-Res Walkman $300. Given the attention the NWZ-X2 was getting, I only got a short time on the headphones to listen but what I heard was very engaging.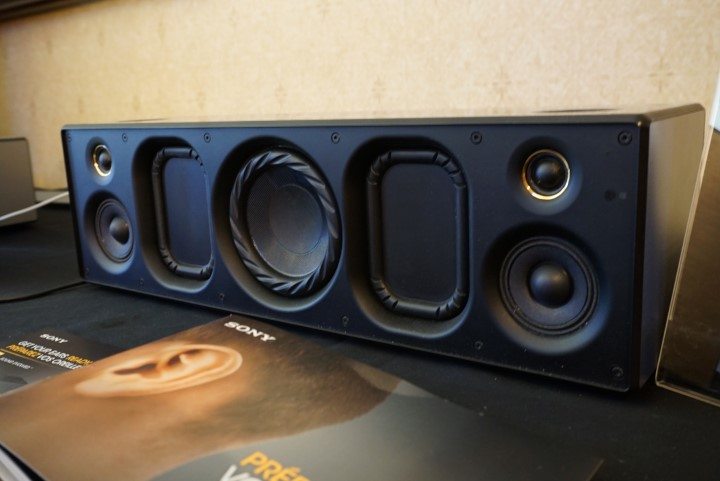 A couple other new products being shown were the Sony Premium Hi-Res Bluetooth Wireless Speakers, the SRS-X88 $500 and the SRS-X99 $749. I was told that a new app allows multi-room control of multiple speakers, much like Sonos or Bluesound.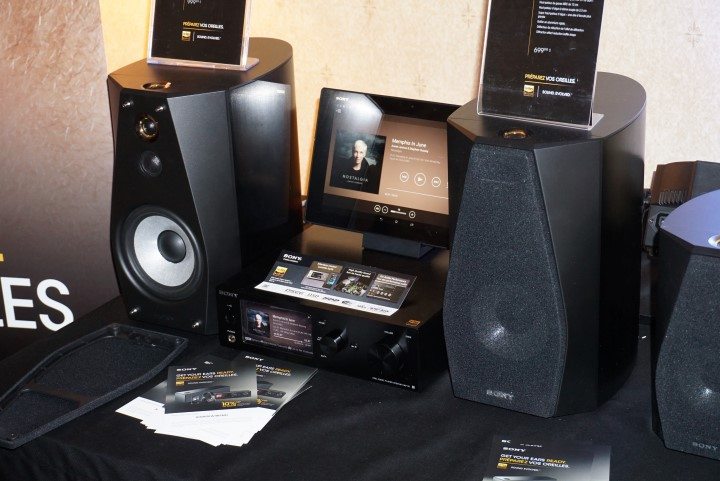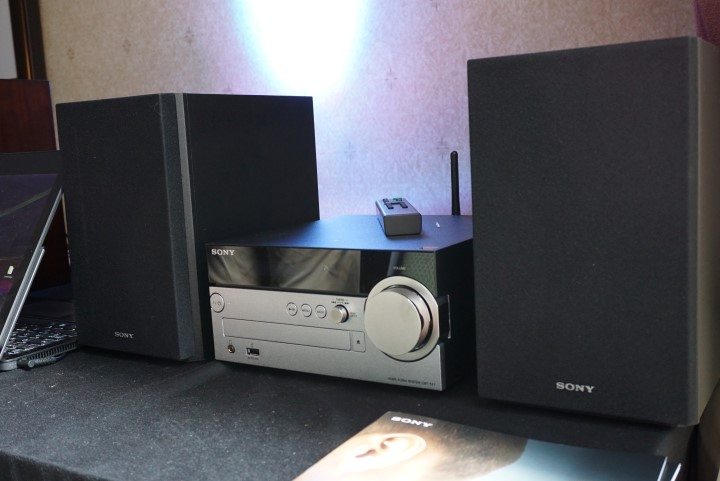 Pictured here are also the feature loaded mini-systems: HAP-S1B $1000; MAP-S1 $800 and the premier showing of the CMT-SX7 $600. Sony was also showing their very affordable, yet feature packed 7.2-ch WiFi AV Receiver with Bluetooth, AirPlay and Google Cast $750 (coming soon).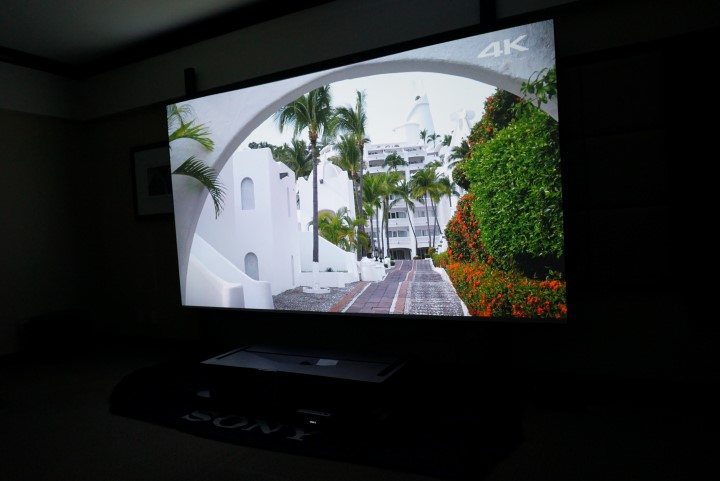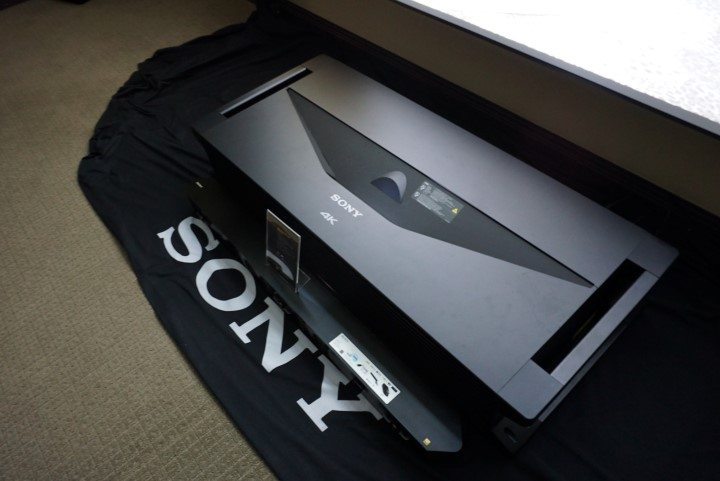 Moving to another Sony room I was amazed by the beautifully sharp and colour rich images of Sony's new Ultra-Short Throw Laser Light Source 4K/3D Projector (VPL-GTZ1) approximately $50,000 (special order only). The projector is capable of throwing an image of up to 147″ (a 133″ image was being demonstrated), from just a few inches away from the cast wall – just amazing!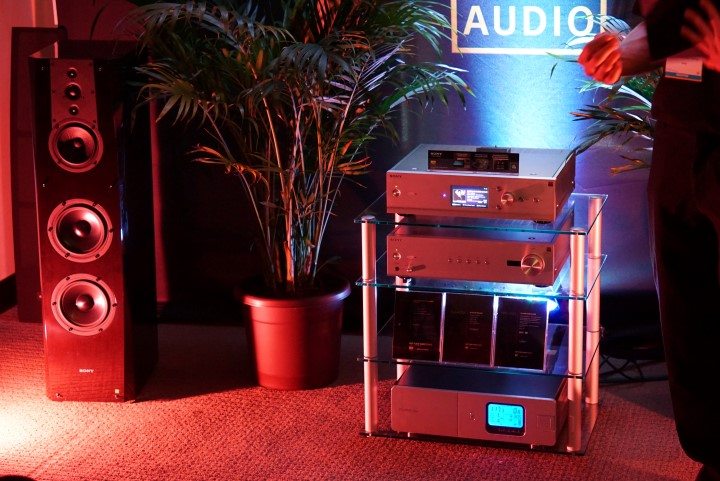 I made it over to another room being hosted by Sony to demonstrate their Hi-Res 2-ch stereo products. The setup included the HAP-Z1ES Hi-Res DSD Music Server / DAC combined with the TA-A1ES 80wpc integrated amplifier, playing through the Sony SS-NA2ES loudspeakers $11,000/pair. Here I had the chance to listen to the track "Keith Don't Go" by Nilson Lofgen. The guitars sounded very crisp and the presentation was incisive yet smooth; with a little extra hi-frequency energy, which was not displeasing.
Audio Group AG: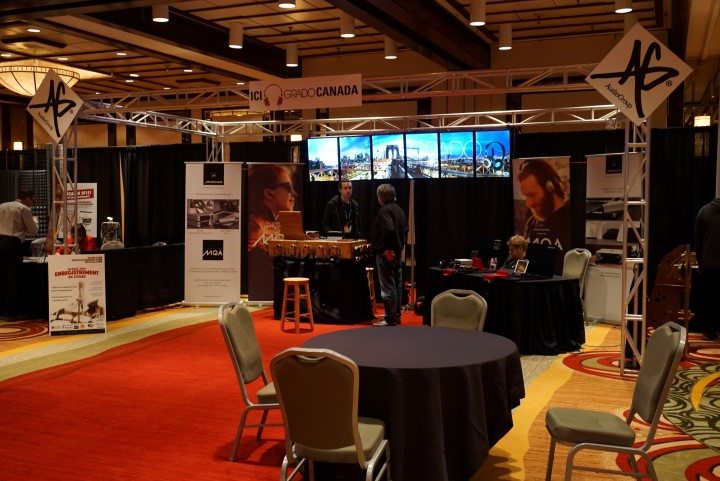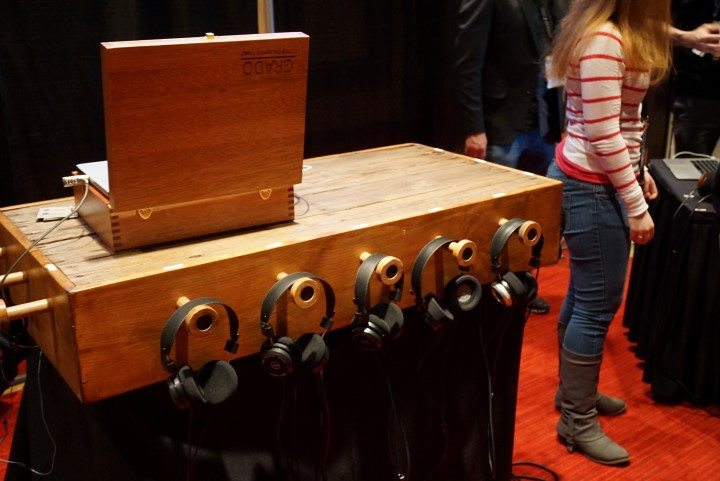 Audio Group had an interesting display centred around a large wooden crate, sporting a dozen or so wooden pegs, on which a string of Grado's new e-Series headphones were hung. The models for the picking included everything thing from the entry level SR60e $119, right through to the RS1e $899.99 but that wasn't it.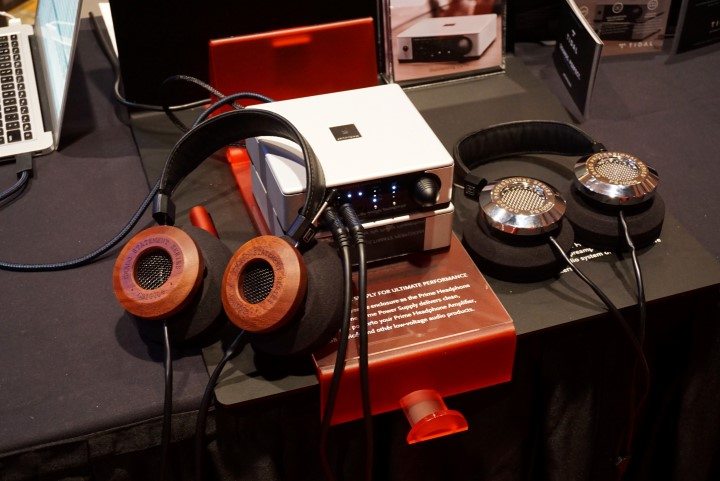 To the right was a table setup featuring the Meridian Prime headphone amplifier $2,699 with an optional PSU power supply unit $1,749 and the latest Explorer2 DAC $1,749 – both now MQA compatible (MQA is Merdian's all-new proprietary digital encapsulating/decoding format). Listening to a few tracks demonstrated the very detailed, delicate and clean sound of the Meridian devices.   Along with the Meridian head-amps were the Grado GS1000e $1,299 and the PS1000e $2,199 headphones. Personally, I find Grado's open and slightly forward / lively sound addictive. Within the Grado line, you can get a touch more warmth with the woodies and a little more detail and air with the metal earcups. All-in-all, I find Grado headphones very high from a performance-to-value perspective. This was a great booth to visit at the show.
Import HiFi: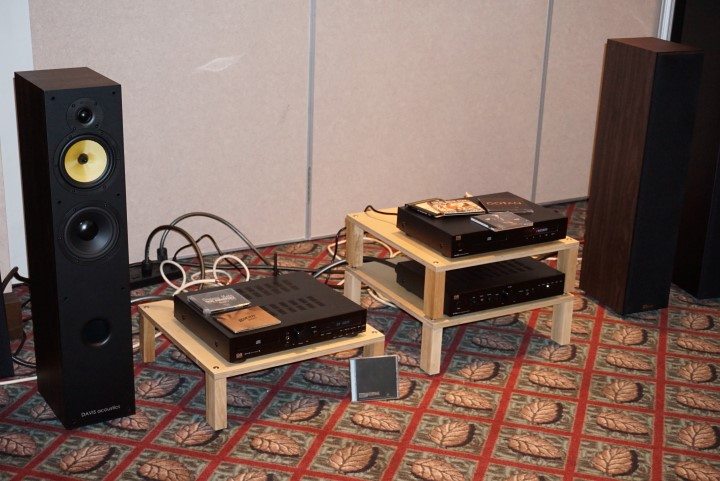 Import HiFi is the importer/distributor of BC Acoustique (BCA) and Davis Acoustics (Davis) brands. In a large room, they were showing off three different full systems. The first was made up of Davis Dhavani $1,799/pair and Davis Maya loudspeakers $999/pair, driven by a BCA EX202.1 $329 integrated amplifier and an EX602 CDP $329 as well as alternatively with a BCA EX712 $499 all-in-one integrated with built-in CDP.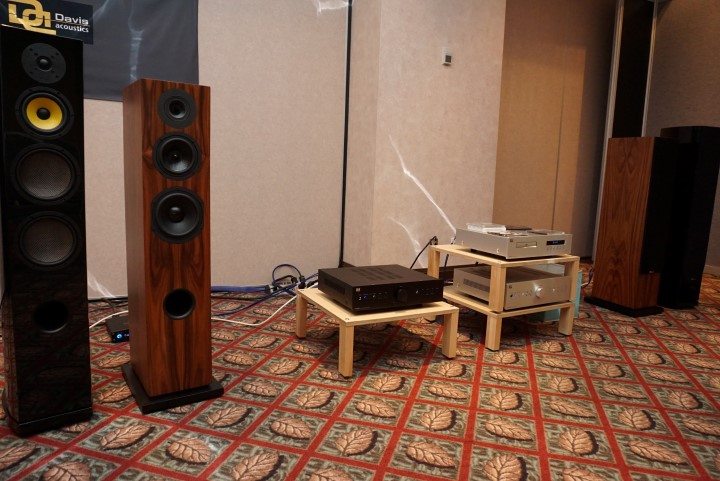 The next setup included Davis Vinci HD $2,599/pair or Davis Cezanne HD loudspeakers $3,899/pair with BCA EX622.1 CDP $649 and 332D integrated amplifier $1,299.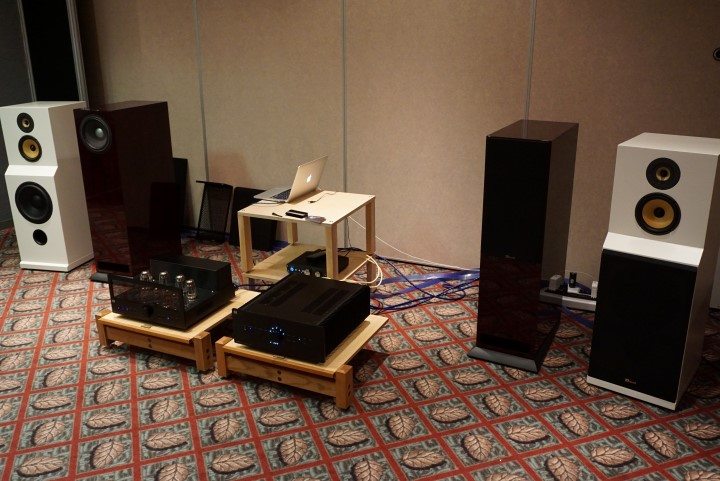 The third system was comprised of Davis MV-One loudspeakers $7,999/pair with BCA EX888.1 kt88 40wpc integrated $2,499 and EX362D Class A 80wpc integrated $2,499. I only got a little time to listen to this third system but what I heard was vibrant and engaging. Cabling on all three systems was full Nordost Blue Heaven.
Audiophile Experts: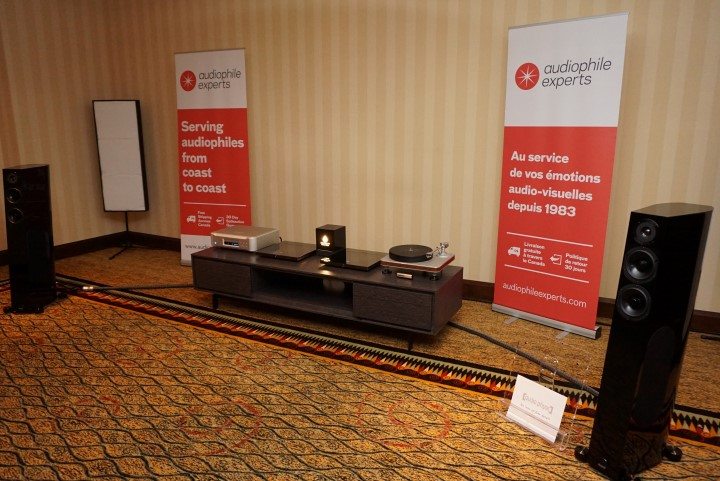 I came across the room of Audiophile Experts, a Quebec-based dealer. The setup in their room sounded wonderful with amazing clarity, dynamics and imaging. The system was fronted by a pair of Audio Physic Scorpio 25 Plus loudspeakers $,11,500/pair that were being driven with Devialet D200 monoblocks $7,500/each. The source was an Esoteric CDP K-05 $15,000 and cabling was Kimber Select, with the 8ft speaker cables priced at approximately $7,000/pair.
Audio Physic: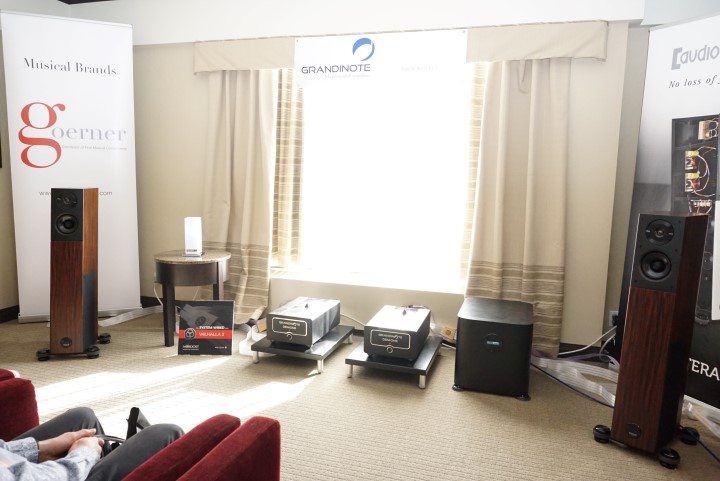 Goerner, distributor for Audio Physic, Grandinote, Creaktiv, Funk and Trigon put together a room with terrific imaging, impact and tonal colour; however, not strictly a typical two-channel setup but rather a 2.1 setup. The system used Audio Physic Virgo 25 Plus loudspeakers $20,000/pair and an Audio Physic Rhea II subwoofer $5,490. Amplification was by way of Grandinote Domino preamplifer $17,000 and Demone (pure Class A) monoblock amplifiers $50,000/pair. The digital source was a Grandinote Volta music server $14,000.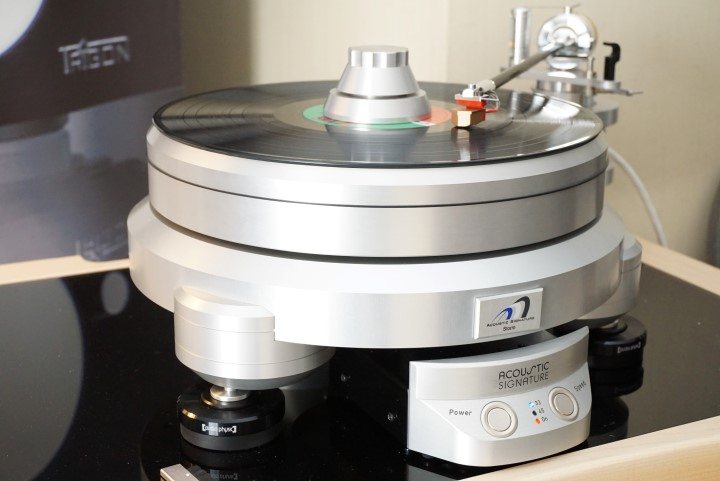 The analog setup was comprised of an Acoustic Signature Storm table $9,000 with their 12″ TA-1000 tonearm $2,300 and London (Decc) Super Gold cartridge $1,875, running through a Grandinote Celio phono-amp $8,750. This system sat on a Creaktiv Big Reference rack $7,000.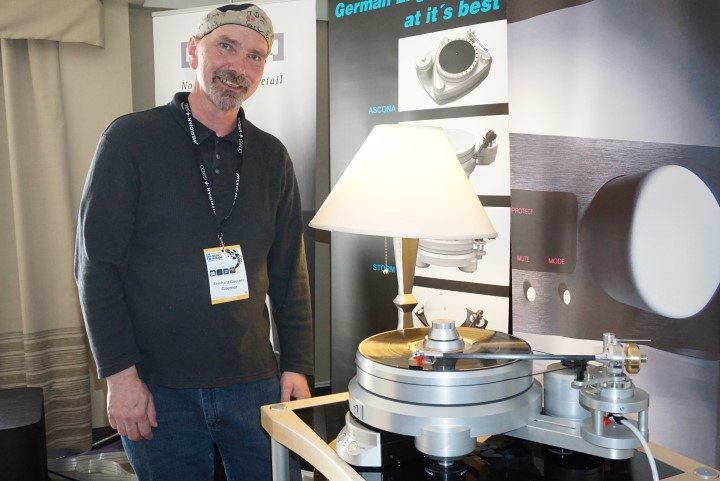 Here is Reinhard Goerner himself proudly standing by the Acoutic Signature turntable. Also in this room was a Funk Vector table $2,995 with a Funk FXR 9″ tonearm $2,750; Trigon Chronolog CD/DVD/Server $9,495; Trigon Epilog amplifier $12,990; Audio Physic Classic 20 loudspeakers $5,790 and Creaktiv Alu Line 1-3 rack $2,500.
Zidel Marketing: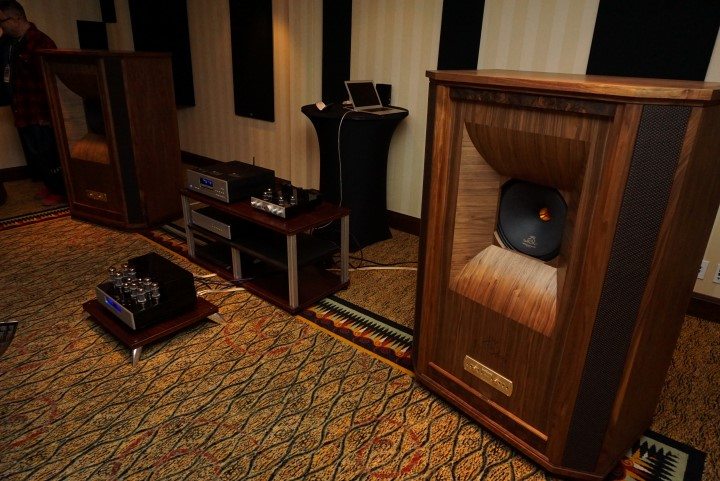 Zidel put together a room featuring an immense set of speakers – the Tannoy prestige Gold Reference, Westminister Royal $50,000/pair. These speakers were connected to an all Cary Audio system, made up of a Cary 120S MkII amplifier $6,000, all-new SLP-98 preamplifier (1st Canadian showing) $4,500, connected to a Cary DMC-600SE Digital Music Centre with CDP and tube output section $8,000. I was impressed with the sound, which delivered on big, room filling sonics.
IsoAcoustics: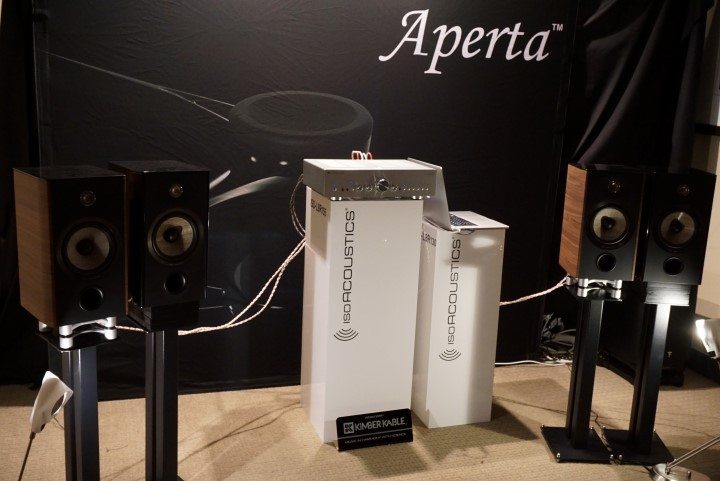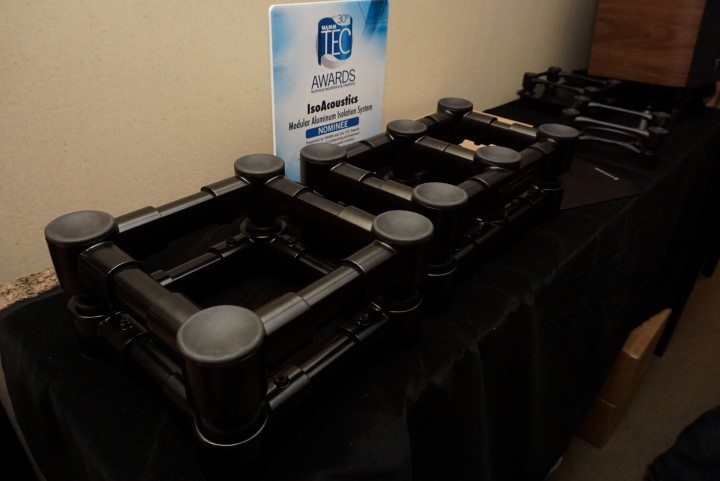 IsoAcoustics is a manufacturer of vibration/resonance control loudspeaker stands. Featured in the room and demonstrated was their Aperta model $200/pair. Two pairs of identical Focal Aria 906 bookshelf speakers were set up side by side with offset left and right channels. One set was set atop the IsoAcoustics Aperta, sitting on a standard steel stand, while the other pair was set on three ½ inch plywood planks atop of the same model of steel stand. With height and placement matched, an A/B comparison resulted in a significant improvement in clarity, extension, articulation and detail retrieval with the Aperta foundations in place. A very effective demonstration and a product I'll need to put on my list.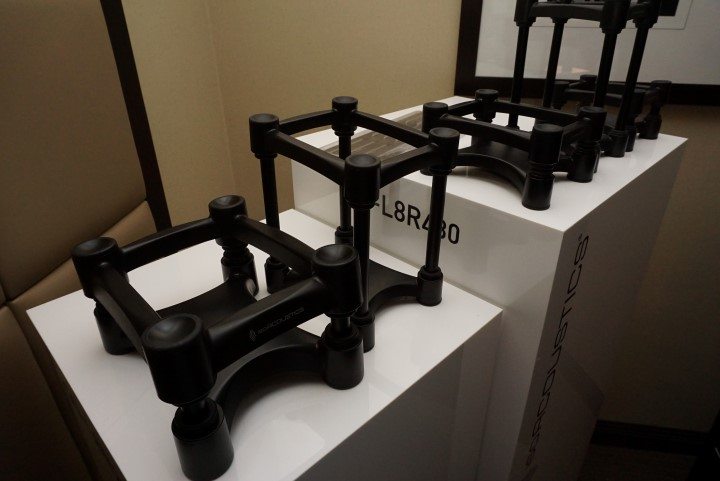 IsoAcoustics offers their vibration/resonance controls products in a variety of heights to meet a wide number of applications.
Meridian Audio: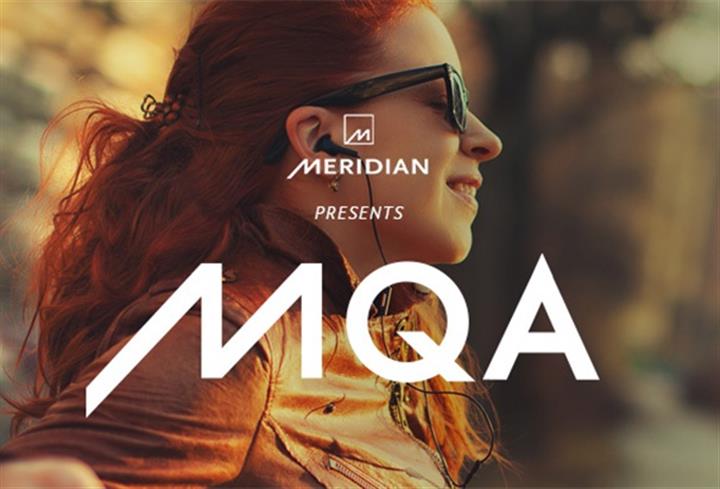 Meridian was running regular closed door seminars daily demonstrating their all-new breakthrough MQA (Master Quality Authenticated) technology. Over 30 minutes, John Bartkowiak, International Sales Executive at Meridian Audio Ltd. described the invention, its objectives and its benefits before providing a demonstration of a few MQA tracks. MQA was espoused as allowing the common listener to hear for the first time all the nuance and details of the original studio master recording with nothing lost and nothing taken away. MQA was described as providing a 100% faithful representation of the original studio master recording, allowing listeners to hear more than has ever been possible with any digital format currently available. MQA captures and compresses the original master, while eliminating pre/post digital ringing – preventing the hard/glassy sound typically associated with digital music. It also ensures that critical timing information is preserved intact. An MQA master recording, regardless of the playback format / device will sound better than any comparable digital version and if an MQA decoder is used on the playback end, the MQA will reveal the exact and full representation of the original master recording, as never been heard before. MQA requires going back to the master tapes and re-mastering with MQA in place or having MQA in the original recording chain. MQA files, though larger than MP3 files, are smaller than CD-quality files and therefore can be easily streamed. Meridian has been working with music artists and companies in the recording, mastering and sales channels, including TIDAL music, to roll out MQA. A number of music files was demonstrated, with Meridian's own Special Edition DSP Digital Active DSP7200SE speakers $46,000 U.S./pair – these included Roberta Flack "Killing Me Softly"; Natalie Cole "Fever" and Lady Gaga "Do What You Want". The sound was very lifelike, very natural and put the performers in the room, with amazing detail, space and touch. I'm looking forward to trying MQA in my own listening room.
TIDAL HiFi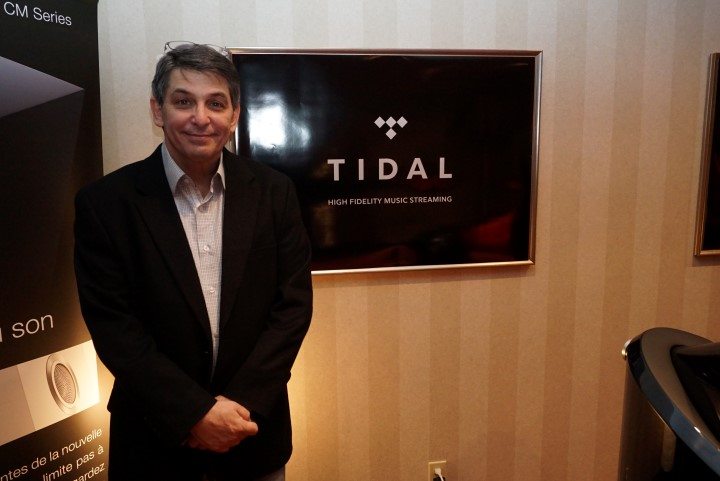 One music streaming service that has been getting a lot of attention lately is TIDAL HiFi. TIDAL offers subscription-based music streaming, which is in competition with the likes of companies such as Spotify and Deezer. However, TIDAL's claim to fame is that it streams lossless audio and high definition music, along with videos with curated editorial. Currently, TIDAL offers over 25 million tracks and 75,000 music videos. Just recently, in fact, while the Montreal SSI was going on, music celebrity Shawn Carter a.k.a. Jay Z purchased the company for $58 million. At the show, I met David Solomon, National Sales and Marketing Director for TIDAL. David and I spoke about their service offering and he was the one to let me in on the Jay Z purchase announcement. TIDAL is offering a free 14 day trail right now and after that it will be $19.99/month to continue.
Live Recording / Live Music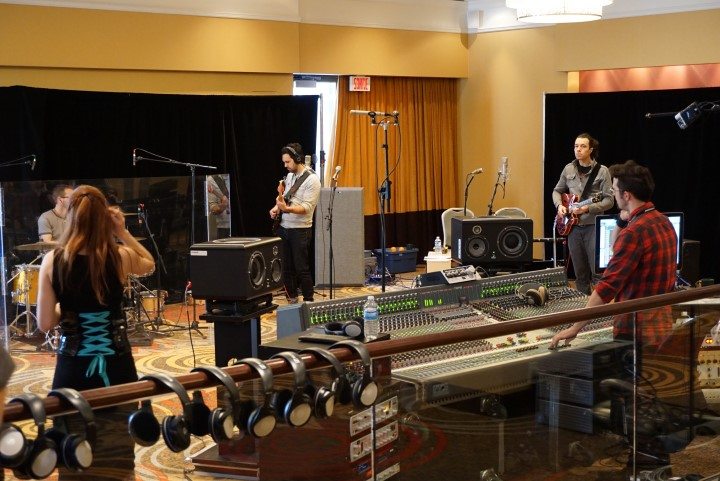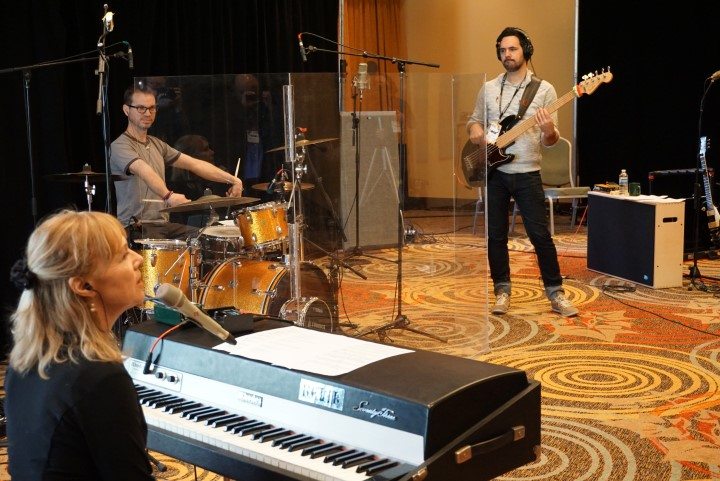 In one of the large rooms I had the chance to witness a live performance recording in an open door professional studio that I was told incorporated equipment exceeding $300,000. The studio recording session included performances from members of the Give Band (Stephan Rich and Caroline St. Louis), as well as guest chanteuse Anne Bisson.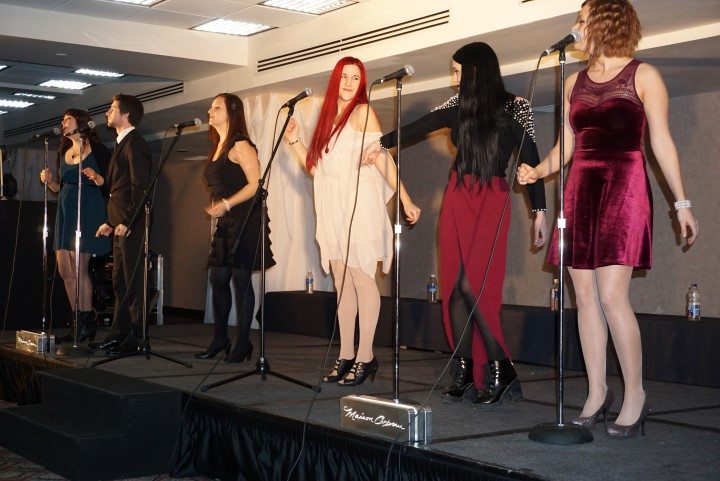 I also caught a live chorus-line performance by Maison Corbeau, which was sponsored by Delaney Technologies, a design and engineering firm that specializes in handling and has a proposal out for a retractable room design for the Montreal Olympic Stadium.
Muraudio / Tenor Audio / Kronos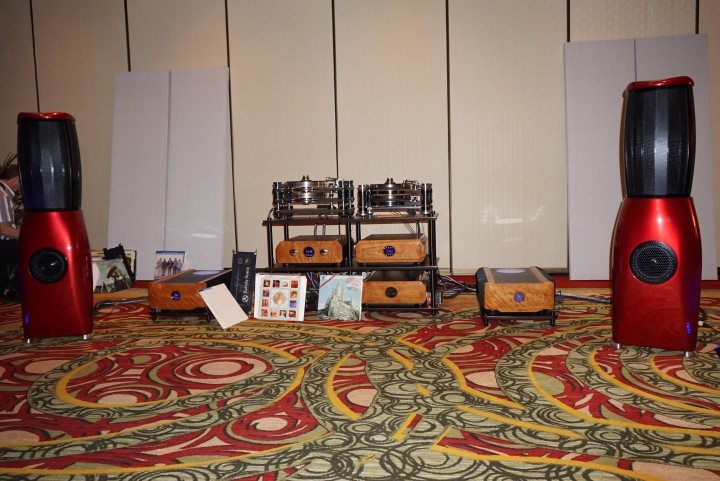 The most expensive setup at the show was put together in an immense room and setup along the long wall, with delightfully comfortable and luxurious leather seating. This system was touted as being "The World's Best Canadian Audio System" and included the following equipment totaling $450,000:
Tenor Audio: 350m Haute Puissance 500 Watt power amplifiers $125,000 (world premier); Line 1/Power1 Preamplifier $100,000; Phono1 phonostage $50,000
Kronos Audio: Kronos Pro (World Premier) turntable a$38,000 and Black Beauty tone arm $8,500
Muraudio: Domain Omni PX1 ESL, 360 degree electrostatic loudspeaker $65,000/pair
Solid Rack stands
Kubala Sosna Elation cables
The sound of this system managed to fill the gigantic space, remaining surprisingly even throughout. Impressive yes, though I could not say it was the highest performance system at SSI.
Closing:
I hope you enjoyed my highlights of the 2015 Montreal Audio Show. I'm already looking forward to next year. To close, here is a shot of me with a couple of items on my own "bucket list" – the 580lbs. Naim NAP S1 Statement Preamplifier & Amplifier with 1450 Watts-per-channel ($100,000 & $150,000) and the majestic Focal Grande Utopia EM ($195,000/pair) loudspeaker.