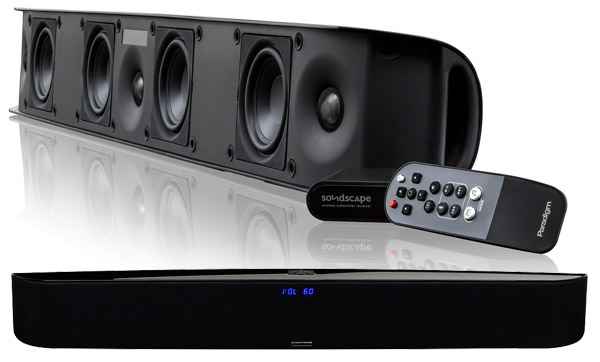 There are plenty of soundbars out there to choose from but this isn't just another ordinary, mediocre soundbar.  When a world renowned speaker maker like Paradigm designs a soundbar you can be assured that sound quality is a top priority.
The Paradigm Soundscape is a 5.1 channel powered soundbar designed for those that love music and movies.  Its suite of drivers consists of four 4? mineral-filled polypropylene cone woofers and three 1? satin-anodized pure-aluminum dome tweeters.  The driver complements are physically separated into three sections (L/C/R) within the cabinet, ensuring sonic clarity and channel separation. The complement is arranged perpendicularly to achieve the low-profile design.
The Soundscape's onboard user interface controls Power, Volume and synching of an external subwoofer (sold separately). The integrated 7-character display offers navigation of numerous customizable features including: a dedicated Music Mode, dedicated Movie Mode with Paradigm Virtual Surround, treble/bass adjustments, virtual surround on/off, renaming of sources for convenience and of particular importance to customers and Paradigm Dealers, comprehensive IR learning with discrete HEX codes. The Soundscape can learn power on/off, source select, volume up/down and mute from a TV's remote so that both the Soundscape and the TV can be controlled via a single remote. The system can be configured for use with two separate remotes, one of which could be used for whole-home automation. Bluetooth and aptX streaming technologies as well as AVRCP (Audio/Video Remote Control Profile) are part of the package, enabling remote control of Bluetooth sources directly from the Soundscape. This feature also allows the user to charge their Bluetooth device from another room while still allowing playback and control via the Soundscape's remote control or top-panel interface. Soundscape offers specific EQ modes, one for on-wall placement, one for placement on a flat surface.
The DSP-based amplifier supplies deep, articulate bass to each of the four high-power polypropylene woofers so that an external subwoofer is welcome, but by no means critical. It is also the processing platform for Paradigm's proprietary Paradigm Virtual Surround sound processing which helps make this product a standout. Dolby Digital decoding provides improved compatibility with TVs that don't feature LPCM audio modes.
The Soundscape's rear panel offers digital optical and analog stereo inputs for hook-up
of Blu-ray/DVD/CD players, gaming consoles, satellite receivers and other external sources. Inputs and outputs can be renamed for convenience and include: 2 x Optical SPFIF, 1 x Coax SPDIF, 1 x Analog RCA Right/Left, 1 x Sub-Out and Bluetooth (wireless). Analog outputs are included for wired subwoofer connection. Connections can be made via the soundbar or through the television itself, increasing the amount of inputs and improving the entire user experience. It's all easy, and in just a few minutes customers are immersed in their favorite music, movie or video game.
Total System Power: 7 x 25 watts RMS Sustained. 7 x 50 watts Peak Power.  Soundscape dimensions (without feet or brackets and including grille) H x W x D: 5-1/4" x 42" x 5-1/4" (13.3 cm x 106.7 cm x 13.3 cm). Weight: 19.7 lb / 8.9 kg.
Available now for $1,499.  For more info, please visit www.paradigm.com