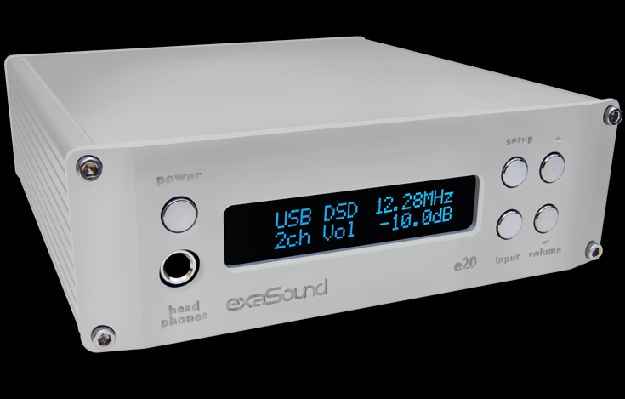 exaSound Audio Design has announced DSD256 playback on Mac OS X Mavericks, which they claim to be a world's first.  The new DSD256 capability is provided via the release of two new driver technologies – Core Audio DoP256 and OS X ASIO.  Owners of the e20 Mk III, e22 and e28 DACs can now download these free updates from the exaSound website.
 Until now the highest DSD resolution – DSD256, also known as 4xDSD or DSD 11.28/12.28 MHz, was available only on Windows.  With OS X Mavericks new possibilities for audiophile-grade sound streaming are now available.  exaSound began the development effort on this latest generation of drivers way back in July 2013.
The Mac sound system doesn't have a built-in support for DSD-encoded audio. The audio industry has adopted an open-source standard called DSD over PCM (DoP). DoP relies on a workaround to disguise DSD as PCM data stream. Unfortunately this workaround causes 30 to 50 percent overhead. The DoP implementation of DSD 256 requires support for PCM at 705.6kHz and 768kHz. Such sampling rates are a real challenge for both computer CPU and USB audio interface; however, the exaSound Core Audio DoP256 driver overcomes these limitations.
Other benefits of the exaSound Core Audio DoP256 driver include:
Simplified installation and upgrade. All that is required is to run the installation package and to select the new driver in the player program setup.
A single driver supports all exaSound devices in both stereo and multichannel modes.
Simplified user interface and configuration.
Seamless support for Integer Mode and Exclusive Mode.
exaSound intends to puch performance even further with a new ASIO driver technology for OS X that they are currently workin with leading player developers on, which will enable ASIO support in their programs.  
exaSound claims that its DACs are the only devices on the market that can play natively any high-resolution audio format – multi-channel and stereo – at any sampling rate that can be produced today.  Look for more details at: http://www.exasound.com/