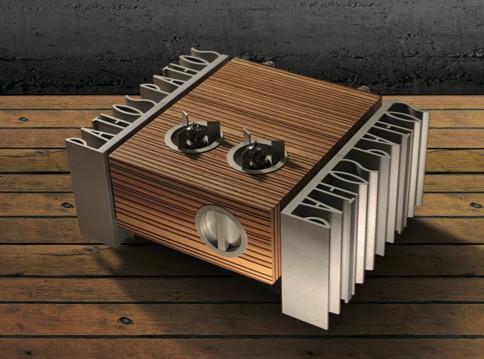 Pathos, an Italian high-end audio product company, introduced a new integrated amplifier / DAC at CES 2012 last week.  Their new INPOLRemix is the smallest integrated amplifier that utilizes Pathos' proprietary INPOL technology. 
The INPOLRemix comes in two versions: with DAC and sans DAC.  The INPOLRemix is reported to be completely handmade in Italy.  It is a zero feedback, pure Class-A amplifier with double-INPOL technology.  Output power is 10 wpc into 8-ohms at less than 0.05% distortion.  In standard amplifier configuration, the InpolRemix has only two analogue inputs, one balanced (XLR) and the other unbalanced (RCA). Adding the DAC (which is a 24/192) gives you two digital (USB1.0and USB2.0) inputs as well. There's also a pre-out.
Features List:
– INPOL circuit (Linear Pump Tracker) patented by Pathos
– 10 wpc into 8 ohms at 0.05% distortion, pure class A, zero-feedback
– Frequency response: 10Hz to 80kHz ±0.5dB
– Signal-to-noise: 90+dB
– 24/96 digital to analog converter
– Custom logo aluminum heatsinks
– Wood veneered front panel
– 1 x XLR and 1 x RCA analog input
– 2 x USB input
– Stereo speaker binding posts plus a RCA sub output
The new INPOLRemix will have a MSRP of: $6,995 U.S.  Look for more details at: www.pathosacoustics.com.