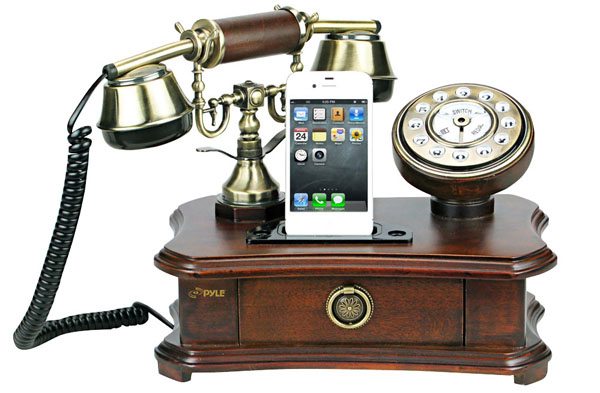 Pyle has just revealed its Retro Home Telephone Collection for smartphone users. Designed to resemble old-fashion rotary phones, the Retro Collection features simple-to-use buttons for answering landline and smartphone calls. Users can easily switch between the two devices, merging the simplicity of a landline with the feature packed smartphones of today. The Retro Home Telephone Collection ranges from $89.99 to $109.99 US.
These classically designed rotary desktop telephones (PRT55I, PRT35I, PRT15I , PRT25I), handcrafted from real wood and adorned with brushed copper parts, work with landlines allowing for normal telephone functions, as well as smartphones. In addition to letting you talk on your smartphone in style, using the handset also helps shield you from up to 99 percent of the radiation absorbed when speaking directly into cellular phones.  The collection is compatible with all 3.5mm jack mobile phones and tablets, including iPhone, Android, Blackberry, iPad and the latest MacBooks.
Pyle's Retro Telephone Collection Features Include:
•    Retro-style telephone with handcrafted wood base and brushed copper parts
•    Standard telephone features and functions including last number redial flash function, and ringer high/low selection.
•    Compatible with any mobile device with a 3.5mm jack
•    Eliminates up to 99% of the radiation absorbed from direct cellphone use
•    One button pick-up/hang-up
•    One button transfer between landline and smartphone
•    PRT35I model also charges your mobile device
The Retro Home Telephone Collection from Pyle is available online at www.PyleAudio.com.