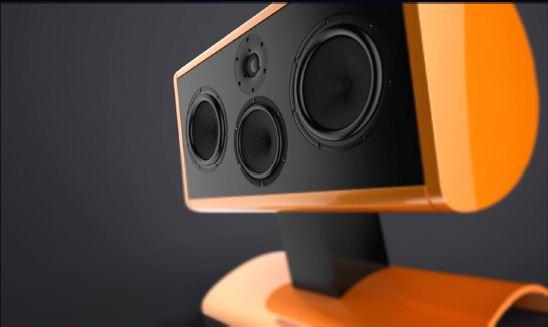 Magico LLC has just announced its first center channel speaker, the SCC.  Reflecting the performance of the recently introduced S-Series of loudspeakers, the SCC is the result of intensive research into home theater applications and is the beginning of a new direction for this hi-end loudspeaker company.  
Today's movie soundtracks can place very high demands on a loudspeaker, with the most important being the accurate rendition of recognizable sounds – most imprtantly, the human voice.  Using the Magico S5 loudspeaker as a starting point, given its high-performance capabilities, the SCC was designed to be it's match, from a centre channel perspective.  
The SCC has been designed using advanced computer-aided technology along with our own customized software to minimize diffraction effects and internal resonance, while determining the ideal damping requirements. Meticulously crafted from 16-inch diameter extruded aluminum with half-inch thick walls similar to the S5, the curvilinear enclosure of the SCC provides the rigidity and mass necessary to ensure optimum performance from its fourdriver, three-way acoustic suspension enclosure. The driver complement consists of two newly-designed seven-inch woofers, Magico's famous proprietary five-inch Nano-Tec midrange, and a Beryllium diaphragm tweeter.
Included with the SCC to provide additional support is an integrated, yet removable, base with a svelte curved form that complements the speaker itself. As with all S-Series loudspeakers, the SCC is available in a variety of finishes, including Magico's own satin M-COST and high gloss paint to fit in a wide variety of living environments. As the newest member of the Magico family, the SCC extends Magico's unswerving commitment to performance, quality, design and innovation.
Specifications:
2 x 7" Nano-Tec® Midbass
1 x 6" Nano-Tec Midrange
1 x 1" MB-30 Tweeter Sensitivity: 89dB
Impedance: 4 Ohms
Frequency Response: 22 HZ – 50 kHz
Recommended Power: 50 – 1200 Watts
Dimensions (with stand): 19.9"H x 25.5"W x 14.2"D
Weight: 160 lbs.
The SCC will make its debut at CES 2013 in Las Vegas and will have a MSRP of $16,800 U.S.  Shipping will begin in the first quarter of 2013.  Look for more details at: www.magico.net.