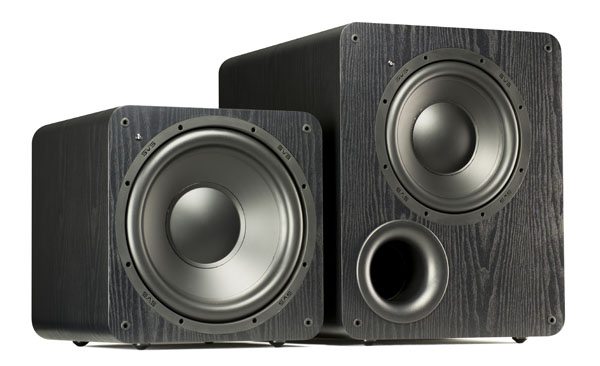 SVS has just announced the SB-1000 and PB-1000, two $499 US subwoofers achieving new levels of value. Designed to produce deep, accurate bass in any size room, the new SVS subwoofers claim to outperform models costing two to three times as much and benefit from years of research on cabinet design, build materials and the link between objective measurements and subjective impressions to achieve unparalleled low frequency performance for the size and price.
SB-1000: Ultra-Compact Cabinet with Big 12-inch Sound
Small subwoofer cabinets are not conducive to big bass sound, which presented a challenge for SVS engineers when designing the 13″x13″x13″ sealed enclosure for the SB-1000. Refusing to sacrifice performance at the expense of décor-friendliness, SVS packed the micro subwoofer cabinet with a front-firing 12″ driver with dual high-grade ferrite magnets and FEA-optimized internal motor technology for high output with extremely low distortion. The lightweight cone material of the long-stroke driver reproduces subtle audio tones with lifelike realism, making the SB-1000 a perfect option for serious music lovers.
Thermal management is critical when dealing with such little space and a sealed cabinet, so SVS implemented a unique vented pole piece and efficient high-power voice coil to keep the SB-1000 cool without impacting performance or adding noise. Durable rubber surrounds also ensure long-lasting performance, even when the subwoofer is pushed to its performance limits for extended periods of time.
Weighing in at an easily movable 27 lbs, the SB-1000 is SVS's lightest and smallest subwoofer, making its 24Hz to 260Hz (+/- 3dB) frequency response all the more impressive.
PB-1000: Best Performing SVS Subwoofer for the Price
Deep bass extension and output between 19 Hz and 270Hz (+/- 3dB) is usually the domain of hulking subwoofers costing far more than $499. The PB-1000 offers a breakthrough value for low frequency performance with a front-firing 10″ driver and 3.5″ high-flow port with inner/outer port flares. Years of intensive research and optimization of enclosure dynamics, build materials and cabinet design led to this significant advance in subwoofer performance for the price.
Weighing 46 lbs with dimensions of 18.4″x15″x18.4″, the PB-1000's cabinet and carefully selected components are optimized for maximum efficiency and low-frequency punch with almost no distortion.
Driving the SB-1000 and PB-1000 subwoofers is an integrated SVS Sledge STA-300D amplifier with sophisticated DSPs perfectly matched to each unique driver and cabinet configuration, and an equalization curve optimized for enhanced transient response and room gain. Conservatively rated at 300 watts (700 watts peak dynamic), this amp allows precise control of the subwoofer at all levels to allow fine tuning of audio playback and easy set-up and integration into any home theater or stereo system.
For more info, please visit www.svsound.com