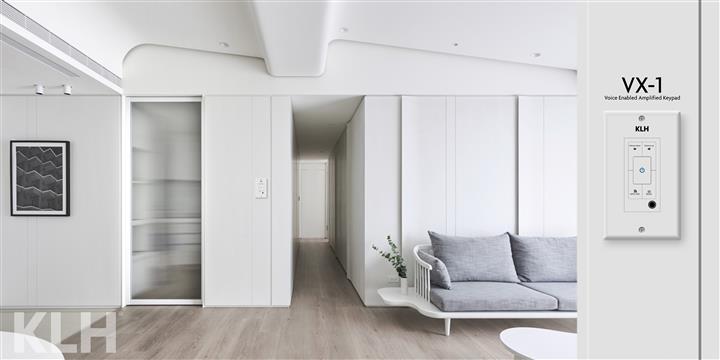 KLH, now under the ownership and direction of industry visionary David P. Kelley (previously Global Sales President at Klipsch), is ready to make its mark at this year's CEDIA show with the unveiling of its in-wall Voice-Enabled Amplified Keypad (a world-first) and new premium stereo, home theater and architectural loudspeakers.
While KLH is bringing back some of its famous designs of the past — like the Model Eight radio and Model Nine electrostatic loudspeaker "including some hybrids" hints Kelley — the company's larger focus is in delivering what Kelley says, "Will prove to be the most compelling loudspeaker line to ever reach the market, including disruptive solutions that will turn things upside down." To this, during CEDIA Expo, KLH will unveil a disruptive in-home streaming music solution, and an "ultra-competitive" high-performance line of in-room, architectural and outdoor speakers.
The VX-1 Voice-Enabled Amplified Keypad
KLH has created the VX-1 Voice-Enabled Amplified Keypad, a simple and cost-efficient solution to transform a single-source home audio system to a wireless multi-source streaming music system. Outfitted with WiFi, Bluetooth with aptX, HiRES audio circuitry, and amplification, the VX-1 replaces the existing in-wall passive volume control while utilizing the existing speaker wires, making it easy for both the Home Technology Professional or DIY customer to install.  The VX-1 becomes Alexa voice control-enabled when used with the free MUZO iOS / Android control app. In addition to this local zone, the addition of any Amazon Alexa device allows voice-enabled control of other sources / components throughout the home. The VX-1 has an MSRP of $199 with shipping slated for October 2018.
In-Room Loudspeakers
The KLH in-room loudspeaker line-up consists of 12 models. As a nod to the brand's history, each is named after a street in Cambridge, Massachusetts, the birthplace of KLH. Models are Ames and Albany 2-way bookshelf; Kendall, Quincy and Cambridge floor standing; Story center channel; Beacon and Broadway surrounds; and Stratton and Windsor powered subwoofers.
All boast luxurious real wood veneer finishes, the finest MDF cabinetry, internal components and dampening, and powerful, performance-rich Kevlar drivers with anodized aluminum dome tweeters. To maximize floor models' bass performance, incorporated are low resonance driver chambers with hand-tunable baffle ports.
Maxwell In-Wall Series
Named after physicist James Clerk Maxwell, whose name appears on a building at the Massachusetts Institute of Technology, which Kloss attended, these In-Walls are suited for the most demanding 2-channel and home theater applications. All incorporate tuned, sealed back-boxes with MDF baffles, powerful 6.5-inch Kevlar-coated fiberglass drivers, one-inch silk dome tweeters, tapered array crossovers and gold-plated 5-way push-pin binding posts. Several models are offered, with MSRP spanning $499.99 to $649.99 each for 2-way and 3-way respectively.
Maxwell In-Ceiling Series
Solving the common in-ceiling speaker problem of poor dispersion, the Maxwell In-Ceilings' silk dome tweeter is mounted directly into the center voice coil of its Kevlar-coated fiberglass driver. This concentric design approach achieves broader dispersion, resulting in significantly better listening experiences for everyone in the room regardless of their location. Additional highlights include sealed tuned enclosures with integrated back cans. Three 2-way models are available. MSRP ranges from $299.99 each (5.25-inch driver) to $449.00 each (6.5-inch driver with an extra-large voice call for greater power handling and deeper bass).
Faraday In-Ceiling, In-Wall and All Weather Series
Named after scientist Michael Faraday, whose name is also on a building at MIT, this series is full of solid performers at lesser price points. All are 2-way designs that feature IMG woofers, soft dome tweeters, magnetic bezel-less paintable microperf grilles and gold-plated, 5-way push-pin binding posts.
Five Faraday In-Ceiling models are available. Options include 6.5-inch and 8.5-inch driver versions. MSRP ranges from $99.99 to $299.99 each depending on driver and tweeter.
Two Faraday 6.5-inch driver In-Wall models are available. MSRP ranges from $99.99 each to $149.99 each.
Also available are two Faraday All-Weather models, a 5.25-inch and 6.5-inch driver version, each with soft dome tweeters. Standard for installation is an included C-bracket.