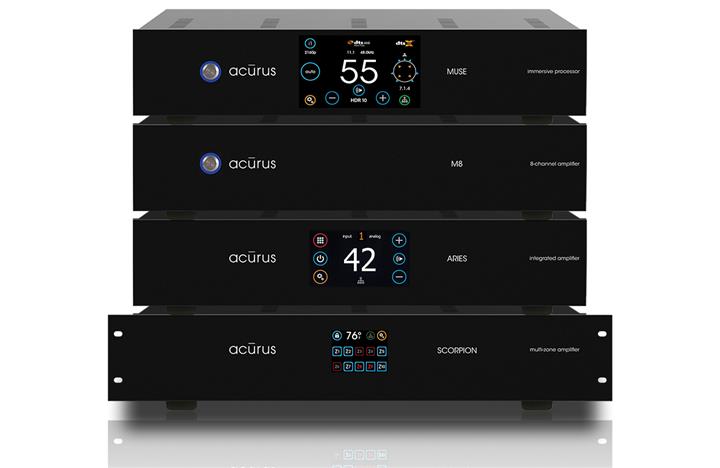 Indy Audio Labs' brand, Acurus, will be introducing four new products next week at the CEDIA Expo. Acurus fans will be excited to see a new immersive processor under $6,000 as well as an associated amplifier. Also featured will be an upgraded version of the ACT 4 immersive home cinema processor that supports 20 output channels and native 9.1.6 Dolby Atmos decoding. Acurus' proprietary ASPEQT room correction kit will be shown as well.
Indy Audio Labs Co-founder and CTO, Ted Moore, says, "Acurus is well-known for bringing products to the CEDIA market that are sonically astounding. Integrated with our demand for sound excellence is our commitment to designing beautifully simple user interfaces and rock-solid durability into every one of our products. These qualities are exemplified in our ACT 4 20-channel immersive processor technology and we're excited to announce a magnificent variant of our ACT 4 platform which we're introducing at CEDIA Expo 2018 called the Muse. The Muse is a processor specifically designed to meet the requirements of multi-purpose media room immersive audio. The Muse media room immersive processor provides our customers with a sub-$6,000 3D-sound processing solution with full-support for 4kUHD/HDR, HDMI 2.0b pass-thru, built into a sleek, compact 2U form-factor. The Muse may be configured to a host of surround formats including immersive Dolby Atmos and DTS:X native formats and carries a full complement of 3rd-party control drivers, TCP/IP, and web-control interfaces. Acurus' family of immersive processors run the spectrum of home 3D-audio applications."
"In addition, the Muse works with our proprietary room-correction system, ASPEQT, giving integrators complete control over the acoustic experience their customers will enjoy." Moore continues, "Also launching at CEDIA is the M8, an 8-channel companion amplifier for our new Muse processor. The M8 delivers high power per channel – more than enough for any typical media room install. We're so excited about the CEDIA show this year. Acurus continues to deliver American-made, high-performance, and state-of-the-art audio solutions to our customers."
The American brand Acurus delivers world-renowned audio performance and is a premium brand for home cinema installs and distributed audio applications. The engineering in Acurus immersive processors, pre-amplifiers, and amplifiers is characterized by high performance, reliability, authenticity of reproduction, modern aesthetics, rock-solid design and construction, and intuitive operation. Having won multiple awards and reviewer accolades through the years, Acurus continues to achieve an ideal intersection of price and performance in modern audio products — representing the pinnacle of contemporary audio.