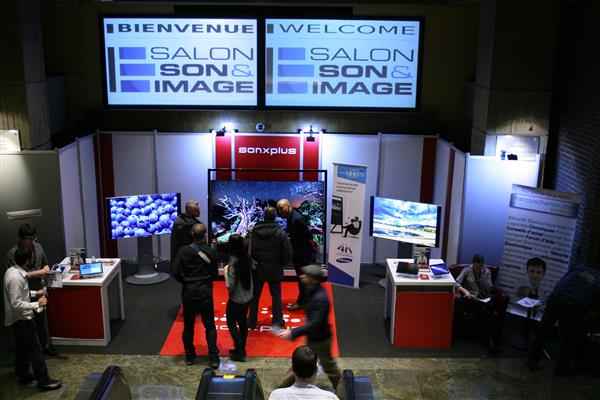 Like past editions of Salon Son & Image, the 2014 show presented a great opportunity for visitors to hear some of the latest audio components from many of the finest audio manufacturers from around the globe.  This was the first year that the show was ran under the new ownership of British company Chester Group, which runs five audio shows worldwide.  From the show signage it looks like the new company is preparing to rename the show to the Montreal Audio Show in the future perhaps since it better reflects the types of products you can expect to see on the show floor.  As we headed to Montreal to cover the show, we wondered what sort of changes we would see under the new company but the fact is that the show had exactly the same look and feel as the previous years, albeit there weren't quite as many exhibitors as in the past and very few video products compared to last year.  Nevertheless, this year's show attracted a very healthy crowd and was a great pleasure to roam through.  Below I would like to share with you some of the more interesting products and demonstrations that we came across.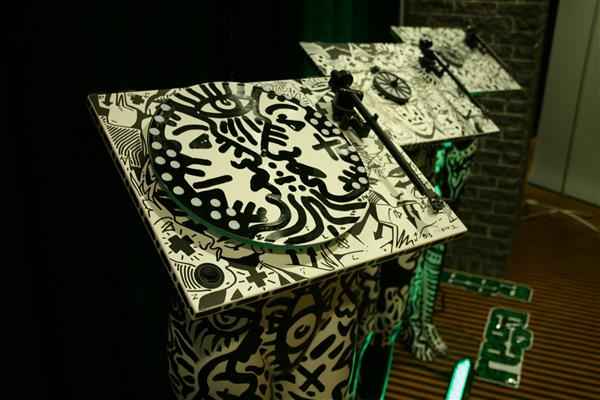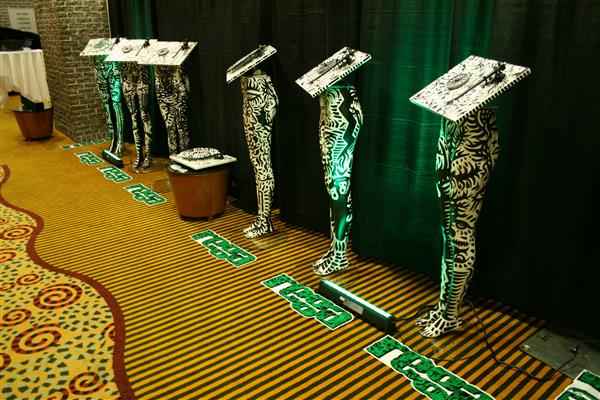 Plurison (www.plurison.com), the distributor responsible for importing some of the most interesting audio brands into Canada, featured the most extensive number of product displays at this year's show.  Take a look at these gorgeous new Rega RP1 and RP3 special edition turntables featuring original artwork by internationally renowned graffiti artist Zilon, based in Montreal.  There are six different models, three of the RP1 and three of the RP3, that will be made in a limited run of 100 pieces each (or 600 in total).  We love the connection this makes between music and art.  The great news is that the price premium for each model is just an extra $100 over the price of the regular model, making them affordable to the masses.  The special edition RP1 retails for $699 and the special edition RP3 retails for $1,299.  Both models are very well respected for their sound quality and will make an excellent addition to any music system.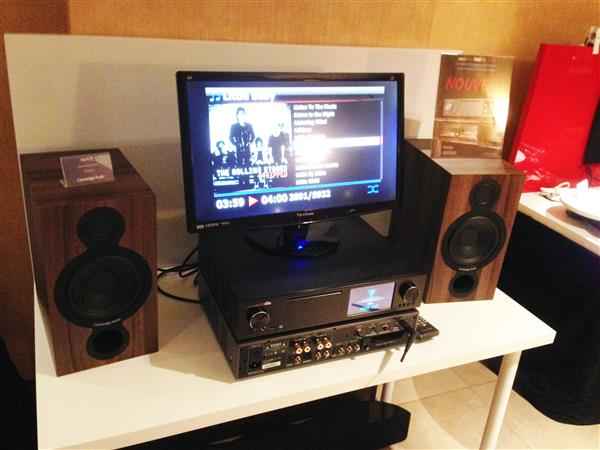 Plurison was proud to display a new brand called Cocktail Audio (www.cocktailaudio.com) which it just began importing from Korea.  The Cocktail Audio X30 is an all-in-one hifi component that features a high-definition music server, network streamer (wifi and wired), CD drive for playback and ripping, a high quality DAC, and a 50 watt per channel digital amplifier.  Cocktail Audio leaves it to the customer to choose the type of hard drive they want to use inside the X30 – conventional or solid state – and supports hard drives up to 4GB.  The X30 is capable of recording all kinds of sources including turntables, thanks to its analog inputs, and even internet radio.  The 5-inch colour screen on the front of the unit gives it a modern look and feel, while an HDMI output allows you to hook up the X30 to your choice of screen, as Plurison did at the show.  Coming this May, it will retail for $1,895.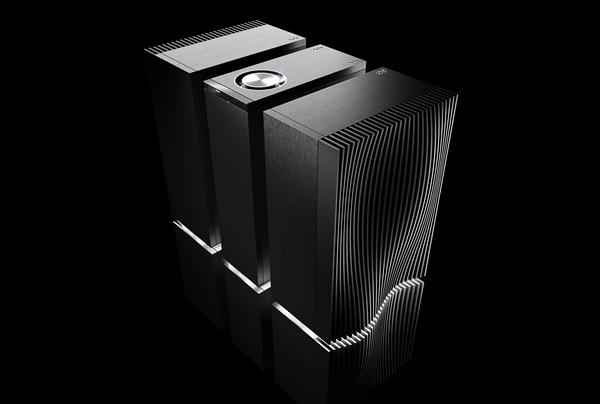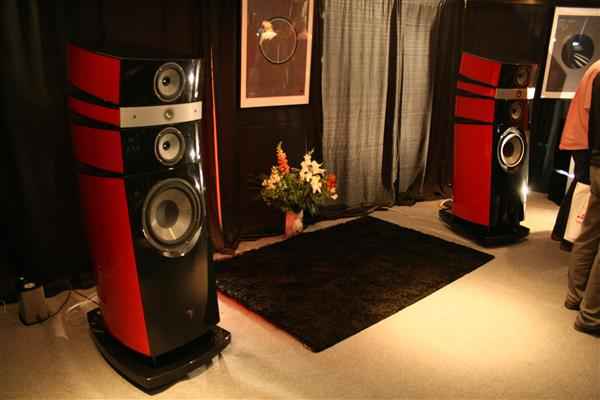 Plurison always displays something extraordinarily high-end at audio shows and this year was no different.  The Naim Audio Statement, shown above, contains a NAC S1 preamp and two NAP S1 mono amplifiers in a cabinet that's about the size of a mini fridge.  It offers performance and dynamics that Naim customers have come to expect but at a grander scale then ever before.  The Statement looks like a prop from a sci-fi movie and is capable of driving the most demanding high-end speakers, like the Focal Stella Utopia EM that it was connected to at the show.  If you have to ask 'how much' you probably can't afford it.  $240,000, coming this July.  Still an opportunity to listen to music on such a high-end system is a fantastic pleasure that most of us will get by visiting an audio show.  The sound in this room was simply awesome in every regard.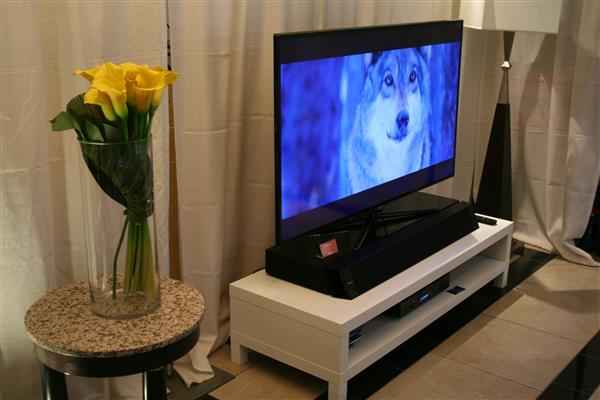 Another new product that Plurison featured at the show is the first soundbar from speaker maker Focal called the Focal Dimension, as show above sitting underneath the TV.  This two piece system consists of the soundbar that has an angled face toward the listening position, as well as a flat rectangular subwoofer enclosure.  The soundbar offers true 5 channel sound and has digital amplifiers built into the enclosure which offer 75 watts each.  Each of the 5 drivers are full-range and offer a wide sound dispersion.  Bluetooth and APT-X allow you to stream music wirelessly to the Dimension from your smart phone, tablet or computer.  This soundbar promises great sonic performance in just about any space, thanks to some clever built-in electronics that allow you to select the type of room that you'll be placing it in – everything from a dampened room to a room that has many reflective surfaces.  Dip switches in the back also let you select the optimal distance to your listening position, further improving the sound.  The Focal Dimension is a perfect solution for anyone looking to dramatically improve the sound of their TV watching experience that doesn't have space for individual speakers in their space.  $1,499 for the soundbar or about $1,799 for the soundbar and subwoofer combo.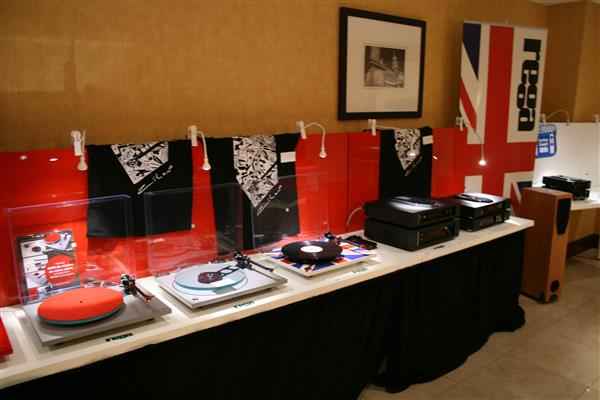 In addition to the new products mentioned above, Plurison displayed a plethora of other current products ranging from turntables to digital components, spanning brands like Rega, Cambridge Audio, Focal, Music Hall, Wharfedale, Micromega, Pathos and Devialet (see pics below).  A multi-channel system of Marin Logan electrostatic speakers was also demonstrated in a spectacular home theatre at this year's show.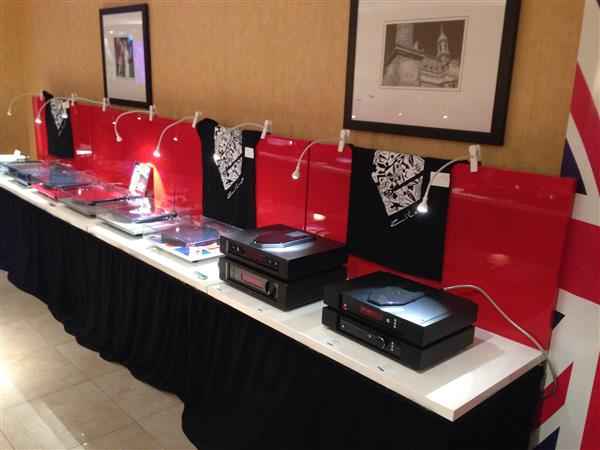 One of the Rega components that immediately caught my attention was the brand new Saturn-R CD Player/DAC, which is currently being reviewed by CANADA HiFi for an upcoming issue (bottom right of the pic above).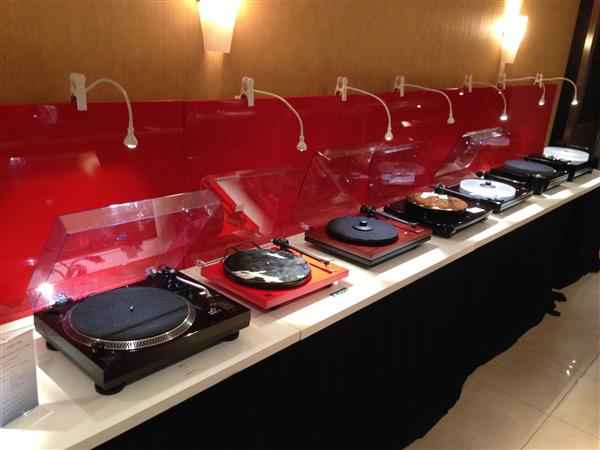 Music Hall's entire range of turntables was on display.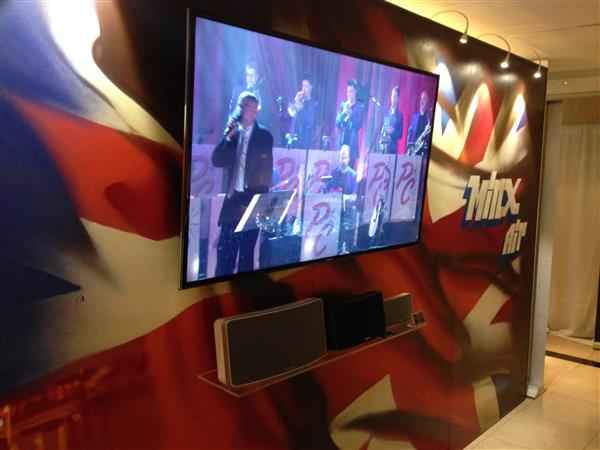 This was a display of the Cambridge Audio Minx Air wireless speakers.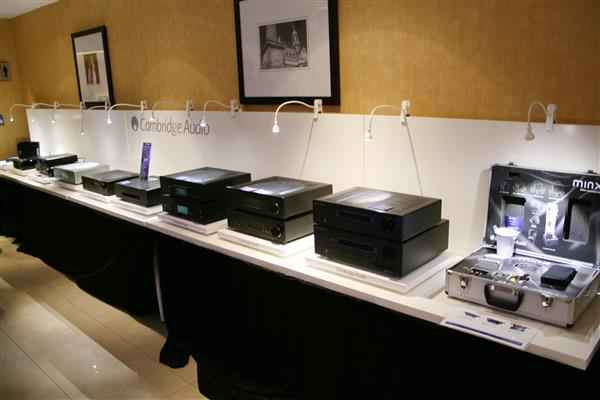 But Cambridge Audio has a much more diverse product range than just wireless speakers – here on display were some of the company's latest hifi and home theatre components.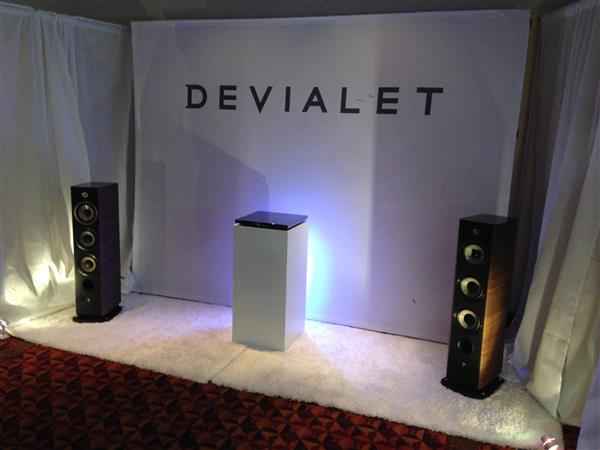 One of the magnificent Devialet amplifier systems was demonstrated with Focal speakers.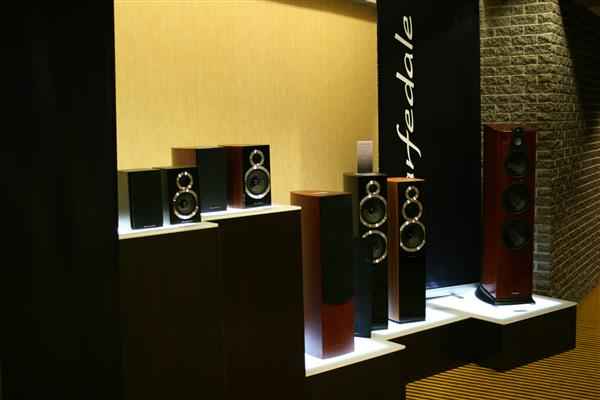 Numerous Wharedale speakers were also shown by Plurison.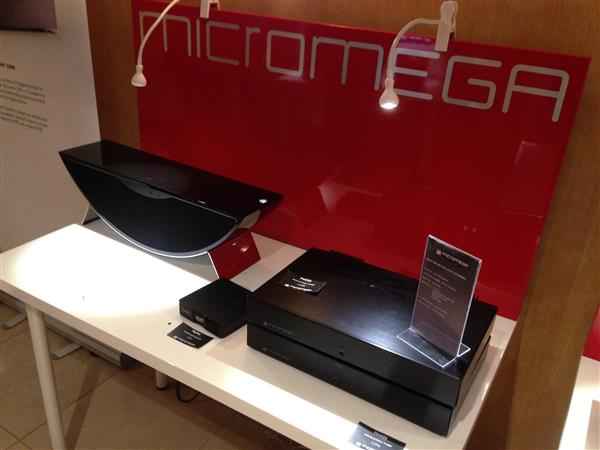 As were a number of Micromega components.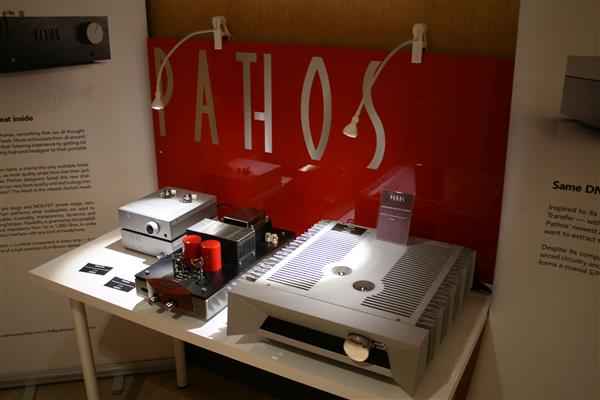 A few Pathos components were also on display.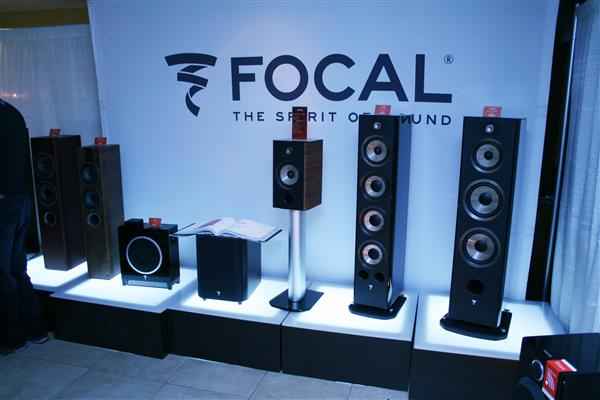 In addition to a number of active demos of Focal speakers in various show rooms, various other Focal speakers were shown in a static display.  You can expect to see many products on demonstration from the brands distributed by Plurison this fall at the Toronto Audio Video Entertainment Show (TAVES).  www.taveshow.com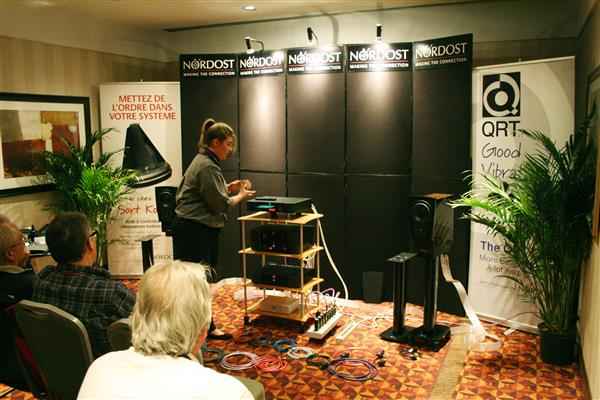 Nordost always leads the pack by putting on some of the most engaging and interesting seminars during shows like Salon Son & Image.  The system in this room consisted of Sim Audio components, Dynaudio speakers and – you guessed it – Nordost cabling and power products.  This year, the company launched two new products at the show: the Heimdall 2 USB 2.0 cable and the QK1, a load resonating coil which generates a passive electronic field that provides a vital solution to the issues of AC quality in audio/video performance.  Nordost also highlighted its new Valhalla 2 cable range and the Sort Füt vibration control products.  I had the pleasure of sitting down through a seminar which demonstrated just how significant of a sonic improvement the Nordost Sort Füt vibration control products can provide in an audio system.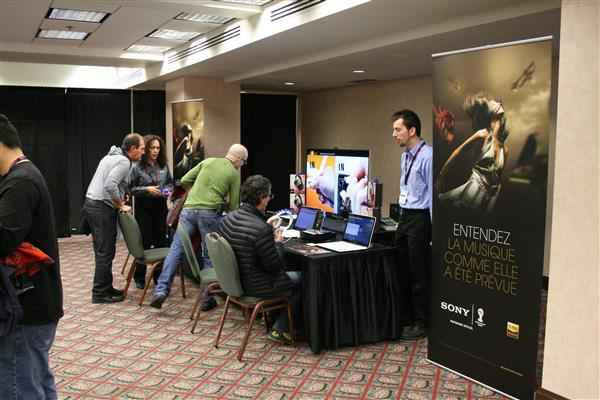 As you might expect from an audio show, this year's Salon Son & Image also hosted a great number of headphone demonstrations, spanning many different manufacturers.  Shown above is Sony's line-up of headphones and below the Stax 'igloo' display.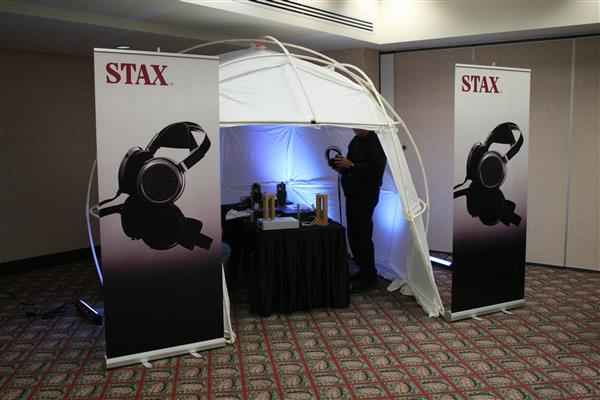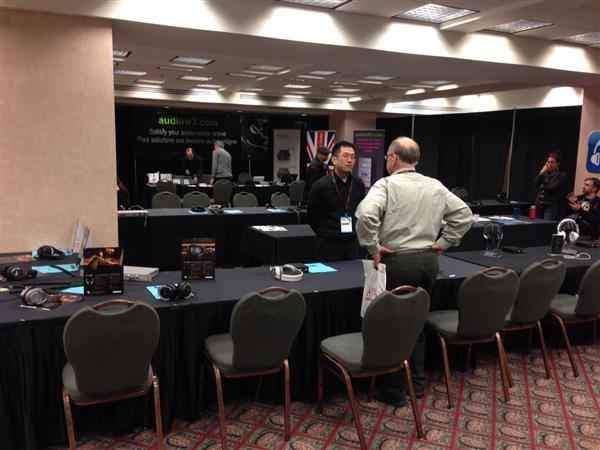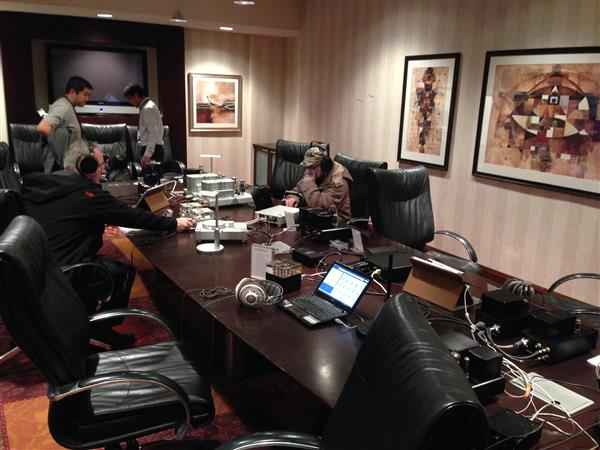 Woo Audio was also present at this year's show, demonstrating its full range of high quality headphone amps, from modestly priced models to high-end models capable of driving the most demanding headphones out there.  Inside the same room was a display of MA Recordings selection of high quality albums, all of which were available for purchase.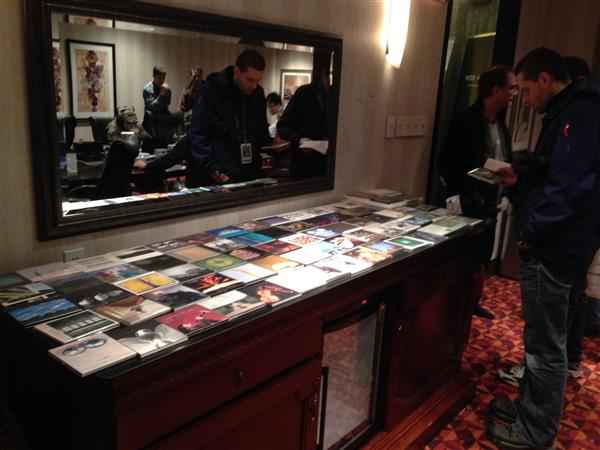 Stay tuned to the CANADA HiFi website for continued pictures and write-ups from the 2014 Salon Son & Image.