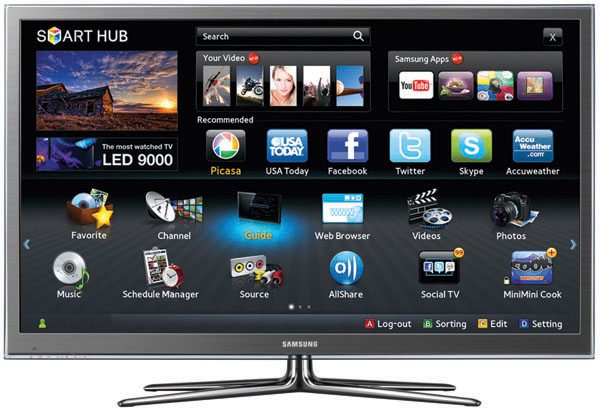 It's no secret that Canadians spend a lot of time on the Internet.  We love to Google anything and everything, and many of us can't seem to get enough of social networking.  Not so long ago, we were limited to accessing the web on computers in our homes and offices.  But thanks to rapidly advancing technology, we can now surf the net just about anywhere – on a smart phone, tablet or laptop (with the addition of an Internet stick) and even a video game system like the PS3.  Today, Internet connectivity is playing an increasingly important role in the evolution of home entertainment components.
   Blu-ray players have offered Internet-based firmware updates and additional content through BD-Live for some time now.  Many TVs now connect to the Internet to offer additional content in the form of apps, much like the ones on your smart phone and firmware updates.  TV manufacturers refer to their latest Internet-enabled models as "smart" or "connected" TVs. 
   One of the manufacturers paving the path for Internet-enabled TVs is Samsung, with its 2011 line-up of Smart TVs.  This spring, the company sent us its latest top-of-the-line 8000 Series plasma TV, the PN59D8000 ($3,199), which offers a 59-inch, 1080p screen along with 3D functionality.  Samsung has also added two other new models to the 8000 Series: the 51-inch PN51D8000 ($2,499) and the 64-inch PN64D8000 ($3,999).  The 8000 series uses much of the same technology first introduced in last year's 8000 3D plasma TVs including the 3D HyperReal Engine, responsible for the colour reproduction and processing of 2D and 3D images, the Clear Image Panel, which eliminates the production of dual images and produces a consistent image from any angle by using a film filter instead of glass, Samsung's Mega DCR (Dynamic Contrast Ratio) and 600Hz Subfield Motion, which produces smoother images regardless of how fast they are moving.  The most significant picture upgrade touted by Samsung in this new 8000 Series is the achievement of a much deeper black level thanks to the improvement of the company's Real Black Filter technology.  The 51-inch model is said to offer a black level that is about twice as deep as last year's 50-inch model, while the 59 and 64 inch models offer an even deeper black.   As with the 2010 generation of Samsung TVs, this set uses active 3D technology to produce the 3D picture.  In addition to 3D playback, like all Samsung 3D sets, this one can convert 2D content to 3D.
   Video inputs on the back of the TV include 4 HDMI (1.4a), 1 component video, 1 composite video and 1 VGA.  There is also an Ethernet port, although the TV includes a built-in wireless LAN card.  Two USB inputs allow USB flash drives and external hard drives to connect to the TV.  The PN59D8000 has a depth of just 1.5 inches and a very thin bezel, which has been decreased by 1 inch all around compared to last year's model.  A swivel stand allows the TV to be angled to the left or right, which is a must-have in my living room and rarely found in TVs of this size.
   I began my review by exploring the PN59D8000's smart TV capabilities since this is its latest, most hyped feature.  Smart TV is an evolution of Samsung's feature called Internet@TV which was available in some of the previous generation Samsung TVs.  There are two components to its smart TV functionality.  First is the ability to browse the Internet and download various Samsung apps which allow simplified access to content on the Internet as well as access to news, weather and social networking right on your TV.  The second component allows users to access pictures, music and videos stored on their home network.  While many of these functions were already available through the Internet@TV service, in this generation Samsung has added some exciting new functionality and greatly expanded the number of available apps.  The most notable new addition is a full web browser which offers Flash compatibility.
   Every time the TV is powered on, it reminds you that it is a smart TV by saying so in big letters in the middle of the screen.  To simplify access to the smart TV features, Samsung provides a brand new double-sided remote control – one side has all the buttons you'd expect to find in a regular TV remote, while the other side, meant to be held horizontally, offers a Qwerty keyboard and a small monochrome LCD screen.  The remote doesn't lie flat like a typical remote since it has a pie-shaped cross section which elevates one side of the remote, giving both its faces a slope.  This works relatively well for the keyboard side, because it gives a somewhat computer-like keyboard feel but inadvertently makes it awkward to use the TV side, the side which will be used the vast majority of the time.  Compared to Samsung's previous generation remote, this new remote is shorter, wider, thicker and noticeably heavier.  Overall, I'm not a fan of how it feels and functions as a TV remote.  The keyboard side is a different story however.  Its size, shape, key layout and responsiveness make it easy to type words and symbols when required by some of the apps, the web browser or when doing a search.  The small LCD screen displays the characters being typed on the remote at the same time as they appear on the TV screen and I couldn't figure out exactly what purpose it serves, if any.  All in all, it worked well when using the TV's smart features.
   In order to use most of this TV's smart features you'll need to connect it to the Internet on your home network using either a wired or wireless connection.  Once connected, pressing the "Smart Hub" button on the remote launches the smart TV interface, which takes a few seconds to load.  The graphical interface displays the current channel in a small box in the top left, a search box at the top, as well as four other sections – Your Video, Samsung Apps, Recommended [apps] and the apps that are currently installed on your TV.  There are some two dozen apps installed by default including the Web Browser, Facebook, Twitter, YouTube, Netflix, Skype (which requires an add-on camera), Picasa, AccuWeather, AP New Ticker and icons that allow access to Videos, Photos and Music stored on your home network.  New apps can be downloaded by accessing the Samsung Apps and Recommended sections.  This year, Samsung expanded the number of apps offered for download and included some apps previously not available to Canadian customers, like MLB.TV.
   In my opinion the most exciting and useful addition to this year's 8000 series is the Web Browser.  While it is unlikely to replace the full Internet browsing experience of a computer, presumably most users will use it to quickly look something up on the Internet while lounging on their couch in the evening.  Typing in website addresses can be accomplished very easily on the new remote but navigating websites can be a little cumbersome.  Clicking on a link or a button on a web page can be accomplished in one of two ways: by pressing the up/down/left/right arrows and navigating through all the "clickable" items on the page or by switching the arrow keys to operate in the "Pointer Mode" which allows you to freely move the pointer on the screen.  Scrolling down long web pages is also cumbersome and would be much easier if dedicated scroll buttons were offered on the remote.  Nevertheless, some owners will appreciate the fact that they can now access the Internet from the comfort of their couch.  Do you ever watch TV in the evening and suddenly have the urge to look something up online?  If so, you'll be glad that now you can look stuff up right on your TV, instead of running to the computer desk and waiting for the computer to start up.  Personally, I've got an iPad 2 sitting on the ottoman in my living room for this very purpose.
   With so many wonderful, new age features you might think that Samsung didn't spend much effort on improving the picture quality of this year's TVs, but you'd be wrong.  I was particularly excited about the review of the PN59D8000 since one of the reference TVs in our lab is the Samsung PN50C8000, a model from last year's 8000 plasma series.  Therefore I would be able to make some direct, side-by-side picture comparisons.  For the first few hours of the review, I watched the TV with its factory picture settings.  The PN59D8000 provides four preset picture modes: Dynamic, Standard, Movie and Relax.  Not surprisingly the most natural looking of these was the Movie preset, which produced the best balance of colour, contrast and detail.  Nevertheless, the picture did have a greenish tint, which made skin tones look somewhat unnatural and grass a little too green.  Sitting beside our ISF calibrated PN50C8000, it was clear that improvements could definitely be made to achieve a more accurate picture.  All of the primary colours appeared more vibrant and natural on the calibrated PN50C8000.  There was a greater contrast between the darkest and lightest parts of the picture as well as more overall detail.  The picture of the PN59D8000 appeared to have a slight haze over it and lacked the three dimensionality of our calibrated set.
   Anyhow, for the purpose of this review, I calibrated the review set with the Spears & Munsil Blu-ray Benchmark disc, something that every owner should consider doing.  As we've come to expect from Samsung this set's picture is highly tweak-able thanks a great CMS (Colour Management System) which offers 2 and 10 point grayscale controls, a 3D CMS (new in this generation) and gamma adjustments accessible from the user menu.  While poking around the picture menu, I took note of the various picture settings and how they differed from last year's model.  The basic picture settings were all the same: cell light, contrast, brightness, sharpness, colour and tint.  But looking deeper into the menus revealed a number of differences compared to the last year's 8000 series.  In the Advanced Settings there is a new Motion Lighting feature, which reduces power consumption using brightness control adaptive motion.  The 3D menu also has two new options: 3D Perspective and L/R Change.  Another new setting which appears in the System menu is Screen Burn Protection, which offers several customizable adjustments.
   Following the basic calibration, I watched several Blu-ray selections and a number of shows from my PVR.  First up was Sin City on Blu-ray, a fantastic film for testing black levels and contrast.  Samsung says that it made great strides in achieving a lower black level in this generation of plasma TVs.  But did they really?  As soon as the first scenes of Sin City hit the screen, all of my doubts slipped away.  The improvement in the black level wasn't just noticeable, it was dramatic.  The darkest parts of the picture were inky black on the PN59D8000 review set and made the blacks on our PN50C8000 reference set look like dark grays.  No part of me expected such a significant difference.  For Sin City, a movie which relies heavily on a TV's ability to display deep blacks, the improvement of the picture quality was exponential.  Faces in the shadows, black coats and dark environments undeniably benefited from the deeper blacks.  Everything on this TV looked more realistic in the dark scenes compared to our reference set.  Think about it this way – when you look down an unlit laneway at night all you see is pure blackness, not just a shade of dark gray.
   If you're a regular reader of CANADA HiFi, you'll know that we stress the importance of a display to produce the deepest possible black.  And it's not only because dark movie scenes will look significantly more natural, but also because TVs with deeper blacks usually offer a greater contrast ratio and are capable of displaying a wider range of colours.  An increased contrast ratio translates into a greater amount of shadow details.  Scenes in Sin City contained remarkable details in the darkest parts of the picture.  For example, I could see the smallest creases in Marv's black leather coat even though he was standing in a dark alleyway.  The same was true of all the characters' facial features – the finest wrinkles and skin imperfections were clearly visible under the darkest of lighting conditions.  I can't say that the PN59D8000 showed more shadow details than our calibrated PN50C8000, but the details did stand out a little more on the new model thanks to the increased contrast.  I would imagine that after a full ISF calibration the PN59D8000 could display even more shadow details.  The PN59D8000's black level performance is the closest I've seen any TV come to our other reference TV, the Pioneer PDP-6020FD KURO plasma.
   Satisfied with the excellent black level and shadow details, I proceeded to some friendlier programming, namely a Discovery World HD program called Under the Sea, a coral reef documentary, accompanied by a mildly humorous Jim Carrey narration.  The exotic underwater environments filled the big 59-inch screen of the PN59D8000 and looked nothing short of spectacular.  The mysterious creatures and lively corals stimulated my visual senses with vibrant, natural colours.
   Once again changing pace, I watched an episode of the new Top Gear on History HD.  The characters, cars and environments looked great and displayed great amounts of detail.  I did however notice that the hosts' and audience skin tones appeared to have a touch too much green compared to our calibrated reference set.  For the same reason, the sky had a slight green tint and grass looked a little too green.  Overall, the PN59D8000 produced an excellent picture in all respects – black level, contrast and colour reproduction.  Those wishing for the most accurate picture however will definitely benefit from a full calibration.
  There is one other aspect that caught me off guard about this TV – it does a fantastic job at reducing image retention compared to the last year's model.  This was most noticeable when I left a channel like CP24, which has a static grid on the screen, for extended periods of time.  When I switched the channel after some 30 minutes of CP24, our PN50C8000 continued to display a faint outline of the grid on the screen for another 15 minutes or so.  The new PN59D8000 showed only the faintest sign of the grid on the screen, something that would go completely unnoticed by most viewers.  I was very pleased to see such a drastic improvement since image retention was my biggest caveat about the previous 8000 series.
   To test the TV's 3D picture capabilities I reached for a few 3D Blu-ray discs including Tron: Legacy, Monsters vs Aliens, Cloudy with a Chance of Meatballs and The Green Hornet.   As mentioned above, this new 8000 Series of plasma TVs offers a separate Colour Management System for its 3D mode so that the picture can be properly calibrated, something not possible in the previous generation.
   I've already been enjoying an excellent 3D picture from our reference Samsung plasma during the last year, so I didn't expect any less from this review set.  In fact, I was very curious to see how the 3D picture compares between the two sets.  While watching Tron: Legacy, the PN59D8000 produced a superb, three dimensional picture.  Unlike other 3D movies I've seen to date, Tron uses a more subtle approach to 3D, utilizing the picture depth very effectively rather than choosing to pop images off the screen.  The environments, vehicles and character costumes lend themselves naturally to be shown in 3D and the overall experience was nothing shy of brilliant.  Thanks to the fact that with active 3D tech, each eye gets the full 1080p resolution, the images were highly detailed as I've come to anticipate from top notch Blu-ray movies.  As with any 2D movie that has lots of dark scenes, Tron benefited greatly from the PN59D8000's ability to display deep, inky blacks.  Using active 3D glasses does result in a slightly darker picture overall, although this isn't something that has ever bothered me – I think that seeing 3D images far outweighs this shortcoming.
   For the most part, the PN59D8000 produced a 3D picture that is almost exactly the same quality as our reference Samsung plasma from last year.  Although there was very little of it, I did observe some image crosstalk (faint outlines around characters and objects) while watching Monsters vs Aliens and The Green Hornet, both TVs showed it in the same scenes.  The PN59D8000 did however show one significant 3D picture upgrade – its 3D picture exhibited much lower picture grain over our reference set.  This is something which will without a doubt be appreciated by all viewers.
   I have to say that I am very impressed with how Samsung has advanced its 8000 series plasma TVs this year.  Not only does the PN59D8000 offer some of the most advanced, new age features you will find in any 2011 TV, Samsung has managed to raise the picture quality bar another few notches.  In fact, the PN59D8000 will entertain viewers with one of the best 2D and 3D pictures available today and does so at a reasonable price point.  This TV is a solid "class A" performer that is very easy to recommend to anyone.