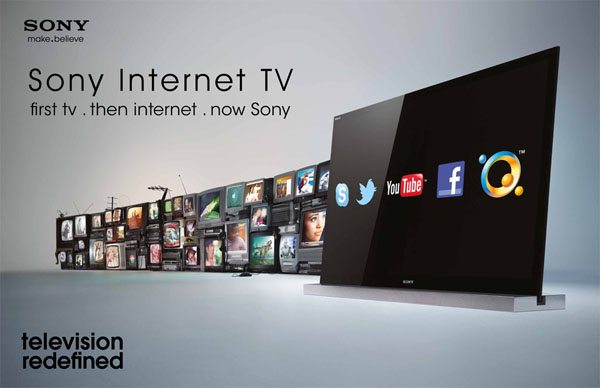 Sony has just began shipping its the new NX720, HX820, XBR HX929 models, Sony's latest additions to the BRAVIA HDTV line-up. Among the 37 models in its 2011 line-up, the BRAVIA LCD HDTV line includes 32 Internet-connected models and 23 with built-in 3D capabilities.
Sony continues to push the leading edge of Connected TV with a constantly expanding offering of seamless Internet entertainment options.
The recent and upcoming enhancements to Sony's connectivity platform include:
Netflix: Available since May 27, 2011, Netflix enables members to browse and instantly watch thousands of TV shows and movies streaming from Netflix for $7.99 per month.
Qriocity Video On Demand: A premium streaming video service allowing film fans to rent from a growing library of hundreds of premium 2D and 3D Hollywood blockbusters.
Skype: Allows consumers to easily connect to family and friends live on their HDTV wherever they are located. Skype allows users to enjoy free high definition Skype-to–Skype video calls from the comfort of their living room.
Bravia Internet Video: 25 providers including YouTube, Sports Illustrated, Slacker, Epicurious.com, Concierge.com, Style.com, and Dailymotion. Additionally, BRAVIA's Internet Widgets feature allows users to access and view their Facebook, Twitter, and Flickr accounts.
The latest BRAVIA models offer Sony's new proprietary X-Reality and X-Reality Pro picture engines. These unique technologies separate incoming video signals by outline, texture, color and contrast, and add appropriate image enhancements to create the best image possible. Utilizing a vast database of ideal signal patterns developed by analyzing and indexing an enormous library of video images, the X-Reality PRO Engine compares incoming signals pixel-by-pixel with ideal scenes to restore lost detail and display sharp and vivid images.
X-Reality PRO is a two-chip digital video processor that allows for multi-frame analysis, optimizing the content displayed, particularly low-resolution content often found on the internet.
Also new for Sony's XBR HX929 Series is the exclusive Intelligent Peak LED Backlight which uses full array local dimming to produce deeper blacks, while boosting brightness in lighter areas of the image, creating incredible on-screen contrast. Sony's OptiContrast panel elevates the picture to the front surface of the TV and creates a dark background for rich, vibrant, high contrast picture even in well-lit rooms.
Finally, MotionFlow XR technology is Sony's most advanced motion compensation system yet, helping to reduce blur caused by quick camera movements, enhancing sharpness and creating a clearer picture.
Sony's line of 3D-capable TVs ranges from affordable entry-level models to flagship sets – all utilizing Sony's active shutter technology. Improvements for 2011 include quicker response time, reduced cross-talk and built-in 3D emitters on all 3D models.
For more info, please visit www.sony.ca