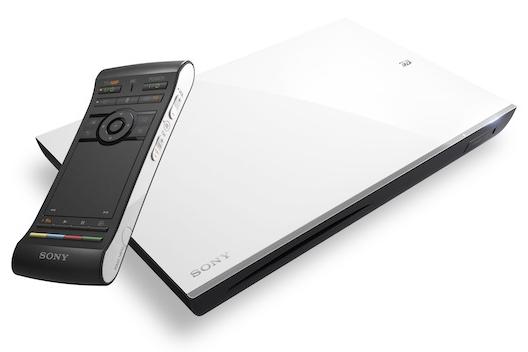 Sony Electronics has announced the availability of their NSZ-GS7 Internet Player with Google TV. In addition, Sony's newest Internet Blu-ray Disc player with Google TV, the NSZ-GP9 is set to be released in 2012.
Sony's NSZ-GS7 and NSZ-GP9 bring the best of Google to your TV, with new experiences arriving every day through the Google Chrome browser; thousands of supported mobile apps in the Google Play Store, including hundreds optimized for TV; YouTube with 72 hours of video being added every minute; and a global community of developers from around the world. Google TV's cross search functionality shows viewers all content sources available from broadcast providers and the Internet to deliver customized video results on demand.
Both new products come complete with a redesigned remote control equipped with a backlit QWERTY keyboard, a touch pad for easy operation and a three-axis motion sensor to enjoy games. Additionally, the Bluetooth remote control can also be utilized as a universal remote to control connected devices such as TV, set- top-box and A/V receivers – the NSZ-GP9 Blu-ray Disc player even incorporates voice search capabilities.
The NSZ-GS7 Internet Player will be available at retailers beginning July 22, priced at $199 U.S. The new NSZ-GP9 Blu-ray Disc Player with Google TV will be available before year-end, in time for the holiday season and priced at $299 U.S.
Look for more details on these products at: www.sony.com.