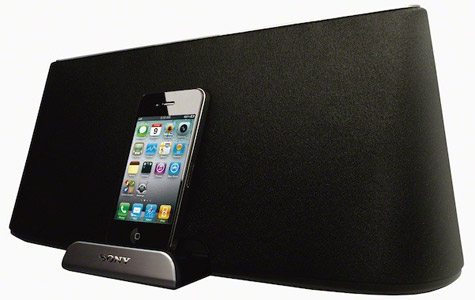 Sony Canada has just announced the RDP-X500iP – a new iPad compatible speaker dock, which has a built-in subwoofer and promises premium sound quality, sleek design, and easy-to-use functionality.
Made for most iPod, iPhone and iPad models, the RDP-X500iP speaker dock features a beautifully modern design while delivering innovative sound technologies. Its built-in subwoofer, Clear Phase DSP and groundbreaking magnetic fluid speakers work in concert to provide a superior audio experience. An auxiliary audio input facilitates connection to other sources for easy access to music, wherever it is stored. For a convenient listening experience, a full-function remote control is also included.
The RDP-X500iP boasts Sony's state-of-the-art DMC technology, a combination of Dual Passive Radiators, Magnetic Fluid Speakers and Clear Phase DSP sound processing. In conjunction with its built-in subwoofer, dual passive radiators provide powerful bass response in a remarkably compact form factor. Rather than using conventional drivers, speakers with magnetic fluid technology are employed, delivering higher sound pressure levels, clearer vocals, and less distortion. In addition, Sony's unique Clear Phase linear phase correction circuitry further reduces distortion and increases sound presence, making music sound crisp and clear.
The RDP-X500iP speaker dock is now available for $349.99.
For more info, please visit www.sony.ca.