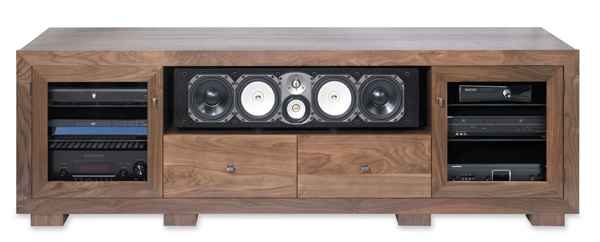 If you take pride in the AV gear you own, you'll want to display them neatly on an attractive AV console.  Standout Designs is a US-based company that designs and manufacturers all of its AV furniture in North America, and as its name suggests, the company has come up with some really eye-catching designs over the years.
The Haven Series of AV furniture was designed with the Canadian-made Paradigm speakers in mind, but will of course work gladly with just about any brand of speakers and electronics.  All of the pieces in this series are constructed out of solid hardwood (expect for drawer bottoms and back panels) and feature hidden wheels so you can move them easily.  The tempered glass shelves are adjustable and vented to allow proper airflow to your components.  Further enhancing the ventilation are quiet, temperate-controlled exhaust fans at the back of the cabinet.  Aside from housing your components, each cabinet offers some media storage with movable/removable dividers.  The glass is IR-friendly, so you don't have to worry about your remote clicks not finding their way to your components.  The back panels of these consoles are removable, unlike with other furniture where they are nailed into place.  Optional fabric center grill and door grill kits are available for some models, while wood door panels are available for all models.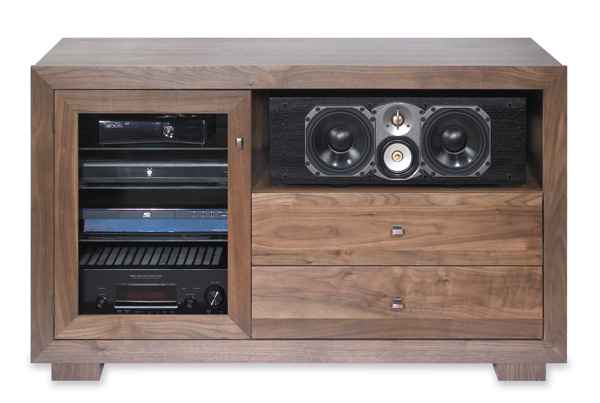 The front console pictures in this post show the Pennsylvania Black Walnut finish and the rear picture shows the Pennsylvania Cherry finish.  Standout Designs also makes matching side towers, coffee table, and side tables.  For more info about Standout Designs solid wood TV consoles, please visit http://www.standoutdesigns.com/collections/solid-wood-tv-consoles-tv-stands-media-consoles.  For more info about Paradigm, please visit www.paradigm.com.