Toronto Audio Video Entertainment Show 2011 – Highlights by George de Sa
The city of Toronto and for that matter, Ontario has been long without a consumer electronics show.  TAVES finally changed that this September 30th to October 2nd, 2011 and what a welcome event it was.  From the first day the crowds began to arrive and it was great to see a mix of both young and mature enthusiasts…why, there were even a baby or two seen…no kidding.  The venue was the prestigious Le Meridien King Edward Hotel (fondly known as the King Eddy) located in downtown Toronto.  Floors 2 and 6 were fully dedicated to the event, which was ample for the displays and patrons of the show.  It was an almost perfect venue with rich surroundings, well sized rooms and nice high ceilings, combined with much appreciated carpeted floors.  There was lots of TAVES staff around to direct you to where you wanted to go and even a very convenient spot, near reception, to grab a bite to eat and a drink.  All in all, the accommodations and personnel made for a great opportunity to relax and take-in the sites…and sounds.  With a significant number of exhibitors, demonstrations and attractions, it was more than a days worth of exploring.  I managed to see much of what was there, and would like to share a sample of what I saw.  I invite you to share in my experience by reading on.
Paradigm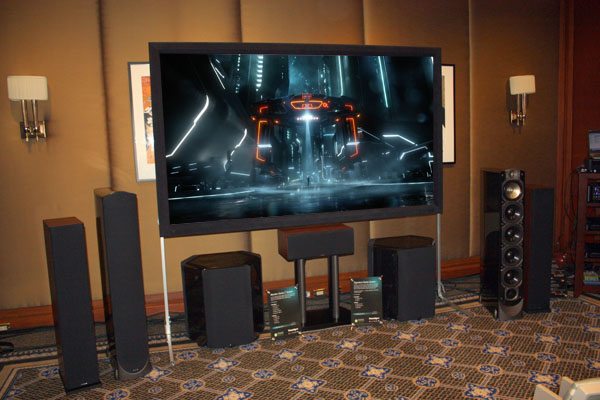 Landing on the second floor of the King Eddy the first thing that caught my attention was music playing to my right.  Following the sound, I found a little DJ setup put together by Paradigm SHIFT, a new brand from Paradigm Electronics Inc.  Paradigm SHIFT targets the youthful audio enthusiasts with sleek looking quality audio products, including powered desktop speakers, ear buds and headphones as well as gaming headsets.  This ushered me into the Paradigm room, where I found a 7.4 channel home theatre (HT) setup with projector and screen.  Mark Aling and Erin Phillips of the Paradigm Marketing team were kind enough to take me around the room and fill me in on the products.  The HT setup consisted of an Anthem MX 700 receiver ($2,199) controlling two amplifiers (MCA 3 and PVA 4) driving the seven channels.  Featured were the new Monitor Series 7 speakers including: 2 x Monitor 11 ($849/each); 1 x Centre 3 ($629/each); 4 x Surround 3 ($429/each).  The bass was anchored by 2 x Sub 12 ($1,099 each) and 2 brand new X Sub 8 ($699 each).  Source duty was performed by the Anthem BLX200 Blu-ray player.   The total output power of the HT system was over 5000 watts and the system price was just under $15,000.  The short demo of a clip from TRON, delivered in 7.1 was very immersive and impactful.  A flag-ship two channel music setup was also present in this room, consisting of a pair of Signature Series S8 towers ($4,599 to $4,999 each), driven by two new M1, 1000 watt liquid-cooled class D monoblocks amplifiers, with bass duty from two Sub 2, 4500 watt subwoofers ($9,900 – $10,499 each).  Total system cost was $47,422 with a whopping 11,000 watts of output power.  In addition to the main attractions, Paradigm was featuring its all new budget lifestyle Cinema line of HT speakers – Cinema 100 2.0 system starting at $329 and going up to a full 5.1 Cinema 100 system at $1,099.  What I can say is that the Paradigm room was a power house and in fact, I was told that the room required an upgraded power supply…I can believe it!
Totem Acoustic
My next stop was the Totem Acoustic room.  This room was my personal favourite from a design and aesthetics perspective – it oozed of style from the shag rug to the colourful images and glossy wall coverings.  I complemented Vince Bruzzese, President & Founder of Totem Acoustics, on the styling of the products and the room design and was informed that credit for the panache should go to Lucy Lentini, VP Sales & Marketing, who I was also fortunate to meet at the show.  Vince personally explained the products in the room to me.  The new Totem Element series of loudspeakers was featured in a  5.1 setup, consisting of 2 x Metal floorstanders ($13,000); the new Wood centre channel ($4,500); 2 x Fire compact speakers ($5,995) and the new Thunder Two subwoofer ($2,395).  The Element series utlizes absolutely no crossover on the woofer – referred to as Totem Torrent Technology, which is also in the Tribe 5 series.  I was told that the Torrent system allows for a larger listening window and eliminates phase problems.  The system was powered by Bryston amplifiers (6B-SST2 and a pair of 7B-SST2).  The Element series delivered very detailed and room filling sound with an impressive punch.  I have to say that I enjoyed my visit here very much.
Atelier-Audio / Worldwide Wholesales
Making my way further, I found the room of Atelier-Audio and Worldwide Wholesales.  Here I met Samuel Furon (Atelier-Audio) and Robert Neill (Worldwide Wholesales) who introduced their demonstration system.  Featured were the Zu Omen Def floorstanding speakers ($3,400 – show special $2,900).  Each used two 10" crossover-less full-range driver and a tweeter for the top octave, with a 98 dB overall sensitivity rating.  Driving the Def's was a pair of Ocellia Quaero 300B SET tube mono amps with 7 watts per channel output ($5,460 each), paired with Quaero Tube Preamplifier ($5,460) and fed by a Rossner & Sohn KLM-15 turntable.  The sound of the vinyl through these tube amps on the Def's was smooth and precise, yet delicate.  Also in the room were speakers from the Volent Paragon and Chorale lines, including the VL-3 floorstander, VL-2 bookshelf and CL-2 bookshelf, along with a selection of cables and accessories.  What was nice to see was that there were substantial discounts being offered on products purchased at the show.
TTWeights Audio / Euphoria Speaker Design
My next port of call was the TTWeights Audio and Euphoria Speaker Design room.  Here I found a room catering also to the analogue enthusiast.  TTWeights was featuring its beautiful, robust and meticulously constructed Momentus ($11,000) and GEM turntables ($5,000), matched to Allnic amplifiers and driving Euphoria Speaker Design Bullet prototype speakers (approx. $58,000 to $100,000 per pair).  The Bullet speaker incorporated an Accuton diamond tweeter, ceramic midrange and SEAS 10" woofers.  The sound in the room came across as highly extended in the high frequencies but it was very difficult to judge the quality given that two of the rooms walls were covered in mirrors.  I was assured by Christine Denham of TTWeights that the system has sounded much better in a more appropriate setting.  Also in the room were a number of TTWeights turntable accessories, such as their centre weights, clamps and peripheral rings, all wonderfully designed and crafted.
Ultimate TV Comparison
Next stop was The Ultimate TV Comparison, which was arranged by the TAVES organizers themselves.  The area was curtained off with an entrance and an exit.  Inside, there were 16 different flat panel televisions, of various makes, models and designs, including plasma, LCD/LED and 3D technologies.  All sets were professionally calibrated for the room and masked so that brands and models were not visible.  This room gave consumers an unprecedented opportunity to view and compare TVs calibrated to display their best possible picture.  This is something you'll never see in a store since TVs are factory-calibrated to compete with each other on the show room floor and as a result all produce a very unnatural picture.  Visitors were asked to walk through the room and compare the displays, choosing their favourite by number and then on their way out received the list of brands and models with a price list.  Those who filled out the ballots in this room qualified to win a pair of Samsung HD650 headphones.  There was also an opportunity to purchase the demo TV sets at a discounted price.  Personally, my two favourites were the Samsung D8000 and Panasonic VT30 plasma displays.  To my knowledge this was the first time ever that such a large number of calibrated sets has been made available side by side at a show.
Acoustic Technologies, CEntrance and WooAudio
Adjoining The Ultimate TV Comparison, in the open area were a number of booths.  Acoustic Technologies had a number of products and accessories, including brands such as Furutech and Vibrapod, with prices on items as low as $20.
CEntrance, out of Chicago, had some interesting products, including its AxePort Pro ($149.99) and MicPort Pro ($149.99) – guitar and microphone USB recording devices; DacPort ($399.95) and DacPort LX ($299.95) portable USB 24-bit/ 96kHz DACs.  There was also the DacMini CX headphone amp, a combined USB, optical, coaxial, RCA DAC and finally the DacMini PX ($399.95) 25wpc integrated amplifier, headphone amp and DAC.  The DacMini PX was connected to a new CEntrance coaxial desktop speaker product ($700/pair) and produced very decent sound with surprisingly tight bass, all in a very compact package.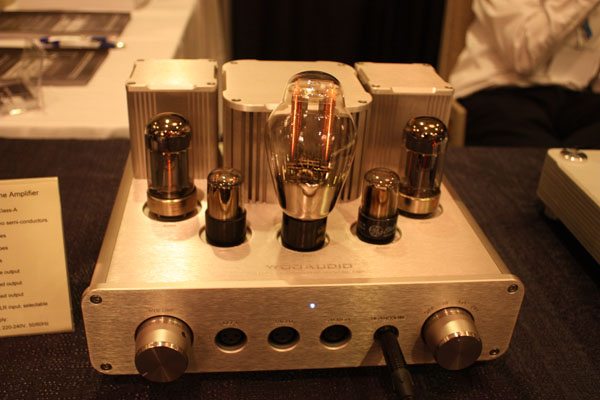 Aesthetic appeal drove my initial interest in the WooAudio table.  WooAudio representatives had made the drive up to the show from New York and were showing off a number of headphone products.  There was the WA22 ($1,900) fully balanced headphone tube amp; the WDS1 ($1,000) new and yet to be released DAC with USB optical, coaxial and XLR inputs; the WA2 ($1,090) single-ended triode class A tube headphone/pre amplifier; WA6 ($650) and WA6 SE ($1,050) tube headphone amps and even some functional and affordable metal headphone stands ($59 and $75).  I was able to sit down and try the WA22 with a pair of Beyerdynamic T1 headphones and very much liked what I was hearing but would have liked to spend more time to make a good assessment.
Grant Fidelity
Walking into the Grant Fidelity room I found a full room of interesting products – joy, oh joy.  Inside I found a plethora of Chinese manufactured audio products.  The featured system was a Grant Fidelity CD-1000 Impression II tube CDP ($3,200, sale $1,999), Grant Fidelity RITA-880S integrated tube amp ($4,200, sale $2,700) powering two Sheng Ya V-218 Wood Horn Monitors that were delivering very pleasant and soothing Sh?ngy?n (Chinese for "sound").  Also featured were a Classe-like styled Jungson Hedo WG CDP ($1,350, sale $900) and WG-200 integrated 200 wpc amplifier ($1,950, sale $1,400) sitting atop a novel Nobility WMP-IA MkII Magnetic Levitation Rack (sale $500) and finally Grant Fidelity's new successor to the DAC-09, the Tube DAC-11 pre-amp/headphone amp and DAC ($325, sale $275).  There were too many other products in this room to list and it was nice to see that TAVES discounts were offered.
Nordost
I had an opportunity to pop by Nordost Corporation's room and sit in for an interconnect comparison demonstration.  With the door closed for 15 minutes or so, we were taken through four different sets of interconnects, swapped out one after the other on the same rig.  The demonstration system consisted of a Simaudio 600i integrated amplifier ($8,000), fed by a Simaudio CD 750D DAC/CD transport ($12,000), powering Raidho Ayra C1 standmount speakers from Denmark ($15,000/pair).  Speaker cables were Nordost Red Dawn 4 meter cables.  All the interconnects demonstrated were from the Nordost Leif line, and included 2 meter lengths of the company's White Lightening Anniversary ($200/metre), Purple Flare ($300/metre), Blue Heaven ($400/metre) and Red Dawn ($550/metre) analogue interconnects.  With each piece of music that was played and the change up to the next higher priced cable there was a noticeable increase in body, smoothness/naturalness, dimensionality and transparency.  The biggest jump occurred in the first two swaps (diminishing marginal returns would play in here), with the swap to the final Red Dawn interconnect offering a smaller but still identifiable increase in finesse.  All-in-all, the demonstration did strike the point that on a revealing system, small additional investments in cables can provide noticeable lifts in performance.  For me, the debate on cables has been settled, at least in the case of the Leif line from Nordost.