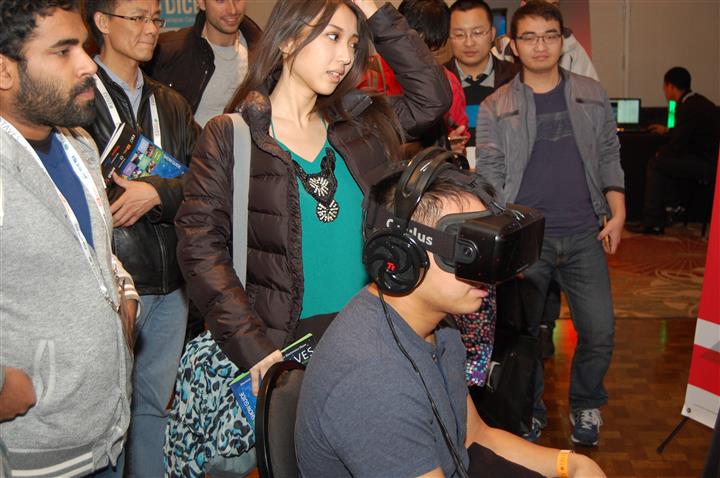 Every year, the TAVES Consumer Electronics Show continues to grow and this year marked the inaugural debut of two technology & innovation pavilions dedicated to showcasing high-tech toys, robotics, virtual reality devices, gaming, 3D printing, educational toys, personal transportation devices, and even electric bikes & vehicles. For the first time, the show also offered exhibits for kids and teens, in addition to a wide range of robotics and coding classes for kids. We may still be a few years away from Marty McFly's pink anti-gravity hoverboard but the companies and products showcased at the TAVES Consumer Electronics Show demonstrated that anything is possible if we put our innovator minds to work. The show floor hosted over 100 exhibitors and attracted over 6,500 tech-curious consumers and industry attendees. Not too shabby!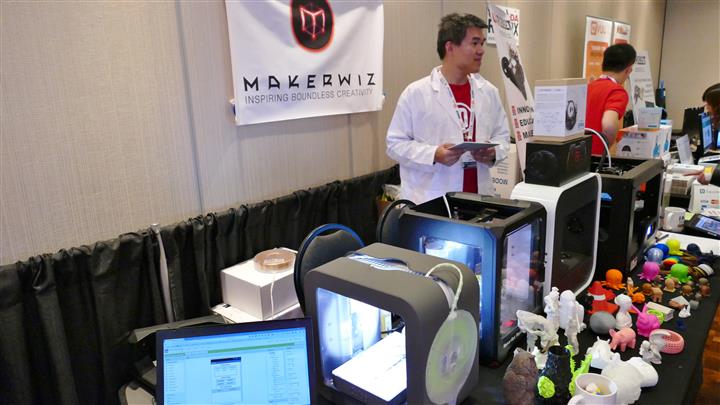 The various vendors at the show floors offered a sneak peak at the plethora of devices and products that are quickly entering the market thanks to a confluence of cheaper manufacturing and hardware; the ability to quickly and economically 3D print and prototype; and the importance of science, technology, engineering and math (STEM) in today's educational curriculum. Below is a small sampling of some of the various booths in the technology & innovation pavilions at this year's show, sorted into categories.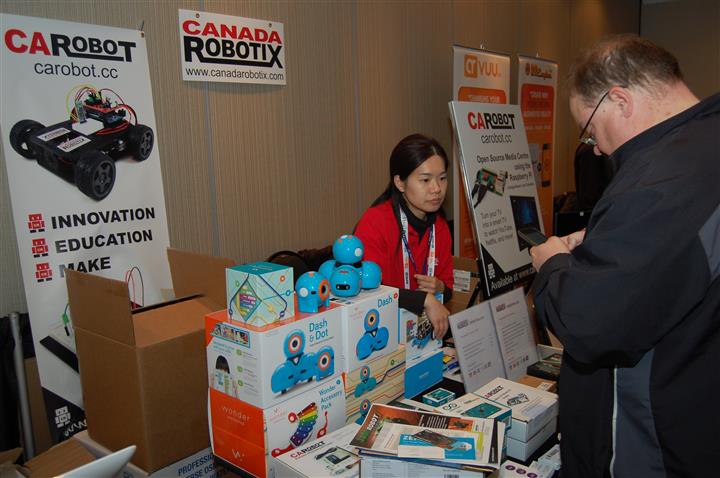 Hardware Exhibits
Canada Robotix – www.canadarobotix.com
This bricks-and-mortar retail and online store based in Markham, Ontario carries a large variety of robots, kits, and robotics-related electronics covering the range from Arduinos to Raspberry Pis to Roombas. If you're building a robotics project, chances are you'll be able to find parts from this retailer including motors, wireless connectivity modules (Bluetooth, ZigBee, etc.), sensors, and anything else to get your project up and running.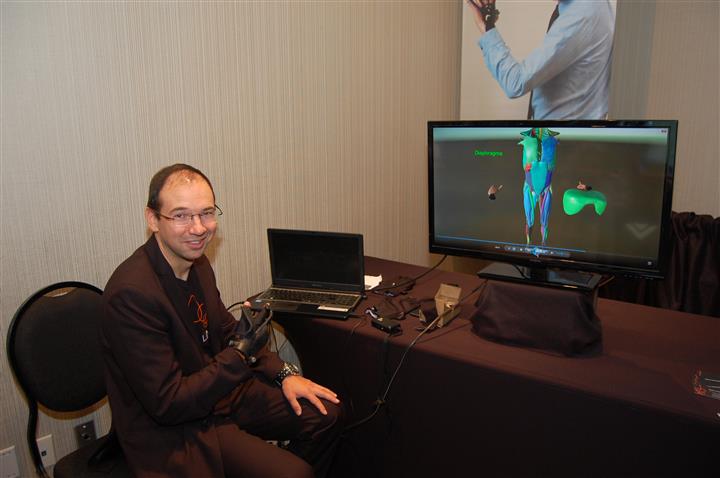 Breq Labs – www.breqlab.com
Coming out of the University of Toronto's Impact Centre, an independent business incubator that helps accelerate businesses borne of science & engineering research, Breq Labs' Exoglove uses a variety of sensors and ultrasonic tracking to accurately track a user's hand position, movement, and actions with millimetre accuracy. Combined with virtual reality technologies such as Oculus Rift, this allows users to interact with their virtual environments in an incredibly immersive and interactive way.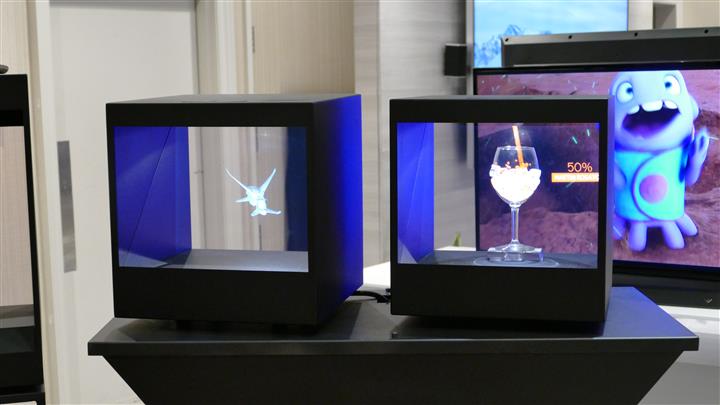 Holocube – www.holocube-na.com
Holocube products use projection technology to create 3D holographic images that appear to float inside the displays. These devices come in a variety of sizes, with the largest HC70 featuring a 70" diagonal 1,920×1,080 image or video. These displays can be used for everything from product displays to showcasing 3D videos and constantly drew curious show visitors to the display at TAVES. These displays can also be combined with actual physical products to create an even more lifelike image: at the show, one display had a wine glass inside that would fill up with various virtual liquids and ice cubes.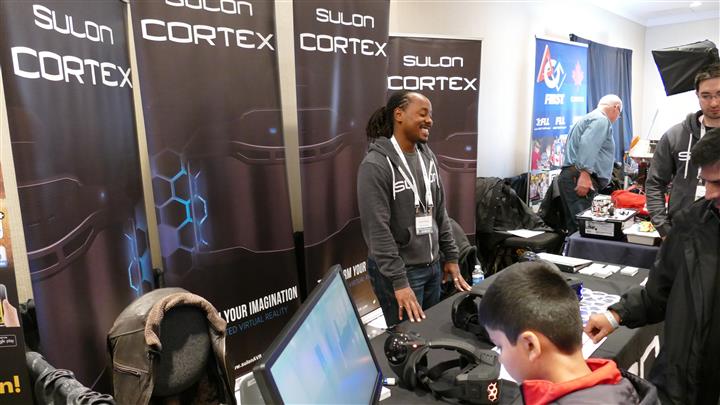 Sulon Cortex – www.sulontechnologies.com
This Canadian company is creating a virtual reality headset that goes beyond bringing the wearer into a virtual environment. The Cortex headset's display is also capable of being transparent and augmenting the user's field of view with computer-generated graphics, placing objects, characters, or other content virtually into the real world. An example of this is walking through an empty home and seeing furniture placed in various rooms or playing an action game and walking through a warehouse while interacting with virtual game characters.
The headset is also equipped with a 3D spatial scanner, allowing the headset to map its physical surroundings to incorporate into the virtual world. The user wearing the headset is able to control their interaction using motion and gesture controls akin to Tom Cruise's interaction in Minority Report. Truly stunning tech!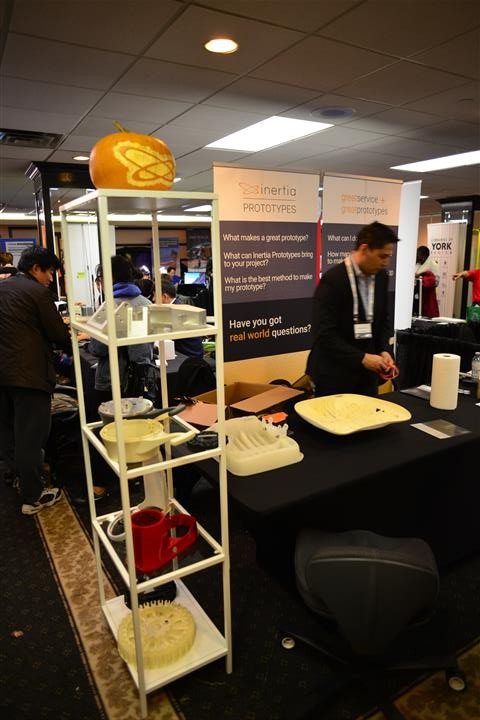 Intertia Prototypes – www.inertiaengineering.com
When one has an idea for a product and needs to go from the napkin to the real world, Inertia Prototypes has the expertise and resources to quickly turn that dream into physical reality. Beyond simply creating physical mock-ups, they work with 3D printing, electronics, machining, and other processes to create fully working prototypes that are capable of going through safety, industry and other certifications in preparation for mass production.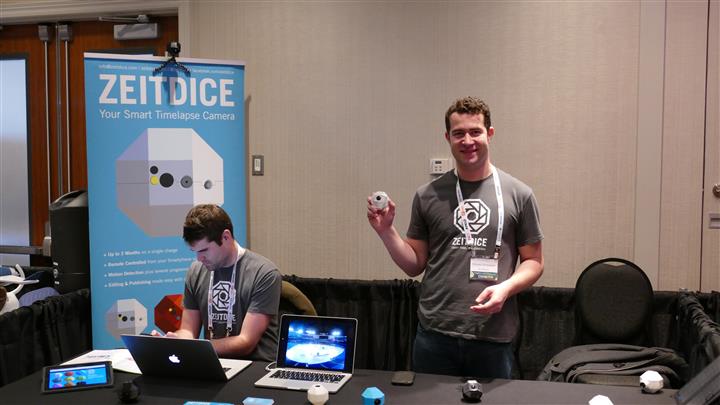 Zeitdice – www.zeitdice.com
The Zeitdice is a 26-sided dice that contains a 1080p timelapse wide-angle camera. With its built-in 32GB of memory and battery, it can take images until its memory is filled up. Once these images are captured, the images can be downloaded through the micro-USB port or wirelessly through WiFi. Their software then stitches these images into a video for sharing. The Zeitdice can be mounted on a regular tripod or various metallic surfaces that its built-in magnets can adhere to. It is currently available for pre-order for $149 CAD and is slated to ship in Q1 of 2016. Timelapses captured with the Zeitdice can be viewed on their website.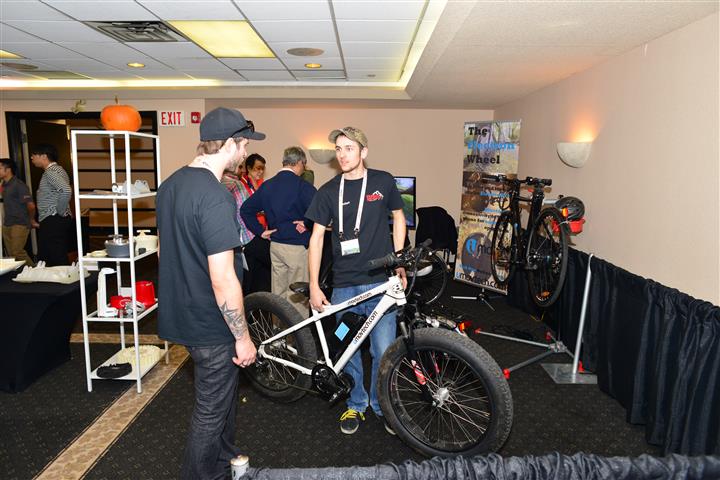 uMov Technologies – www.umovtech.com
Founded in 2014 in Ottawa, Ontario with the goal of providing consumers with an economical alternative transportation method to replace their cars, uMov has a line of road and off-road powered bicycles that offer both pedal assist (reducing the effort required from the rider such as for uphill inclines) and fully powered propulsion (like a motorcycle). Their bikes run off a 24V to 48V battery and offer 60-100 km of range depending on the model. These advanced bikes offer features such as powerful disc brakes and more efficient 24-speed gearing.
They also offer models that can fold up for easy storage and transportation. They are currently accepting pre-orders for their $899 CAD "Electron" model that is set to ship in March 2016.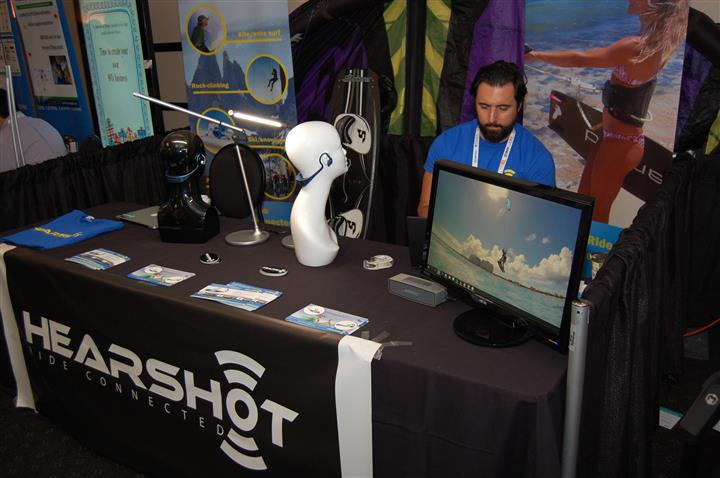 Hearshot – www.hearshotco.com
This outdoor activity-centric Bluetooth headset differs from standard phone/mobile headsets in that it communicates directly from headset-to-headset utilizing a Bluetooth mesh instead of over a cellular network. Up to 6 users can communicate with each other over a 300m (outdoor) range using this waterproof (IP67 rated) headset that relays communications securely between headsets.
The headset won the Canadian "FuturPreneur" award and is currently accepting pre-orders for shipment in 2016. They have been testing the headset with outdoor enthusiasts such as surfers and hikers and also foresee it being used by paramedics, students/instructors and other personnel that require point-to-point, on-site communication.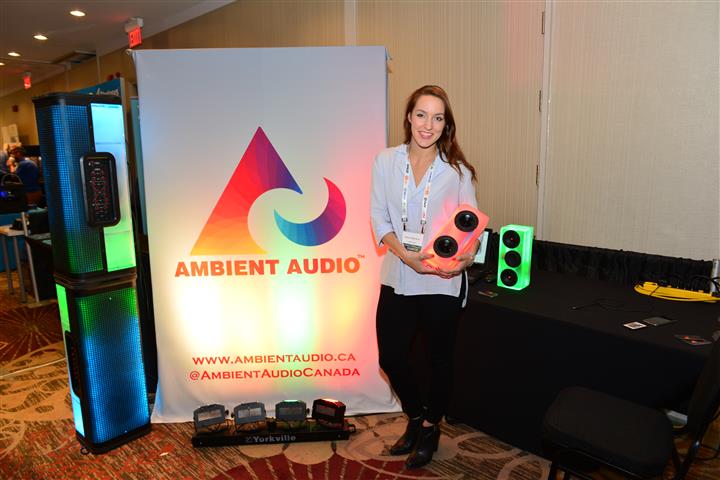 Ambient Audio – www.ambientaudio.ca
Adding the element of light to the typical boxy, black speaker, Ambient Audio's products feature multi-coloured lights that can be controlled via a mobile device or handheld remote. These lighting effects can be static, patterned, or reactive to the sound being output by the speaker.
Available in various sizes from the battery-powered (for portability) 35W Vibe One to the 1,400W PA-system AAL3 speaker, Ambient Audio's products bring another dimension to sound and make for a more vibrant visual and audible experience.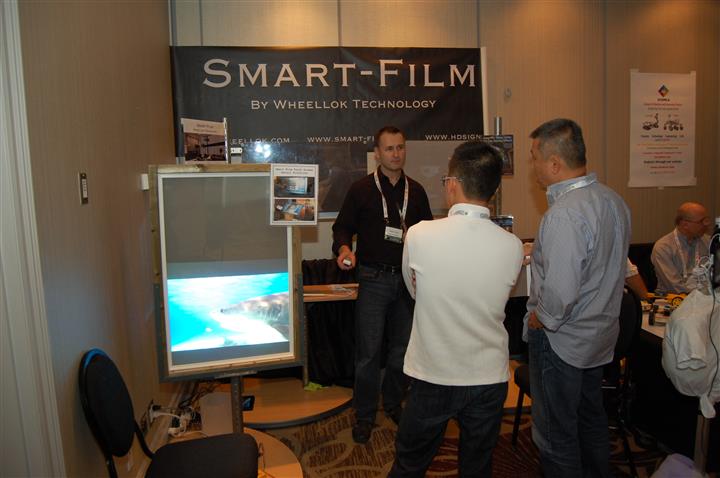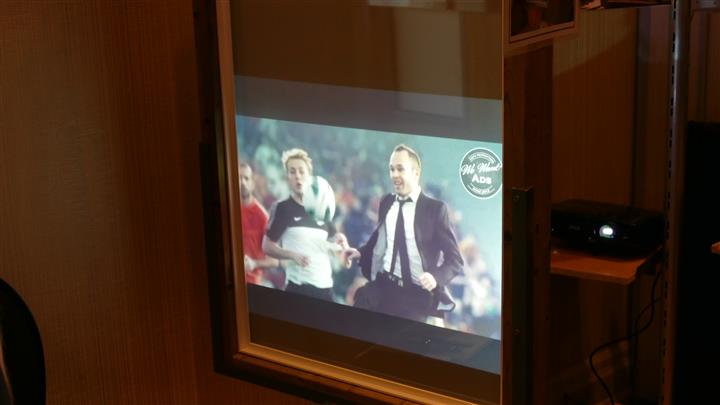 Smart-Film by Wheellok – www.smart-film.ca
This Canadian distributor of electronic "smart" window film carries a variety of films that can be installed on glass surfaces, windows, and doors. This film's opacity switches between transparent and opaque when electricity is applied (the default off state is opaque). There are a variety of applications for this film from glass boardrooms and offices to residential and commercial applications. Instead of using window coverings such as blinds or curtains, windows with smart film are made opaque, blocking the view from either side. Installed over a large window, it can turn the window into a projection screen, one of the commercial applications demonstrated at the show.
The film comes in a variety of colours such as black, white, or others and starts at $55 CAD/sq ft.