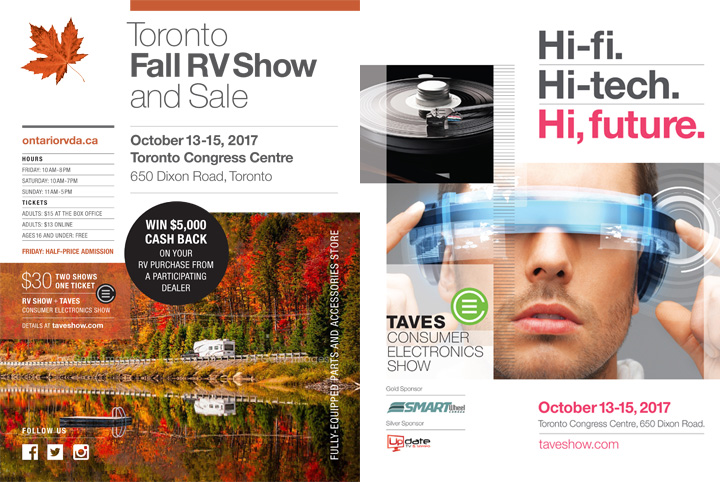 The TAVES Consumer Electronics Show is delighted to announce a partnership with the Toronto Fall RV Show and Sale.  This fall, consumers will be able to visit both shows for one low price, with a new combo ticket.  Both shows will run at the Toronto Congress Centre between Friday, Oct. 13 and Sunday, Oct. 15, 2017.
The TAVES Consumer Electronics Show is Canada's ultimate consumer technology event, showcasing cutting-edge products in the most exciting categories: VR, robots, wearables, drones, hi-tech vehicles, 3D printing, tech toys, audio and video. The show attracts kids of all ages, tech-savvy millennials, luxury-loving consumers, industry professionals, mainstream and specialist media, innovators and educators.  This fall, TAVES expects over 150 exhibitors from around the planet, many showing prototype products and launching brand new products into the market.
The Toronto Fall RV Show and Sale is Canada's premiere event where consumers can learn about the RVing culture, explore and purchase the latest Recreational Vehicle (RV) models and pick up an amazing selection of accessories.  This family-friendly event guarantees an entertaining time for all ages and includes special show features just for kids.
A combo ticket to access both shows is just $30 and available at www.taveshow.com
For more info about the Toronto Fall RV Show and Sale check out www.rvshowsontario.ca/toronto-fall-rv-show