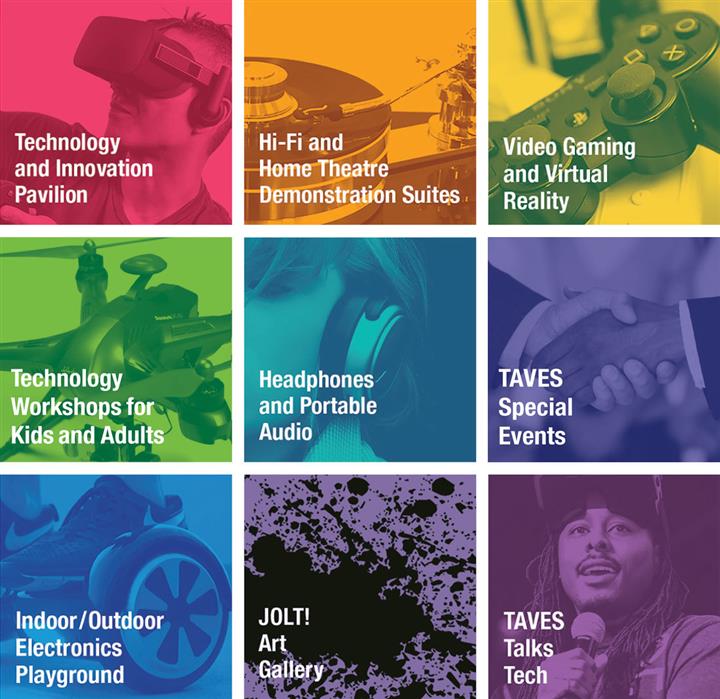 Where Technology Meets Lifestyle – TAVES Is Canada's Ultimate Technology Showcase Loaded with Fun for the Whole Family!
Canada's largest consumer technology event, the TAVES Consumer Electronics Show, will run this Friday, Oct. 13 to Sunday, Oct. 15 at the Toronto Congress Centre.
Get your geek on at TAVES, Canada's premiere showcase of the hottest consumer technology and home entertainment!  Featuring the latest innovations and products from around the planet, we've got three days of high-octane, hands-on experiences for geeks and wanna-be geeks of every age.
Show highlights include:
Canadian company Panacea Nova will do a world-launch of a revolutionary medical wearable that analyzes the user's blood biochemistry and makes herbal and dietary recommendations
Meet the Wheely robot from Smart Wheel Canada, as it zooms around the show floor and interacts with visitors
Cheer for your favourite robots as they face off in a sumo style fight at the Bot Brawl, Canada's biggest robot combat event
Try out the latest in virtual and augmented reality devices
Test drive electric cars and other green vehicles including e-Bikes, scooters, all terrain hoverboards and unicycles
Fly one of the latest drones from DJI in the TAVES Drone Cage
Presented by TOTEM, Canada's leading manufacturer of high-end loudspeakers, TAVES 2017  features our boldest, most diverse lineup ever. Our Technology and Innovation Pavilion will showcase cutting edge virtual and augmented reality devices, 3D printers, robots, fasion tech, smart apparel, wearables. personal transportation devices, drones, home automation, as well as an array of apps and prototypes about to hit the market.
Our audio and home theatre zones will overwhelm your senses with the latest in superior sound and display technology from global brands and boutique innovators alike. Try out a dizzying array of ear gear, headphones, amps, players and accessories that deliver sound in stunning, immersive clarity.
Sign up your kids for a TAVES workshop led by professional educators — there are over a dozen topics to choose from ranging from robotics to Lego and coding.  Spaces are limited!
TAVES Talks Tech (T3), our eclectic series of entertaining, informative and sometimes provocative sessions about the electrifying world of consumer technology, brings the future into dazzling focus — from the mind-blowing world of virtual reality to high-resolution audio.
Running Oct. 13-15, 2017 at the Toronto Congress Centre, there's something for every taste and curiosity. Show times: Friday, October 28, 11am-7pm; Saturday, October 29, 10am-6pm; Sunday, 10 am-4pm.
Tickets start at $25 at www.taveshow.com.  Save $3 off admission by using promo code NOVO17 on the ticket page.