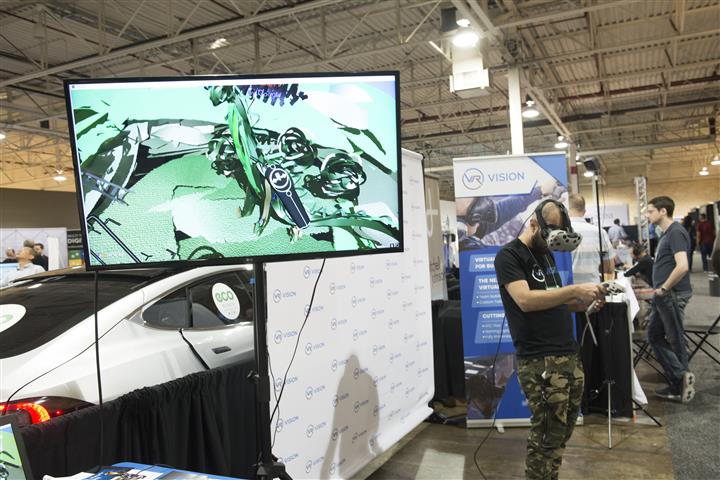 The Technology and Innovation Pavilion made its return to the TAVES Consumer Electronics Show and as always, there were plenty of gadgets to get one's hands on, electric vehicles to test drive, and products intent on making your life healthier, more productive, and engaging. In one section of the hall there was an arena where robots as small as 1 lbs. and as large as 150 lbs. fought to push their opponent off the playing field, similar to sumo wrestling. At the opposite end of the hall, show goers could take the controls and fly drones while in an adjacent booth, they could get themselves off the ground via the latest in electric mobility with self-balancing scooters.
Virtual and augmented reality continues to grow, with more entertainment venues utilizing the headsets in arcade-style games, cinematic experiences, and as artistic tools. One vendor's demo truly showcased how virtual reality allows wearers to manipulate and create shapes and objects that can't be created by nature by allowing users to create an object in VR and subsequently print that object out in real life with a 3D printer.
Check out my highlights of some of the most exciting technology vendors from this year's show below.
Robotics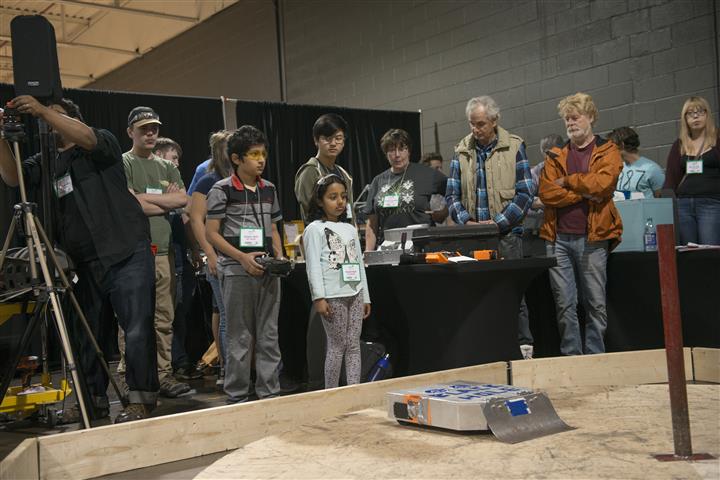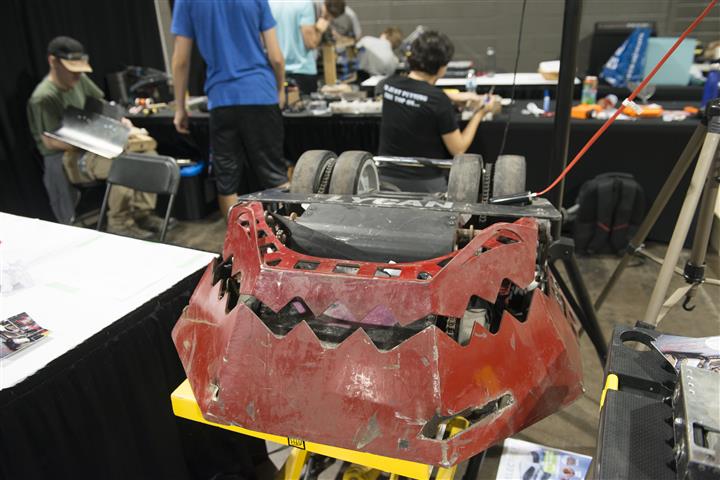 Bot Brawl – www.BotBrawl.ca
Ontario's only robot fighting league, Bot Brawl organizes competitions in a variety of weight classes and divisions from 1 and 3 lbs. combat robots which fight inside a bulletproof arena with the intention of destroying their opponent to larger 30 and 150 lbs. robots which race around a circular arena earnestly trying to shove their opponent out of the field. Roboticists range from kids in their teens learning their way around remote-controlled kits to seasoned veterans of other robotics competitions such as FIRST Robotics and VEX.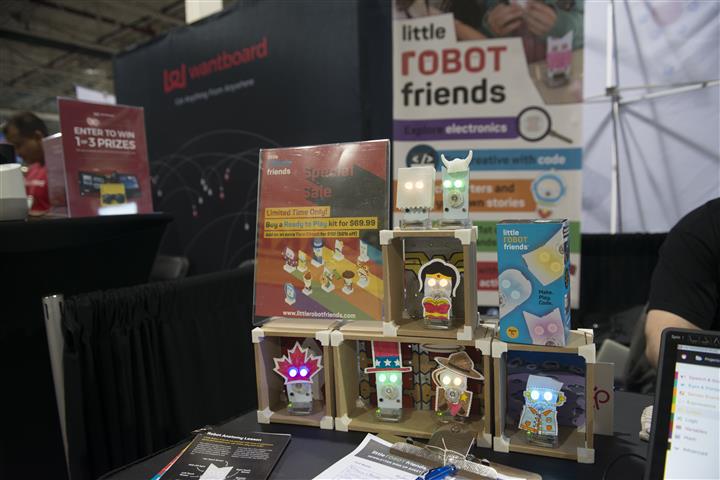 Little Robot Friends – www.LittleRobotFriends.com
Creators of robotics kits that start at $75 CAD, Little Robot Friends has created a handheld robot head with numerous sensors that kids can assemble, program, and interact with. The robots can react to touch, have a speaker for a mouth (sound), photosensor for light, flashing lights, and microphone, among other inputs. Based in Toronto, they run workshops and events where kids aged 9 and up can get introduced to the world of robotics.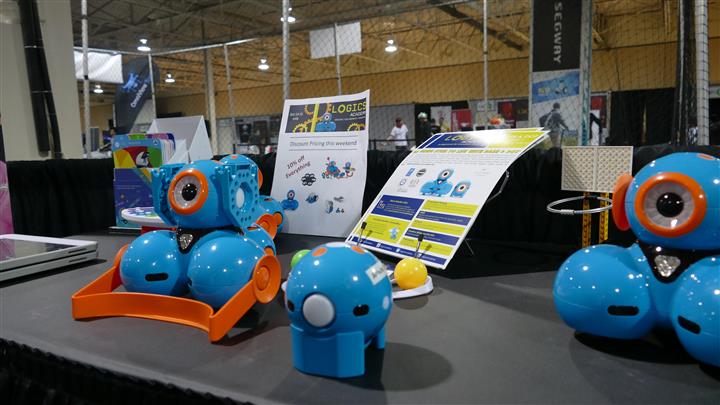 Logics Academy – www.LogicsAcademy.com
With a full curriculum and a variety of robotics kits, Logics Academy provides a suite of robotics programs for kids from kindergarten to grade 12, including resources for teachers and parents. From simple robots made out of cardboard with batteries strapped inside them to their fully-functional, programmable, tablet-controlled robots, Logics Academy provides another entry for children into the world of robotics.
MakerKids – www.MakerKids.com
Located in Toronto's Bloor West Village, MakerKids is the largest kid-oriented makerspace in the world. They run a variety of programs from day camps to workshops to afterschool programs covering everything from Minecraft to video game creation to more advanced Arduino programming. Kids can drop into the space to get help with their projects or sign up for a membership that allows them to attend a variety of classes to fit their schedule. MakerKids will also bring the class to you with their on-site parties for 10-30 kids.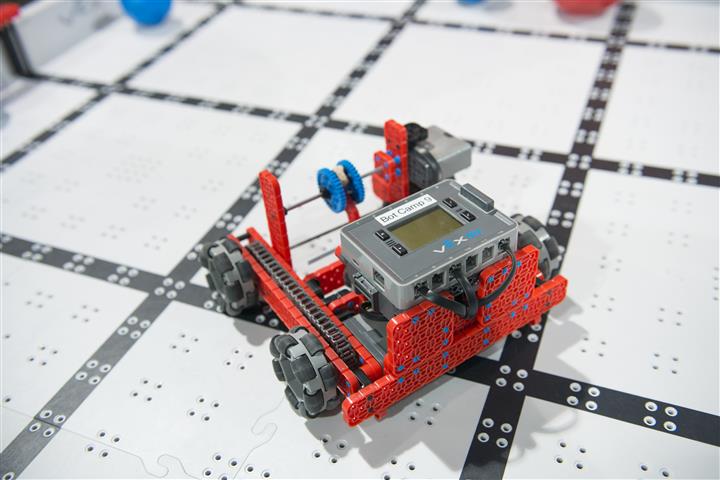 Bot Camp – www.Bot-Camp.com
For kids aged 10-14, Bot Camp runs weeklong summer day camps that teaches kids how to build and program their own robot, which they then use to compete in games such as robot soccer. With a very small student to instructor ratio (4:1), students get personalized help throughout the week from seasoned robotics instructors. The camp is held at Victoria Park Collegiate in Toronto, the home of an award winning FIRST Robotics team, the Panthers.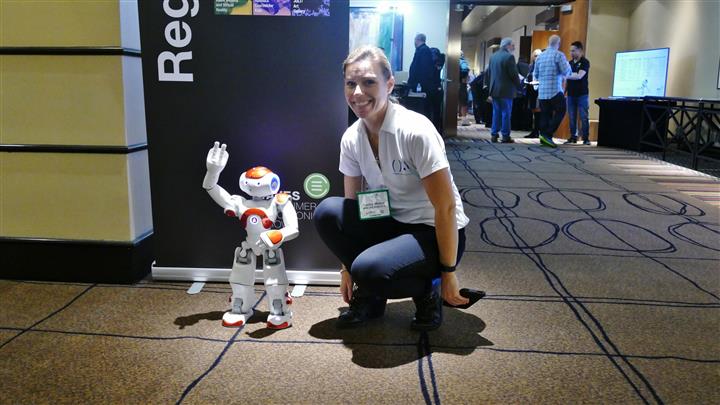 New Life Robotics – www.NewLifeRobotics.com
Another STEM educator, New Life Robotics works with schools to integrate robotics into the curriculum, utilizing a walking, talking, 22" robot that students can program and interact with. The robot can be programmed with a graphical drag-and-drop interface and features cameras, text-to-speech in more than a dozen languages, and a slew of sensors that allow it to walk autonomously without falling over or colliding with objects.
Mimetics – www.mimetics.ca
Using a green, rover-like robot with tank treads, Mimetic teaches robotics to kids aged 8 and older with the "Jade" robot. Its top-mounted screen and tactile controls allow kids to program the robot without any additional equipment (such as a tablet) and immediately execute their programs. Started from its beginnings at the Ontario Science Centre in 2001, Mimetics now hosts Jade robotics workshops and afterschool programs across Ontario.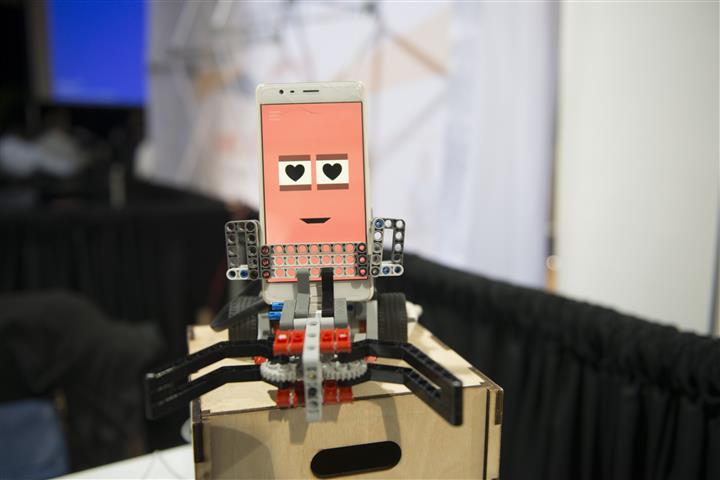 Robot Playtime – www.RobotPlaytime.com
Started by two University of Toronto engineers, Robot Playtime operates out of the STEAMLabs makerspace in downtown Toronto. Their free mobile app teaches kids the essentials of robot building and programming through a graphical user interface. The mobile device can then be placed onto their robots to have them drive around, speak, and interact with outside stimuli.
Health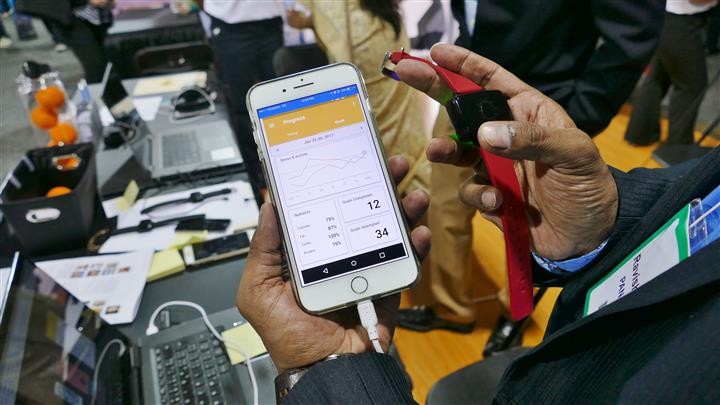 Panacea Nova – www.PanaceaNova.com
Developed by cardiologist Dr. Ravishankar Polisetty, Panacea Nova utilizes a wearable that records a variety of readings beyond what a typical fitness tracker does including blood volume and flow rate. It processes the data through both Eastern and Western medicine parameters to provide the wearer with individualized healthcare recommendations encompassing diet, exercise, and physiological adjustments to maximize their health.
Virtual/Augmented Reality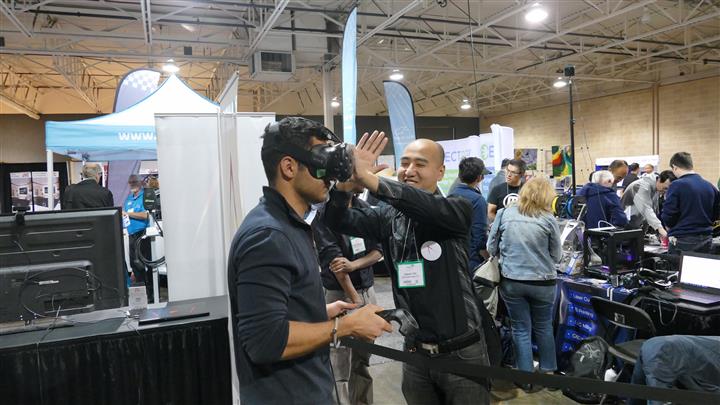 Another Reality – www.AnotherReality.com
Showcasing some of the attractions from their upcoming virtual reality arcade and studio, Another Reality was there demonstrating VR gaming, augmented reality through motion capture where passersby had their faces mapped to real and fictional characters, and 3D workspaces where wearers could create and manipulate objects in VR, creating shapes that wouldn't be possible with traditional materials such as wood or metal. These objects were then printed out in a scale model via a 3D printer, allowing users to take their virtual creations home with them.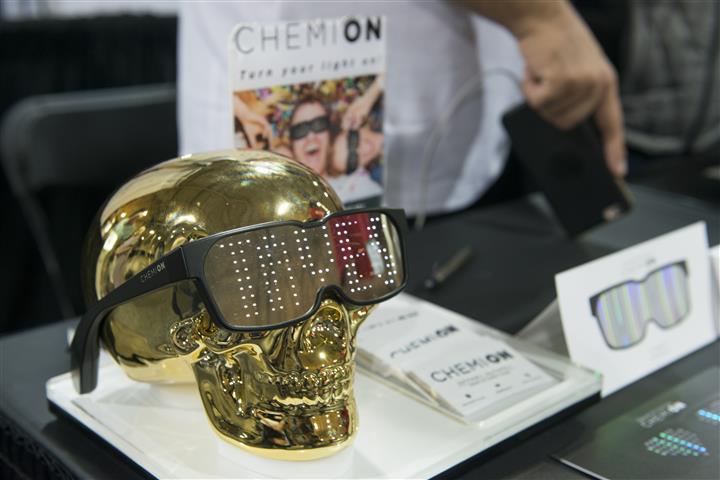 CHEMION – www.ChemionGlasses.com
If you've ever wanted to display a message across your face in flashing lights, the CHEMION LED glasses are the product for you. Utilizing an array of programmable white LEDs, wearers can have the glasses display anything they can draw or animate. The glasses run off two AAA batteries and last up to 8 hours, scrolling everything from a graphic equalizing tuned to the music off your smartphone to scrolling marquees of text. They retail for $79 CAD.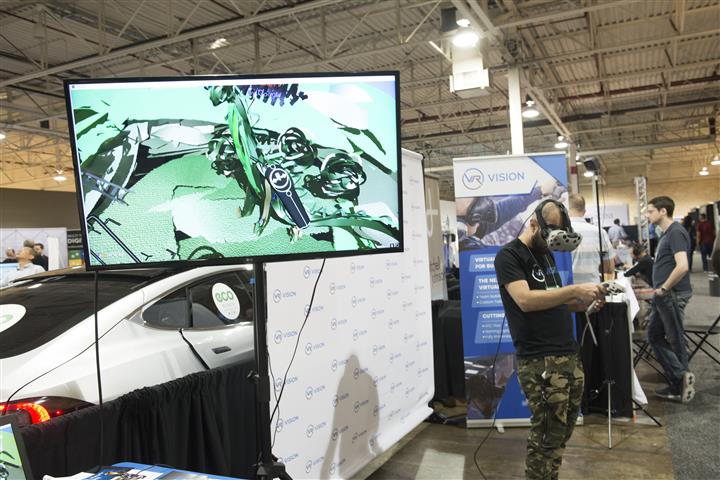 Danilo Ursini – www.UrsiniArt.com
Moving beyond a wooden paintbrush, artist Danilo Ursini creates art inside 3D virtual spaces. Instead of looking at a flat or even perspective image, the virtual creations allow viewers to literally step into, walk around, and even fly over Danilo's creations which also have dynamic elements such as moving water, roaring fires, and billowing virtual smoke. Another amazing element of these virtual creations is the ability to see a sped up time lapse of the creation which took hours, compressed into mere minutes.
Electric Cars and Mobility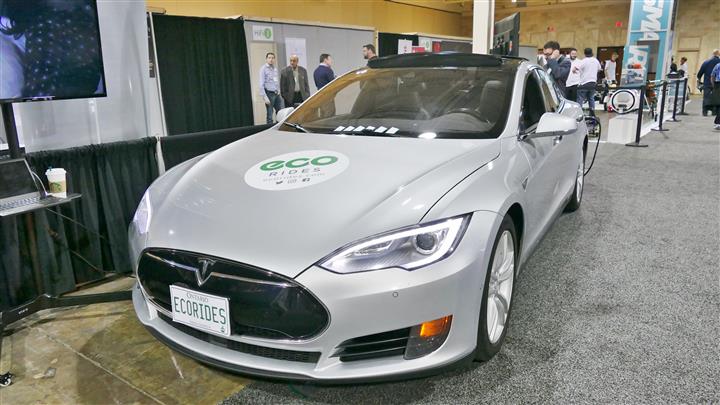 ecoRIDES – www.ecoRIDES.com
Providing on-demand and pre-booked transportation in quiet, eco-friendly Tesla Model S and X's, ecoRIDES currently operates in Hamilton and Ottawa, Ontario for those looking for an alternative to taxis and other ride-sharing services. Their luxury, zero emissions vehicles whisk passengers to their destination in quiet comfort while minimizing their carbon footprint.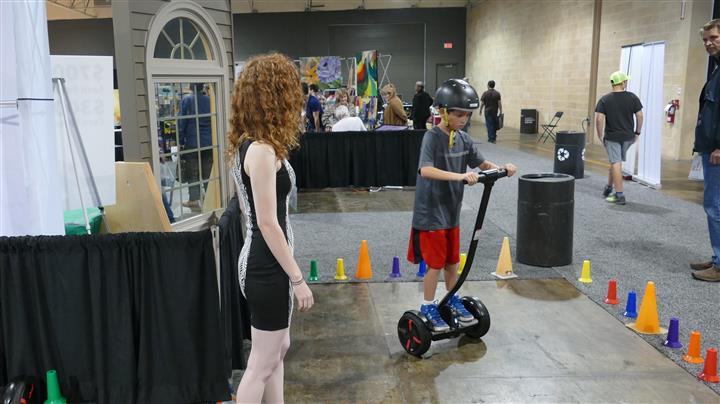 Go Tours Canada – www.GoToursCanada.com
Operating in Toronto's historic Distillery District, Go Tours offers walking and scooter tours of the area on Segways. They also run a variety of themed events such as those during Halloween (a "ghost" tour) and Christmas. For those that want a more adventurous outing, they also operate an off-road tour using a tough, rugged version of the Segway on trails up in Barrie.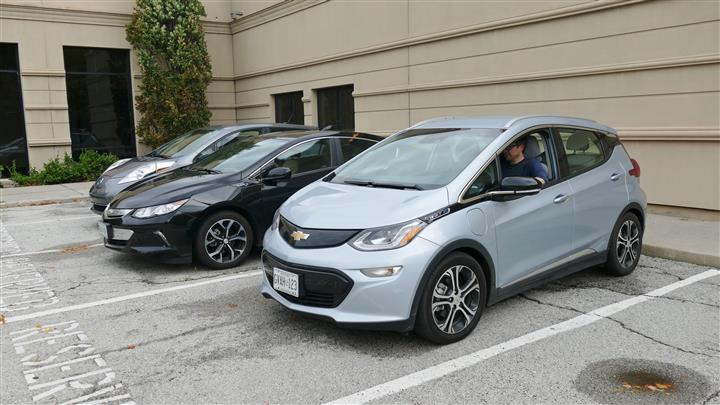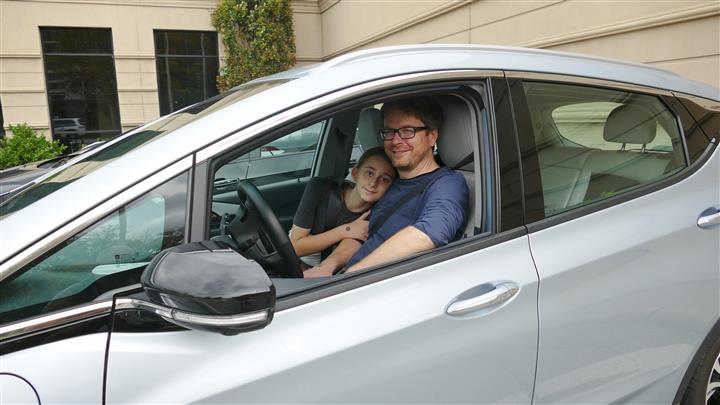 Plug'n Drive – www.PlugnDrive.ca
Helping to facilitate the adoption of electric vehicles across Canada, this non-profit organization works with everyone from vehicle manufacturers to municipalities to utility companies to educate and advocate for greener transportation. They recently opened a manufacturer agnostic showroom in North York, Ontario, the Electric Vehicle Discovery Centre, where many of the latest electric and plug-in hybrid vehicles from BMW, Chevrolet, Hyundai, and Volkswagen are available to test drive. As they don't sell the vehicles themselves and are there to educate consumers, it's a great way for potential buyers to get behind the wheel outside of the dealership sales environment.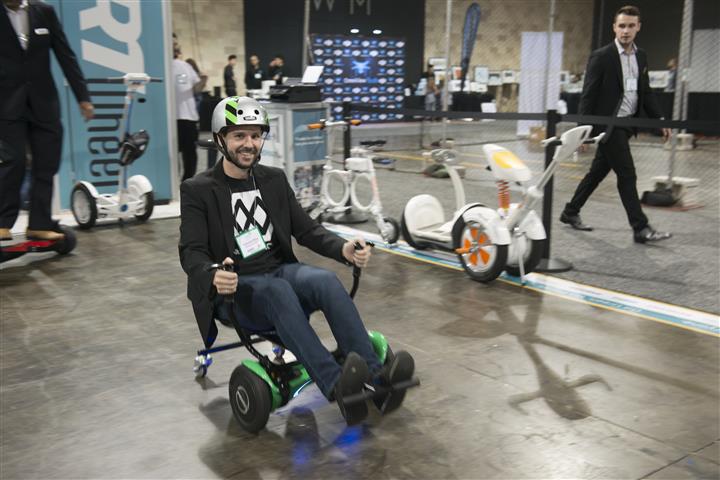 Smart Wheel – www.SmartWheel.ca
Whether you prefer 1 wheel or 4, Smart Wheel has a mobility product to suit your needs and showcased a variety of different models at TAVES. A retailer of electric mobility products, they carry a huge range of electric scooters, unicycles, Segways, and wheelchairs. With multiple retail locations across Canada, they provide end-to-end service and warranty support for all their products and accessories. They also work with businesses to lease and rent electric mobility products.
Green Technology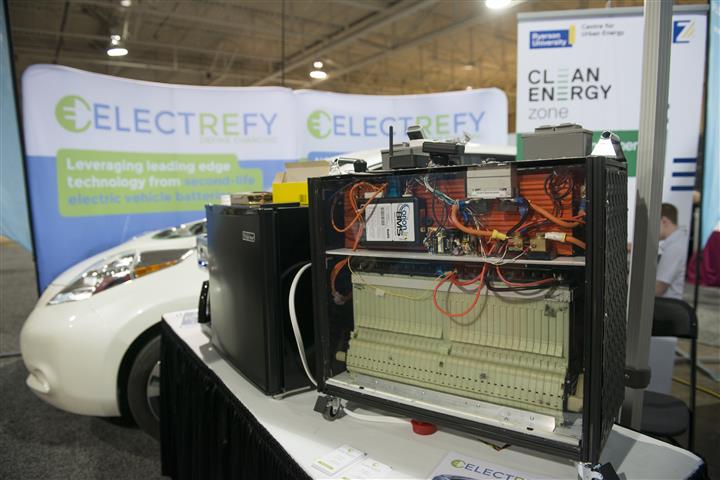 Electrefy – www.electrefy.com
Recycling batteries from electric vehicles such as the Chevrolet Volt, Electrefy creates battery packs with enough energy for a range of uses from emergency power during blackouts to food trucks (no more loud, smelly generators). As homes and emergency backup power doesn't require the high wattages of a motor propelling an electric vehicle, Electrefy repurposes and tweaks the recycled batteries for the lower power draws that a household would require. The tabletop demonstration of their 100 lbs. battery pack which was the size of a large desktop computer tower had enough energy to keep an average home running for 4-6 hours.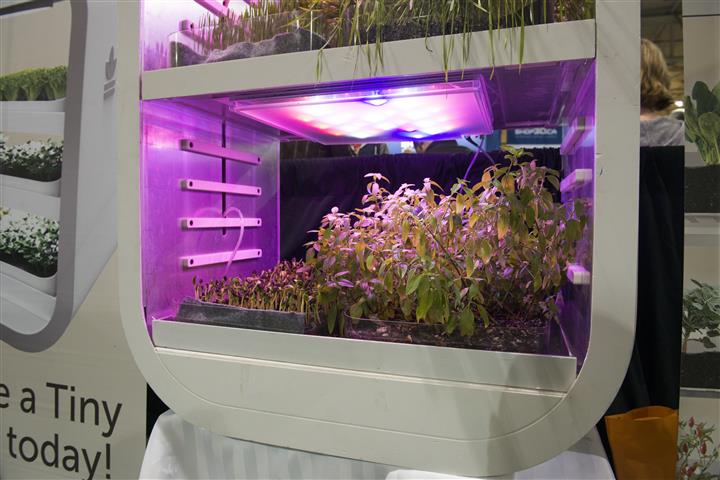 tinyFarm – www.ModGarden.com
Currently taking pre-orders, this Canadian startup has created a modular, indoor garden that utilizes easy-to-use soil and seed pods to allow users to grow a variety of leafy greens, herbs, and root vegetables in their home year-round. The camera-equipped miniature farm precisely irrigates and tracks water levels, adjusts lighting, and filters the surrounding air to maximize growth of the plants inside it. It comes in 3 sizes from a $450 CAD 1-shelf countertop size to a $750 CAD free-standing 3-shelf model.
Gadgets
Mango Mirror – www.MangoMirror.com
Currently in pre-order, the Mango mirror embeds an 800×480 pixel screen behind a mirror, connecting it to the Internet and allowing it to display a variety of information. Manufactured in Canada and shipping in time for the holidays, the mirror's screen activates when it detects motion and can be configured to display a variety of information from weather to traffic to stats from your fitness tracker. Prices start at $299 USD for the 24" H x 18" W size.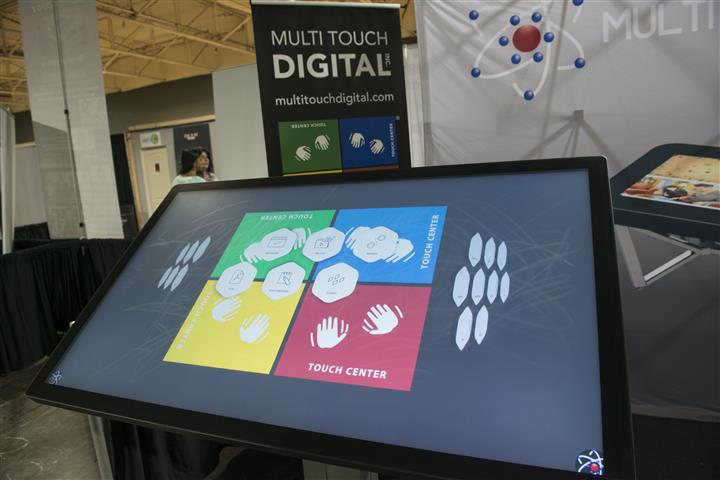 Multi Touch Digital – www.MultiTouchDigital.com
Replacing your coffee table, the spill-proof, Windows-powered Touch Center allows a number of users to simultaneously interact with the large, multi-touch enabled screen. It can be used for everything from playing games to flying around in Google Earth. Available in sizes ranging from 43" all the way up to 83", the interactive table is available from Costco starting at $5,999 CAD.
NeuroTechTO – www.to.neurotechx.com
Part of the global NeuroTechX community, this local group works to promote neurotechnology: technology that allows users to interact and control devices through neural interfaces such as EEG headbands. NeuroTechTO runs meetups, hackathons, and other events in Toronto, connecting students, researchers, and entrepreneurs with resources to help them develop their neural applications and hardware.
Smartstones – www.SmartStones.co
Smartstones' "Prose" mobile app uses gestures, external pushbutton controllers, and technology such as EEG headbands to allow users to communicate via text-to-speech and to control devices. This allows those that aren't able to or have difficult verbally communicating to be able to express themselves to other people and to interact with devices they may need to facilitate their daily lives such as mobility devices and access control (such as doors).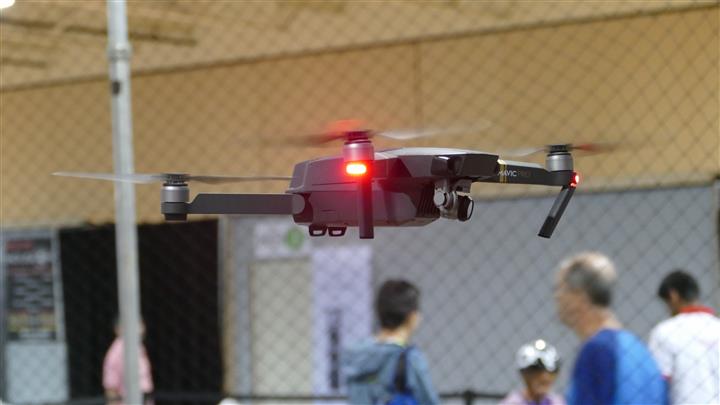 OmniView Tech – www.OmniViewTech.ca
Running the large caged area in the Technology Pavilion with all the drones flying around, OmniView is an authorized retailer and wholesaler of DJI drones and gimbals. They also provide end-to-end warranty service with local repairs and maintenance in Toronto and a retail showroom in North York. Whether you're a looking for your first micro-drone that fits in the palm of your hand or a camera-wielding multi-rotor drone for filming, they have everything you need.
Seam – www.SeamTechNic.com
Currently raising funds on Kickstarter, this Canadian startup's wearable allows wearers to do a variety of actions such as share their location, livestream audio through the Bluetooth speakerphone, and activate a panic mode. The jewelry-like, circular wearable has multiple buttons to discretely activate its various modes and can be worn as a pendant, watch, or necklace. It connects wirelessly to your smartphone and aims to ship in autumn 2018.
3D Printing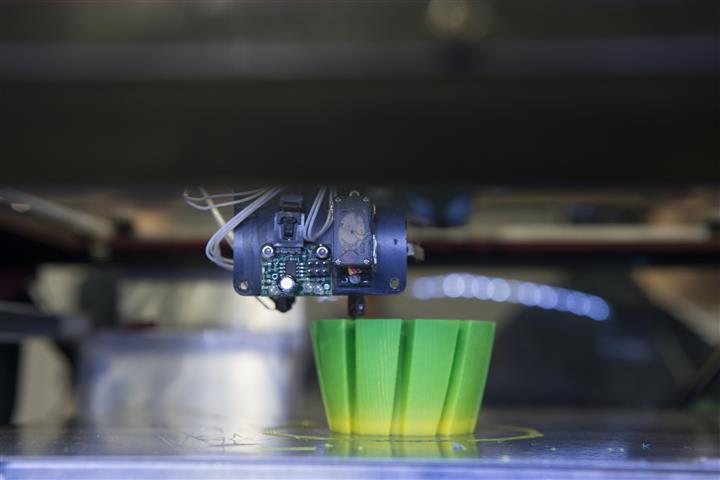 ORD Solutions – www.ORDsolutions.com
Makers of the only full-colour blending 3D printer in Canada, ORD's $7,800 CAD printer melts together multiple filaments to produce everything from transparent to full CMYK coloured creations, with dimensions up to 12"x12"x10" in volume. At TAVES, they were printing a rainbow coloured vase that showcased the colourful capabilities of this 3D printer. It also supports more exotic materials such as wood, nylon, and ABS plastic.
SHOP3D – www.Shop3D.ca
A one-stop shop for everything 3D, SHOP3D sells a variety of 3D printers, filaments, and other materials specializing in products from Ultimaker and Formlabs. SHOP3D has a retail showroom and studio in Brampton, Ontario and also runs classes and workshops across the Greater Toronto Area. The company also provides 3D design and prototyping services.
That's it for my highlights from 2017 – hope you enjoyed the read 🙂