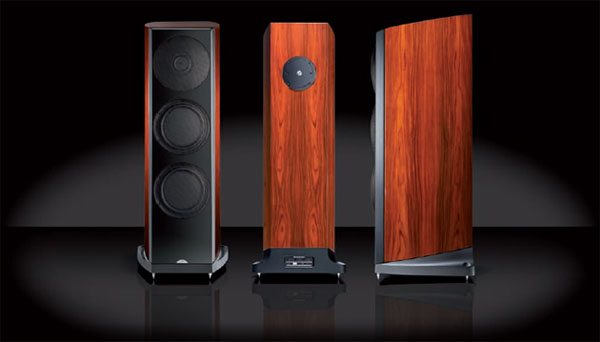 Naim Audio, a well respected and established U.K. based audio product company, has released their new long-awaited flagship loudspeaker, the Ovator S-800, at the Hong Kong High-End Audio Visual Show. The new model utilizes Naim's Balanced Mode Radiator (Naim BMR) technology and introduces a radical flat-panel bass unit.
The Ovator S-800, weighing in at 93.5kg each, has been designed for larger rooms with the objective of allowing owners to experience life-like dynamics and scale, with nuance and detail.
The S-800 features a new 8mm Naim BMR, able to reach from 380Hz up to over 30kHz. Conventional speakers require two drivers to do the same job. This is allied to two flat-panel bass units designed to deliver, clean deep bass, down to 20Hz, making the Ovator S-800 a true full range loudspeaker.
The S-800 sits on a rigid aluminium die-cast plinth and uses an unusual leaf spring system to decouple the speaker from the floor. The loudspeaker walls themselves are comprised of nine constrained layer damped layers of MDF bonded under heat and pressure and formed into a curve that reportedly contributes significantly to the speakers overall structural performance.
The Ovator S-800 will be available in two configurations, active and passive. The active with the use of an electronic crossover will allow for each driver to be driven by a different amplifier. The passive, is more traditional, with the crossover integrated within the speaker's die-cast aluminum plinth and able to be driven by a single amplifier. The passive configuration will allow owners an upgrade path to the active configuration.
Features:
– Surgical grade, anti-magnetic, stainless steel M8 floor spikes;
– Bass drivers featuring rigid paper cones, natural rubber surrounds and aluminium demodulations rings;
– Crossover components include laminated and air-cored inductors, and metallised polypropylene capacitors;
– Steel leaf-spring between the enclosure and plinth, decoupled above 12Hz;
– Pressure die-cast plinth;
– Enclosure of a combination of 25mm and 50mm panels comprehensively braced, mass-damping, and the internal bracing;
– Flat-panel bass driver that comprises a rigid paper cone and natural rubber surround together with aluminium demodulation rings within the magnet system and generous pole-piece ventilation;
– Separate leaf-spring suspended extruded aluminum cylinder enclosure housing for BMR driver;
– BMR driver with honeycomb diaphragm with twin-neodymium voice-coil magnet system.
Specifications:
– Frequency Response 20Hz to 35kHz
– Sensitivity 89dB for 2.83Vrms
– Nominal Impedance 4? (Minimum Impedance 3.9?)
– Suggested Power Amplifier Rating 25 – 250W (8? rating)
– Weight 93.5kg
– Dimensions 1393 x 520 x 542mm (H x W x D)
The Ovator S-800 will be made available in the U.K. in its active configuration, this December, with the passive version available in January 2013. U.K. pricing is £27,500/pair with North American pricing and availability yet to be announced.
Look for more details at: www.naimaudio.com.