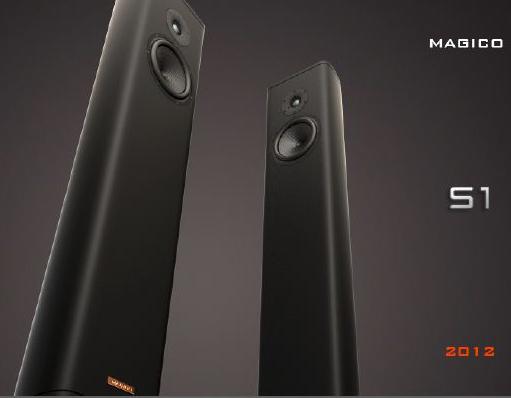 Magico, a high-end loudspeaker manufactuer, has just announced their lastest loudspeaker, the S1. Following the recent introduction of the already-renowned S5, its smaller sibling, the S1, offers Magico performance at a price point never before attainable.
In 2004, the MINI, Magico's first commercial product, set new benchmarks for a two driver sealed enclosure.  In the eight years since, Magico has introduced a number of well-respected speaker products and the new S1 continues this legacy. Featuring a uniquely contoured cabinet drawing design cues from the MINI and M6, the S1 utilizes the world's first monocoque 3/8? thick, 12" diameter extruded aluminum loudspeaker enclosure, minimizing diffraction effects, internal resonance, and damping requirements.  At only 9 inches deep and available in an array of Magico's new M-COAT paint blends, the S1 provides great flexibility for room integration.
The floor-standing, two-way, S1 incorporates an entirely new 7" Magico Nano-Tec Midbass driver with the same beryllium tweeter featured in the S5, making it capable of astonishing output.  The S1's new 7" Midbass dual-neodymium underhung motor system with pure titanium voice coil-former is powerfully efficient and low in distortion.  As with all Magico drivers, the latest custom computer simulations are used to optimize electromagnetic and thermal behavior.
Specifications:
Driver Complement: 1 X 1" MB30 Tweeter, 1 X 7" M390 Mid-Woofer
Sensitivity: 86dB
Impedance: 4 Ohms
Frequency Response: 32 Hz – 50 kHz
Recommended Minimum Power: 50 Watts
Dimensions: 43? H x 8.5? D x 9.75? W (109 cm x 22 cm x 25 cm)
Weight: 95 lbs. (43 kg.)
The US Retail Price of the Magico S1 will start at $12,600/pair. Delivery will begin in Q4 2012.  Look for more details at: www.magico.net.