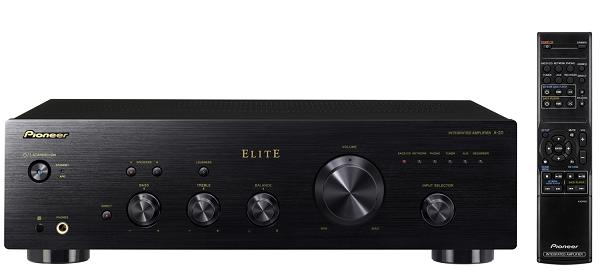 Pioneer Electronics has just released their new Elite A-20 integrated stereo amplifier.  The new analog-only amplifier has been designed to appeal to the discriminating audio enthusiast and provide fidelity of the original audio. 
The amplifier uses a Direct Energy design that features shorter signal paths and power train to help minimize signal loss that can degrade the quality of audio, as well as strategically placed power supply/output circuit blocks to reproduce a cleaner audio output with reduced total harmonic distortion of less than 0.05%.  Unwanted vibration from the transformer is dampened with a trans-stabilizer construction chassis design.  Additionally, the amplifier features aluminum front and side panels for rigidity and durability, increasing the stability of the unit.
Turntables can be directly connected to the integrated amplifier via its MM phono input.  Inputs include Phono, Tuner, SACD/CD, AUX and Network Recorder. The amplifier's remote control can also operate the basic functions of these network audio players.  To conserve energy and increase longevity, the A-20 features Auto Power Down, which automatically turns the amplifier off when no input is sensed for a period of time.
Pioneer's A-20 integrated amplifier is available at a MSRP of: $300 U.S.  More details can be found at www.pioneerelectronics.com.