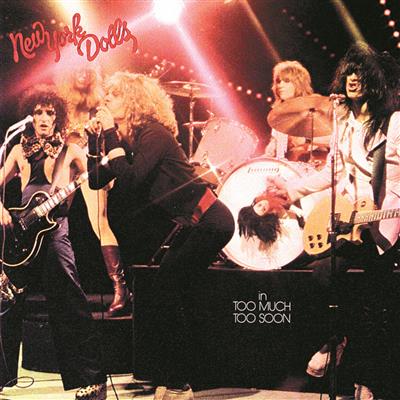 New York Dolls
Founded in New York City in 1971, The New York Dolls' first two albums—the eponymous New York Dolls (1973) and Too Much Too Soon (1974)—are widely credited by music historians to have been two of the most popular 'cult' records of all time.
Comprised of guitarist Johnny Thunders, vocalist David Johansen, bassist Arthur Kane, guitarist and pianist Sylvain Sylvain, and drummer Jerry Nolan, on stage during live performances, The Dolls often appeared 'in drag' and wore women's clothing, kooky hats, high heel shoes, satin pants, and lingerie.
While they pre-dated the glam and glam-metal music scenes prominent in Los Angeles in the mid to late 1980s by a good decade, today they're considered to be one of the most influential bands throughout the history of punk music. In particular, their influence on the original members of The Ramones has been well documented.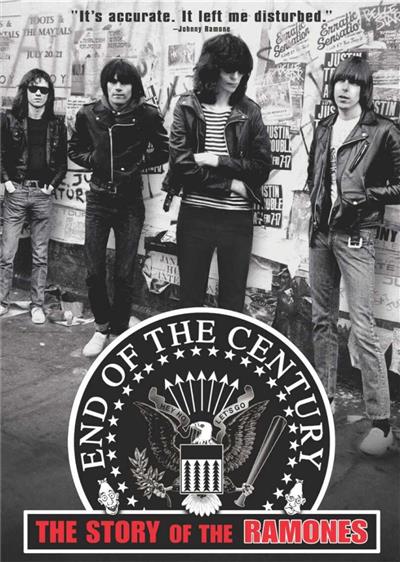 The Ramones
In the 2005 DVD End of the Century: The Story of The Ramones (Rhino R29 70399), producer Rick Ruben stated:
"The Ramones invented a whole new genre [of rock'n'roll]. I don't know that music would sound the same, if not for The Ramones."
Comprised of guitarist John Cummins (AKA Johnny Ramone), bassist Douglas Colvin (AKA Dee Dee Ramone), singer Jeff Hyman (AKA Joey Ramone), and drummer Tommy Erdelyi (AKA Tommy Ramone), The Ramones first met each other as a group of students at Forest Hills High School, (a suburb of New York City). They connected over their shared fondness for listening to the proto-punk music of bands like The Stooges and The New York Dolls.
As Johnny Ramone posited in End of the Century:
"I saw where the musicianship was going at that point in time. [early 1970s- ed.] It was the "drug era" coming into rock'n'roll. Everyone was getting into the over-indulgence of their playing. The long solos, I felt: 'No way am I ever going to be able to play that.' Even if you have the talent, you'd have to sit there for 15 years practicing. All of a sudden I went to see The New York Dolls play. I was seeing bands that were what rock'n'roll was supposed to be: how great they could sound and how great they could be with limited musicianship."
Rehearsing in the back of an art gallery in the evenings after it'd closed that was owned by Joey Ramone's mother, the four original members of The Ramones gelled and created an entirely new sound.
Also captured in the End of the Century DVD, Legs McNeil, co-founder of Punk magazine, commented:
"In that time (early 1970s), in our culture… Donnie and Marie are on TV. Everybody's nice. And everything just seemed so mediocre; and tedious. Everything was muted. It was the end of 'white flight' in New York City. Ever since World War Two, people had been moving out of the cities to these new things called 'the suburbs'. So people had left New York City and it was kind of deserted."
Similarly, Tommy Ramone remembered:
"In the early 1970s, New York City was empty. There weren't any clubs. The reason we played at [Hilly Crystal's club] CBGBs was 'cause there was nowhere else to play."
And, in trying to describe what seeing The Ramones play live in their early days at CBGBs in 1974 was like, Legs McNeil noted:
"…it looked like the SS had walked in. They [The Ramones] looked so striking. These guys were not hippies. This was something completely new. And the noise of it… …it just hit you. It was overwhelming; but in a good way. The songs were really short, really fast, and incredibly raw. I felt… my God… this is it."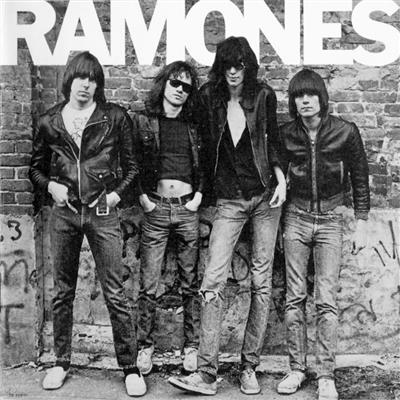 After attracting major label attention from CEO Seymour Stein at Sire Records, when the first self-titled Ramones record was released in February 1976, it was so stripped down, and yet, at the same time, so powerful and melodic, that it fundamentally changed the way hard rock music sounded—and still sounds 40+ years later.
While it may seem hard to believe that one single album could influence generations of rock musicians who followed it, indeed, the first Ramones record from 1976 did just that. In 2004, legendary guitarist Joe Strummer of The Clash even stated:
"If that [first] Ramones record hadn't existed, I don't know that we could've built a scene here, because it fulfilled a vital gap between the death of the old pub rocking scene, and the advent of punk."
Containing such harmonically rich, yet strikingly raw and heavy songs as "Blitzkreig Bop", "Beat on the Brat", "Judy is a punk", "Chainsaw", "Now I wanna sniff some glue", "Loudmouth", "Havana Affair", "53rd and 3rd", "I don't wanna walk around with you", and "Today your love, tomorrow the world", for anyone interested in the history of punk rock, the first Ramones album is another 'must own' record.
The DVD End of the Century: The Story of The Ramones is a feature-length two hour video-detailed examination of the entire history, warts and all, of The Ramones. As such, it should also be considered 'must see' material to better understand The Ramones' unique place in the history of punk rock, and their extensive and undeniable influence upon the next 40 years of modern rock music and culture.
In Part 2 of this article series on the history of punk rock, I'll examine a few of the most famous and notorious bands that emerged from the London UK and Toronto Canada punk rock music scenes from 1977 to 1979. Until then happy listening!