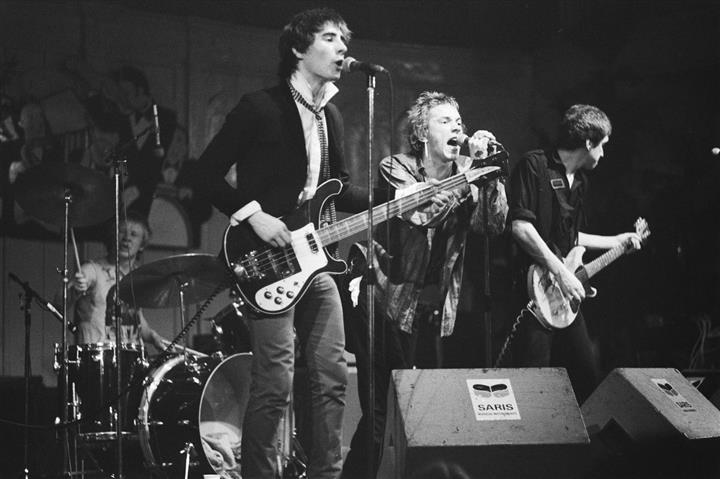 In part two of this historiography on punk music, I will examine some of the London UK bands that exploded onto the world stage from 1977 to 1979 and defined the British punk sound and the aesthetics of punk music at its creative zenith. If you missed it, I invite you to read part one of this feature on novo.press.
This will not be a comprehensive review of every band that ever claimed to be part of the English punk movement. Instead, I will discuss specific albums from bands that are, today, widely acknowledged to have been at the forefront of British punk rock. I will also make recommendations of certain albums and videos to buy as starting points in getting to know the history of punk music better.
Various members of the Sex Pistols, The Clash, The Damned, The UK Subs, the Buzzcocks, Stiff Little Fingers, The Ruts, Generation X, and Siouxsie and the Banshees have all cited that hearing the first Ramones (formed in New York US) record and/or seeing the Ramones play live in England in July 1976 was the influence that made them want to form their own punk bands.
In 2004, legendary guitarist Joe Strummer of The Clash stated:
"If that [first] Ramones record hadn't existed, I don't know that we could've built a scene here, because it fulfilled a vital gap between the death of the old pub rocking scene, and the advent of punk."
The London UK punk movement was also driven by a stagnant British economy, pressing social problems, and various worthless English governments. Kids coming of age in the British Isles during the 1970s saw 'No Future'. And it was these 'No Future' teenagers who formed almost all of the commercially successful English punk bands in that era.
Speaking about the socio-economic problems that existed in England in the mid-1970s, in the video The Filth & the Fury: a Sex Pistols Film (New Line Cinema N5086), lead singer Johnny Lydon (aka Johnny Rotten) of the Sex Pistols commented:
"England was in a state of social upheaval… …total social chaos. There was rioting all over the place. And strikes on every kind of amenity you could think of. The TV channels would go on and off randomly. People were fed up with the old way. The old way was clearly not working."
On page #97 of John Robb's book Punk Rock: An Oral History (Ebury Press 2007), Lydon is also quoted as saying:
"Early 1970s Britain was a very depressing place. It was completely run-down with trash on the streets, and total unemployment; just about everybody was on strike. Everybody was brought up with an education system that told you—point blank—that if you came from the wrong side of the tracks, then you had no hope in hell and no career prospects at all."
It was from this 'No Future' social milieu that punks fondly adopted a violent, confrontational, and rabidly nihilistic attitude towards their own country and society. The lyrics in most punk songs created during the '77 to '79 London era are filled with a stern 'middle-finger salute' to all forms of authority, the monarchy, and the establishment.
As Johnny Lydon also pointedly surmised in the The Filth & the Fury;
"You're told at school, you're told at the job centre, you're told by everyone that you don't stand a chance. You should just accept your lot in life and get on with it. That's where you're going to get social strife, hate, and war… and race hate. When you feel powerless, you'll grab any power you can to retain some kind of self-respect."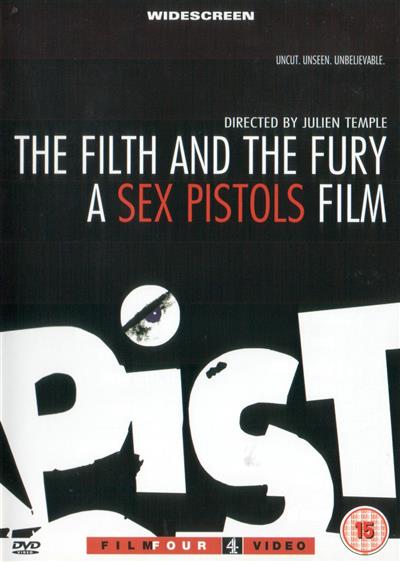 The Sex Pistols
In 1977, no band espoused the nihilistic and highly politicized 'spit-in-yer-face' attitude that would become so innate within British punk music quite like the Sex Pistols.
Formed in London England in November 1975, the first incarnation of the Pistols featured singer Johnny Rotten (aka Johnny Lydon), guitarist Steve Jones, drummer Paul Cook, and bassist Glen Matlock.
During 1976, a few of the Sex Pistols' live shows ended in violence. These mini-riots gained the band notoriety. Fairly soon, mainstream British media outlets picked up on the chaos. Combined with their striking 'punk' clothing and fondness for aggressive behaviour and foul language, it was a televised interview on December 1st, 1977 on Bill Gundy's Today TV program that gained them national attention.
Following the shock-trauma of that particular TV appearance, a fair number of the Pistols' live shows were banned by local town councils. Protests from religious groups outside of the venues where they played were common too. This social noise, of course, gained them more and more media exposure and only served to increase sales of their singles. At one point, the only place the band could get live gigs was at the El Paradiso striptease club in downtown London England.
When their first and only full-length studio album Never Mind the Bollocks: Here's the Sex Pistols [Warner Brothers CD 3147] was released in the UK on October 28th 1977, the Pistols were already a household name in the British Isles.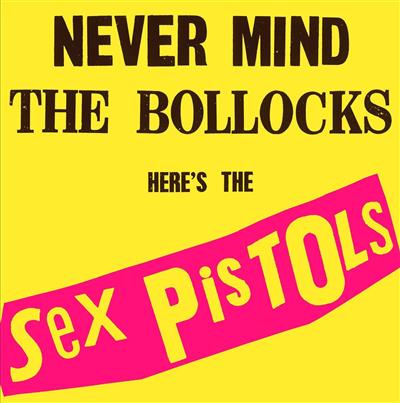 Never Mind the Bollocks presents the Sex Pistols' music in as raw, honest, and pure a form as it comes. For a punk album, it has decent sonics. Studio engineers Bill Price and Chris Thomas did a magnificent job of capturing the band's volcanic energy, politicized lyrics, and accidental musical synergy on tape. The record communicates the Pistols' volatile nihilism in an undeniable way.
With songs like 'Anarchy in the UK', 'Holidays in the Sun', 'Liar', 'Submission', 'EMI', 'Bodies', and their flagship track 'God Save the Queen', the Pistols captured the essence of the anger and frustration which existed for an enormous number of people in Britain during the 1970s. They captured it, distilled it down to its rawest form, and then unleashed their caustic cynicism with a remarkable matter-of-factness in an amazingly pointed—yet still musical—form.
As guitarist Pete Townsend of The Who observed in early 1978 in a New Music Express (NME) article:
"When you listen to the Sex Pistols, to [songs like] 'Anarchy in the UK', and 'Bodies' and tracks like that, what immediately strikes you is that… this is actually happening. This is a bloke [Johnny Lydon] with a brain on his shoulders, who is actually saying something he sincerely believes is happening in the world; and saying it with real venom… and real passion. It touches you and it scares you. It makes you feel uncomfortable."
There's an authenticity and honesty to Never Mind the Bollocks that's mesmerizing. The conviction of their music and Rotten's cyanide lyrics comes from a sincere place in the heart. You can't fake enjoying the vainglorious adrenalin surge of listening to the Sex Pistols' songs. Again, it's the striking – sometimes even frightening – rawness and purity of punk that Townsend's talking about which attracts most of its true fans.
For anyone interested in the late 1970s British punk movement, Never Mind the Bollocks is a 'must own' record. It is (arguably) the most potent, politicized, and magnificent album to emerge from the entire London UK '77 to '79 punk scene. The video The Filth & the Fury provides a broader historical examination of the socio-economic pressures which led to the British punk movement. Accordingly, it is also essential material to understanding the social context that punk evolved out of.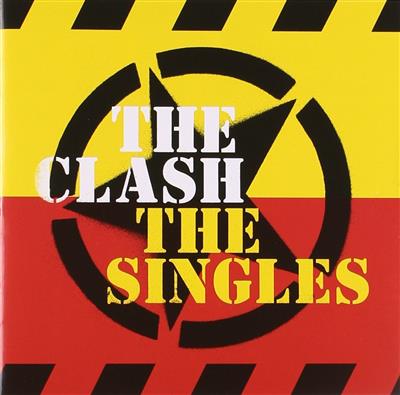 The Clash
Formed in 1976 in London England, The Clash were originally comprised of Mick Jones (lead guitar & lead vocals), Joe Strummer (lead vocals & rhythm guitar), Paul Simonon (bass guitar & vocals), and Nicky 'Topper' Headon (drums & percussion).
The Clash's music combines elements of reggae, funk, dub, ska, rockabilly, and early hard rock. Their politicized lyrics, layered sound, and musical inventiveness have influenced generations of alt-rock and post-punk musicians who followed them.
Unlike the Sex Pistols who only recorded one studio album, The Clash unleashed a number of sterling punk records, including: The Clash (1977), Give 'em Enough Rope (1978), London Calling (1979), Sandinista! (1980), and Combat Rock (1982).
A superb starting point for anyone curious about their music is the album The Clash: The Singles (Epic 468946 2). This collection showcases 19 of their UK singles in one compilation and includes such classics as 'London Calling', 'Rock the Casbah', 'Should I Stay or Should I Go', 'Bankrobber', 'White Riot', 'Tommy Gun', 'Clash City Rockers', 'Know Your Rights', and 'This is Radio Clash'.
And while their songs drift across many different musical genres, there are no bad tracks on this collection. The Clash's unstoppable cobblestone swagger, grooving rhythmic genious, and defiant political opinions can all be heard on this album.
As critic Sean Egan wrote in his book The Clash: The Only Band That Mattered (Rowman & Littlefield, pg #7):
"They were a group whose music was, and is, special to their audience because that music insisted on addressing the conditions of poverty, petty injustice, and mundane life experienced by the people who bought their records. Moreover, although their rebel stances were often no more than posturing, from the Clash's stubborn principles came a fundamental change in the perception of what is possible in the music industry, from subject matter, to authenticity, to quality control, to price ceilings."